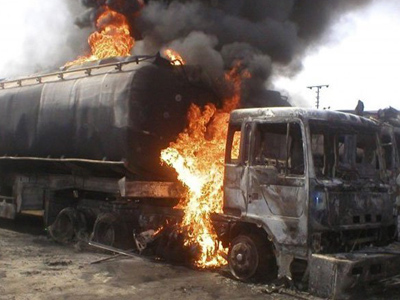 Hundreds of relatives and other sympathisers from Onitsha, Asaba and their environs on Monday thronged the scene of Sunday's fuel tanker accident, hospitals and mortuaries in Onitsha in search of their loved ones.
It would be recalled that no fewer than 69 people, 14 mini-buses, three tricycles and a motorcycle were burnt in the accident.
The tanker laden with petroleum products crashed into a bus park located at the Upper Iweka axis of the Onitsha-Enugu Road.
The News Agency of Nigeria (NAN) reports that hundreds of people visited the wounded in hospitals, and the mortuaries to identify the remains of their loved ones who were affected in the accident.
NAN observed that they were shedding tears endlessly and bemoaned the tragedy that affected their beloved ones.
Several others also visited the scene of the accident to see what happened after the carcasses of the vehicles involved had been towed.
NAN correspondent who visited Toronto Hospital and Onitsha General Hospital saw some of the corpses of the victims deposited at the mortuaries , waiting for identification and possible collection by their relatives for burial.
The Chief Medical Director of Toronto Hospital, Emeka Eze, told NAN that those admitted into the hospital following the accident were in stable condition.
Eze said that the hospital had been able to cope with the large number of patients and had all the necessary medications and equipment meant to attend to them.
"As you can see, they are in good and stable condition. We have been putting in our best and one good thing working for us is that the hospital has the necessary medication and equipment to attend to emergencies such as this,'' he said.
At the Onitsha General Hospital, one of the senior medical personnel , who spoke on condition of anonymity, said that those admitted to its emergency and accident unit had been transferred to the Anambra State University Teaching Hospital, Amaku in Awka.
"Those alive but suffered various degrees of injury have been transferred as early as 5 a.m., to the State University Teaching Hospital,'' she said.
However, NAN observed that the security men at St. Charles Borromeo Hospital, Onitsha, restricted movement of people, who had come there to commiserate with the victims.
A bus conductor, Innocent Obioma, who was among the sympathisers , said that his master was trapped in the inferno when he ran to assist the passengers in one of the vehicles the tanker fell on initially.
"As Oga Okoli jumped out of our bus and attempted to help a woman with a baby in one of the buses, the tanker's content exploded and everybody within the circumference including Oga Okoli got burnt beyond recognition. Oh, what a disaster and sad end for my compassionate master. What will I tell his wife that gave us some smaller denominations we used as balance for passengers yesterday morning before we left home in Asaba?'' Obioma said.