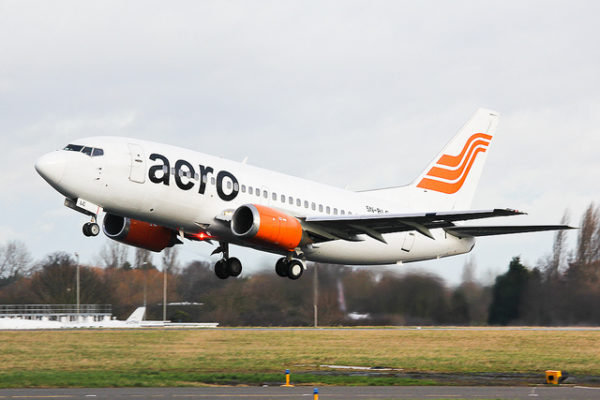 Over 120 passengers on board an Aero Aircraft on Friday evening  escaped death as Aero Contractors Airline Flight 180 from Lagos to Kaduna developed a technical fault mid-air causing it to be diverted to Abuja.
Punch reports that the aircraft suddenly lost altitude 20 minutes after it took off from the domestic wing of Murtala Muhammed Airport (MMIA), Lagos.
Director of Muslim Rights Concern, Ishaq Akintola gave newsmen his account of the incident.
"The plane lost altitude 20 minutes after takeoff. We had to make use of the oxygen masks. We saw smoke outside the plane, probably coming from the engine compartment.At this time, the whole plane was thrown into commotion. Many passengers screamed and some fainted. Prayers upon prayers were offered. Some shouted Allah, others Jesus…
While the pilot was making the announcement of the flight diversion, I noticed that his voice was trembling. He told us that Abuja was 120 miles away and that we would land in 25 minutes. But we were not sure we would make it. In fact, I quickly recited the Kalimah (the Quranic invocation of the oneness of Allah), believing that the end had come," he said.
Akintola further stated that the plane landed in Abuja at 9pm and upon landing, the airline's personnel told passengers that the fault would be repaired promptly, and the plane would transport them to their intended destination, Kaduna.
However, Akintola said he refused to remain in the aircraft after the traumatic experience.
"As I am talking to you (9:30 p.m. on Friday) , I am now in a taxi taking me to Kaduna. They said they wanted to repair the plane and that we should wait so it takes us to Kaduna. Allah forbids. They asked how many of us wanted to disembark and almost everybody came out."