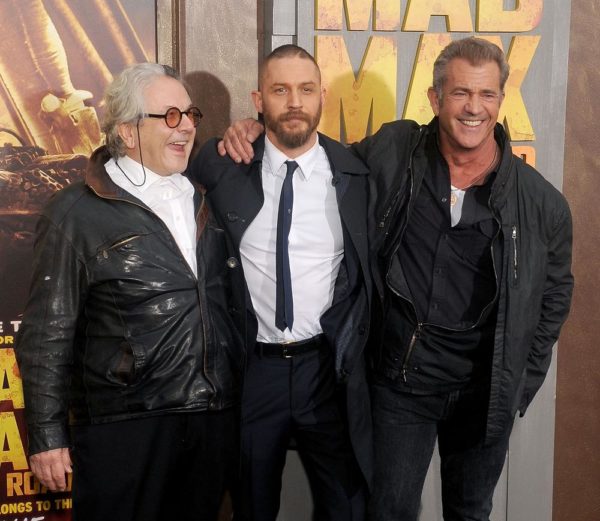 Mad Max  is an explosive piece of art, quite literally and otherwise. In a league of its own, far removed from the basic premises, explosions, cheesy quotables and false heroisms of what we have on the big screen these days. It is truly an accomplishment from the correctly termed 'mastermind' – George Miller.
Even fanboys of the previous installments starring Mel Gibson will have it hard finding faults that stick. A stunning movie with a simple storyline and no patience for excessive back stories or attempting to pander to cheap emotional reactions by plugging in as much cheese as we can handle. I am grateful for the lack of overwhelming cheap emotional cheese moviegoers have become used to.
Right from the first scene to the last, the craziness in Mad Max Fury Road never dies. It kick-starts like a lit dynamite and explodes, tripping from one scene into another backed by the exemplary work of the musical score.
The fuse is lit right from the beginning as we see Max captured and used as a blood bag for Nux played by Nicholas Hoult who does a great job in his role as a 'war boy' who are simply obsessive son servants of the crazy rockstar named Immortan Joe, a looming giant with a fearsome mumble(Hugh Keans Byne makes a return from his last appearance as Toe Cutter). Immortan doesn't speak much, his peeling sun burnt skin and nightmare inducing face mask is enough to put him in a position of leadership, one he holds most fearfully by depriving the people of water and collecting beautiful women that he uses as incubators for his man seeds.
The craziness starts to peak when Furiosa takes a detour on a routine assignment and is discovered to actually be escaping with the Immortan's beautiful baby incubators. He chases after her and Nux, obsessed with the notion of dying in battle and going to Valhalla to join the Immortan's faithfuls takes his unwilling blood bag and follows the herd of crazies chasing Furiosa in an epic chase which births the film's epic tag line "oh what a day, what a lovely day" you might have seen in the previous trailers.
Mad Max: Fury Road even stays modern, keeping in tone with the now popular feminist movement and gives a nod to past badass women like Sarah Connor of the Terminator franchise and Ellen Ripley of the Alien franchise. Quite agreeably, Mad Max is as much about Max; Tom Hardy exhibiting little slivers of his character, Bane from the Dark Knight Rise as it is about Imperator Furiousa; played by the eternally fascinating Charlize Theron who still exudes grace with half her hand and good clothes missing. Another female character who steals a couple of scenes is Immortan's pregnant wife, Splendid Angharad (Rosie Huntington-Whiteley) who in one particular scene leans out of a moving car to prevent Furiosa from being shot. Bold move, Angharad
The chases which comprise a big chunk of the movie are as high definition as can be, leaving you breathless half the time the movie is showing and conversations happen only when they need to. The landscape is as scary as is breathtaking. There is a precision to every cut and transition and the score could easily be contested as one of the year's best.
While many might want to shred the movie apart for being filled with lots of plausibilities, it will not do you any good to ask questions or try to poke holes at the arrangement of the movie. Let's keep in mind that it's simply a summer flick based on a franchise where the world has become a crazy place and your survival depends a lot on how insane you are.
Mad Max: Fury road is one of those few farfetched emerging big budget movies that really succeeds at making an art form out of the action. The scenes are an extension of the characters minds and the explosive events are but a natural progression. For all of its gratuitousness and insanity, Mad Max: Fury road is a well thought out movie. It reeks of genius and what is genius but a larger portion of insanity?
If you haven't, get a ticket and experience Mad Max: Fury Road. It is a real treat for the senses.
Mad Max: Fury Road earns a Popcorn & Soda from us here at Sodas & Popcorn HQ.
This review is written by Fareeda Alithnayn Abdulkareem ( Connect with her on Twitter here ) and edited by Awojide Olumuyiwa .S
Have you seen the movie? Do let us know what you thought about it in the box below. Head on to our blog to see our pick of the best 10 children's movies your kids need to see before they grow up. Hurry now!
Photo Credit: Getty Images