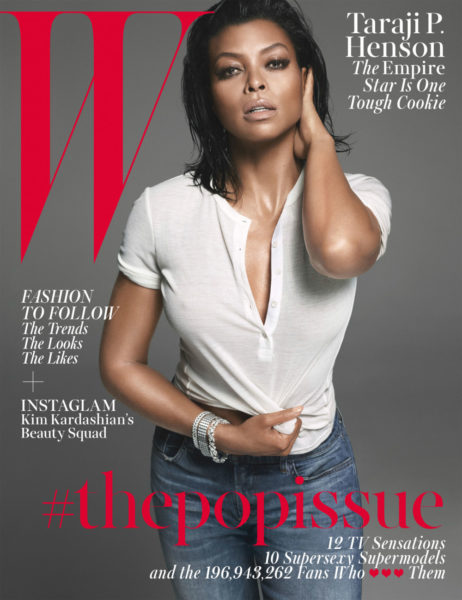 Empire star Taraji P. Henson is the cover star of W magazine's Pop Issue as the 44-year-old actress is photographed by Mert Alas and Marcus Piggott in sultry poses that leave little to the imagination.
For the shoot Taraji is styled by Edward Enninful and in the magazine she talks about her role as Cookie Lyon in hit Lee Daniels' Empire.
Read excerpts from her interview below.
On being offered a role in 2009 film Precious: "And I was like, 'Well, I want to play Precious—because that's the role in this piece.' Lee thought I was nuts. I was like, 'Look, they turned Charlize Theron into a monster! I could be this girl!' When I think about that now, it was such a Cookie move."
On considering Empire after first turning it down: "And I wanted to finally make some money," he told me. "You don't make any money doing independent films, even if they get nominated for the Oscars and the world says you're a genius. Doesn't pay the bills."
On why her character is such a hit: "They want Cookie. They see her heart. They see her intentions. And they love her style—her style is 17 years behind the fashion curve, which makes the clothes a character on the show. As Cookie grows, you'll see her fashion grow. And people love that—she's a work in progress. The only thing that never changes is her spirit: To me, Cookie is living, breathing, walking truth."
On people not liking Cookie: "When I hear that Cookie is a bad representation of black women, I don't get involved. Maybe Cookie makes you uncomfortable because she reminds you of yourself. People miss the bigger picture when they start judging."
You can read up her full post and see more photos here.
Photo Credit: W Magazine