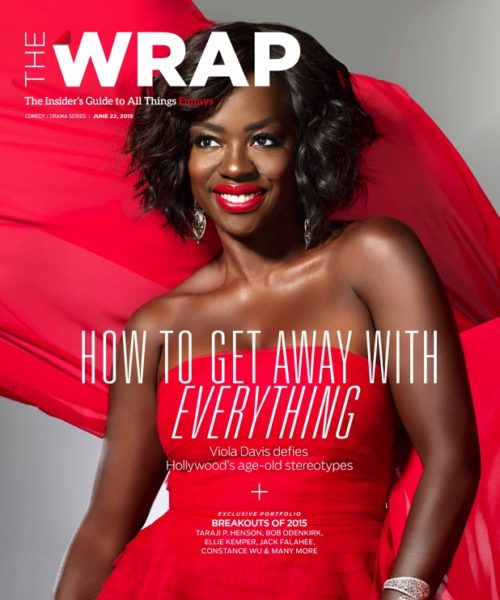 Hollywood cannot get enough of Taraji P. Henson and Viola Davis.
The two stars have hit shows and have gotten quite a number of media focus in the past few months with the latest being Viola Davis for The Wrap.
In the editorial spread she is photographed by Corina Marie Howell and in her interview she talks extensively about her series How to get Away with Murder while also touching on the fact that she is a 49-year-old black woman in Hollywood.
Read excerpts from the interview below.
On getting the role of Annalise Keating in How to get Away with Murder: I wish I had a more dramatic story, but my manager called and said, "Hey, this is a chance for a lead in a Shonda Rhimes show," and at first I thought, "do I put Viola Davis in a TV show?" And I was thinking yes you could put this Viola Davis in a TV show. But I read the character and it was unlike anything that I've played before. She's sexy. She's not maternal. I get a lot of maternal characters. So I thought it was a chance to step outside of my comfort zone. And also a chance to be No. 1 on the call sheet. To see what it feels like to really carry a show was very attractive to me.
On why people like her character, Annalise: I just felt like in the midst of this fiction–which it is, it's fiction, it's a soap opera, it's salacious, it's tantalizing and all that–I felt like there should be something in each episode for women to look at and feel like it was familiar. To feel like Annalise is familiar. Taking her wig off, me not being a Size 2, me being obviously 49. I always say I hold it up for the regular people out there. There's still something very human in each episode, and when I say "human," I mean flawed.  Things that we probably do in private that we don't want anyone else to see. But when we see it in actors and when we see it onscreen, it makes us feel less alone. And I felt like which each episode I tried to at least achieve that in the midst of this kind of pop fiction. And I think that's why people root for her.
On the scene where she took off her wig: I didn't want to be the Vogue woman. I didn't want to be the woman who came in with the sexualized–I say sexualized, not sexy, because sexy is a certain self-consciousness to sexuality–I say that Annalise is sexual. Every time you see that sexual, mysterious, kind of cold woman, she always looks like she has that blow-dried hair and that dewy skin and, you know, those Double-Zero clothes. I did not want to be that woman because I don't know that woman. And I've been watching that woman in movies for several years. And I felt like this was my chance to woman up. Because I think that how we are as women, just in real life, is very interesting. And I think that in the hands of a woman–and I'd like to think that, in my professional life anyway, I have a certain braveness and boldness–I want to present women as they really are.
On wanting Annalise to be as real as possible: You know, as soon as you walk through the door, what do you do? You take off your bra, you let your titties sag, you let your hair come off–I mean my hair. I mean, I don't have any eyebrows. I let my eyebrows be exactly what they are. And it's me. And I wanted that scene to be somewhere in the narrative of Annalise. That who she is in her public life and who she was in her private life were absolutely, completely diametrically opposed to one another. Because that's who we are as people. We wear the mask that grins and lies.
On Hollywood women talking more about age, sex and race in the industry: I don't know why it's taken so long. I do think it's time, though, for people to step in to an arena where they're not confined. Where there's no restrictions based on their art and their voice. And I think that there's a restriction when you label someone just in terms of their sex and their race. Because I think that there is an expectation of who you need to be within the confines of that. I just mentioned that with the black women, you gotta be sassy, you gotta be sexy, your hair has gotta be a certain way. It's very iconic roles that have existed in the past for black women. Like I said, I don't want to have any structure. I don't want to have any kind of reins put on me. I want to be absolutely human in my role.
Read more from her feature here.
Photo Credit: The Wrap