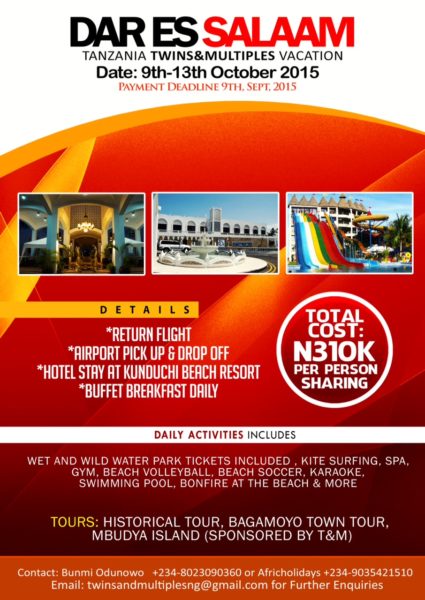 Spread your wings and take advantage of the Twins & Multiples/Africholidays October 2015 Vacation Promo to the world class Kunduchi Beach Hotel and Resort located on one of the most pristine beaches north of Dar es Salaam in Tanzania.
This awesome package is for twins & multiples (triplets, quadruplets & more) and lovers of multiple births to take time off the hustle to relax, rejuvenate, bond and to also enjoy extras thrown into your holiday by us!
If you are craving the ultimate, sun-kissed African get-away to a beautiful location with charming décor, then join us on this trip to Kunduchi Beach Hotel and Resort built in a stunning Swahili/Arabic design with all the splendour of a Sultans' Palace.
Package Breakdown:
Return Flight via Kenya Airways
5 Days / 4 nights Hotel stay at Kunduchi Beach Resort, Dar Es Salaam, Tanzania
Buffet Breakfast Daily
Airport pickup & Drop-off
Kite Surfing
SPA
Gym
Beach Volleyball
Beach Soccer
Karaoke
Swimming Pool
Bonfire at the Beach
Historical Tour
Bagamoyo Town Tour
Extras:
The icing on the cake is a trip to the beautiful Mbudya Island fully sponsored by Twins&Multiples™.
Mbudya is an uninhabited island in Tanzania, north of the country's capital city, Dar es Salaam, reachable by means of a 20 minute motorboat ride crossing from the mainland. It is a popular daytrip for both tourists and Tanzanian residents alike, serving as a location for a variety of leisure activities, including snorkelling, sunbathing and hiking.
That is not all; Twins&Multiples™ also has a keepsake for each member of the trip as a way of saying Thank you!
Date: 9th-13th, October 2015
Destination: Dar Es Salaam, Tanzania
Package Price: N310,000 per person sharing a room
Payment Deadline: 9th, September 2015
For more enquiries: Email: [email protected] | Instagram: @twinsandmultiples
Contact AfricHolidays: +2349035421510
Press and media: Bunmi Odunowo +2348023090360
____________________________________________________________________________________________________
Sponsored Content