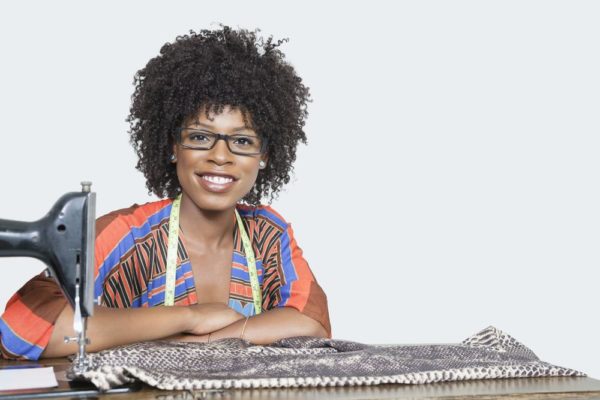 Ok… so you have always wanted to become a fashion designer…for any of the following reasons:
You have always loved sketching clothes as soon as you were able to hold a pencil;
You used to make clothes for your dolls;
You know you have the talent and everyone knows that – they even come to you when they need styles for their aso-ebi; … or the one I get often…
You were just tired of your tailor and you knew you could do better. It's the classic tale of 'I tell her one thing and she churns out something else and we keep going back and forth!' (This was my story…)
You know it. Everyone knows it. You just have to become a fashion designer! You have the gift, you have the talent and you know you will make a lot of money from it. And you keep promising yourself that next year you will definitely take this up!
December comes and you write your goals for the coming year, and top of of the list?! "Finally pursue this dream of mine!" The new year hits and you are all fired up! Google becomes your best friend. You start your research "How to Become a Fashion Designer", you start making calls and you even visit some fashion schools because you want to learn how to sew.
And then the holidays are over and reality hits. Work or school begins and the momentum you built over the holidays starts slowing down. Before you know it, the excuses start pouring in. You begin to convince yourself that "now is not the right time". Why? You tell yourself…
• I have an extremely busy schedule and simply cannot create the time!
• Won't people think I'm crazy?! Leaving a good job for fashion?!
• I have a family to feed, how much money can I possibly make from fashion;
• I think I am too old and don't even know how or where to start from;
• I don't have the money so let me work some more to gather more funds;
• The good fashion schools are too far and I cannot give up my weekends;
• I cannot get distracted now, I am at a crucial point in my life;
• I'm about to get that promotion so now is not a good time to leave.
• I cannot do this, what if I fail?!
And the excuses keep piling up. And yes, these are good and valid points which make all the sense in the world… or are they?! Maybe… just maybe these excuses are just a cover for the real reason you have refused to make that move – FEAR! And worse, you have refused to admit it to yourself!
Yes we all face these fears.
• Fear of failure;
• Fear of the unknown;
• Fear that people will laugh at you;
• Fear that people won't like your work;
• Fear that you are too old;… I can go on and on…
I can, however, assure you that there is one thing wayyyyyy worse than fear and that is the regret you feel years down the line when the world has moved on and you are still stuck in the same space. You think you have missed that opportunity (emphasis on the word "think") and bitterness sets in. You blame everything and everyone around you, including yourself (if you have the guts to blame yourself), for missing that opportunity.
But guess what? It is never too late to make the move. So what if you fail? Big deal. You try again or worse, you backtrack and go back to your job or get another job – you will not be the first to do so. But at least there is that satisfaction you get knowing that you scratched that itch and bled in the process; knowing that you discovered after trying it out that it was not for you. At least, now you know.
But then again, you really do not need to dive into the ocean and give everything up in a flash! Baby steps they call it. Test the waters first. Use your spare time (and yes everyone has some spare time no matter how busy they are) and start something on the side no matter how little. Could be selling your sketches to designers or even your colleagues who need fabulous styles for Asoebi Bella, working with your tailor to bring your sketches to life and selling them to colleagues or even learning how to sew. The best thing is your market is all around you! Everyone loves a fashion designer because everyone must wear clothes! Do that until you build that confidence to take the full plunge!
Oh… and one more thing… try not to give in to procrastination! Yes it is difficult and I, for one, am extremely guilty of it! Take this article for example. I have been meaning to write about this for ages and this is what?! July already! I just kept postponing until I said to myself just now "Argh! You know what?! Just do this now!" And it is exactly 2.18am!
And that is literally all it takes! For you to say to yourself "Argh! I'm doing this now!" Not tomorrow, not when I get home, NOW!
So there you have it! I've made my move! How about you?! Tell us why you have not yet made that move into the fashion industry!
Photo Credit: Dreamstime | Photographerlondon