Over the past couple of years the world has come to realize just how important social media is.
From entertainment to news to lifestyle to fashion and more, we can't deny that social media platforms have made the world so much smaller – especially when it comes to celebrities.
Our celebrities love to connect with their fans and in the same way fans like the easier access to their favourite stars.
…and social media platforms keep increasing. There's Twitter, Facebook, Instagram, Tumblr, Snapchat, Periscope and more.
We've put together our list of 10 Nigerian Celebrities you should absolutely follow on Snapchat.
Why?
Because it will make your SC feed so much more fun + you get a closer look at these stars!
***
Kemi Adetiba – (kemiadetiba on SC)
Kemi Adetiba posts quite a number of things on snapchat and it is super fun to follow her story. From music to events to food (she loves her food!), it's always entertaining.
Plus, she is pretty down to earth.
Emma Nyra – (emmanyra on SC)
We love following Emma Nyra on SC because she shows a part of herself that the rest of the world doesn't necessarily see.
Like a spa date with her mum or a family day in the kitchen. Plus we get to see more of her music on snapchat. Yay!
Rita Dominic – (ritadominic on SC)
Even though Rita Dominic posts sparingly, but you should absolutely follow her.
Like, come on, it's Rita – THE Rita Dominic.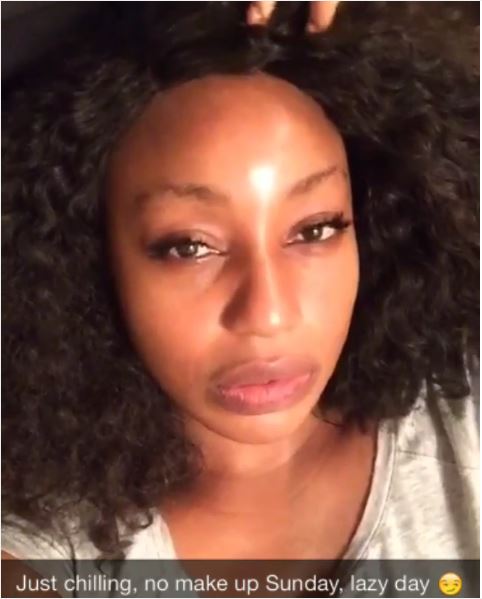 Rita Dominic (when she posts) shares a look into her lifestyle without all the glitz and glamour. We are talking no makeup, legs propped and enjoying a relaxing evening type of post.
Davido – (obohkn on SC)
Davido is living life to the fullest – and we get to see it on Snapchat.
From his new houses to his super cute daughter, the OBO artist is not afraid to share. Be warned though, Davido's SC story usually gets taken over by a number of people who will want you to follow them as well.
Toke Makinwa – (tokemakinwa on SC)
Is Toke Makinwa the queen of social media or what?
She posts more on Instagram than Snapchat but it looks like she's getting the hang of things more.
She posts her selfies, photos from events she attends and her holiday snaps.
Denola Grey – (denolanova on SC)
Denola Grey has won our heart on SC. With his effortless style and travel diaries, it is entertaining to keep up with him.
Banky W – (bankywellington on SC)
Banky W! Or should we say Chef W?
The EME boss gives us a glimpse into his workout routines (yes!), his cooking abilities (yes!), his beautiful travel destinations (yes!) and more.
DJ Cuppy – (cuppymusic on SC)
There's always something exciting going on with DJ Cuppy and her snapchat is a glimpse into all that. She shares so many things from Hollywood events to her busy day as a student.
Eniola Badmus
Eniola Badmus' Snapchat is a pleasant surprise.
First of all, the Nollywood actress travels A LOT. She is also very close to quite a number of music stars including Davido and Lil Kesh.
She takes a lot of selfies and makes a lot of funny faces.
…and let's not forget she sometimes addresses unpleasant news from the media.
Fade Ogunro
Fade Ogunro's Snapchat is just like her Instagram – only it is more fun and more personal.
The OAP currently on a birthday vacation has been updating with fun snaps from Miami, Jamaica and more fun places.
Plus Fade is super stylish so it's nice to see her style upclose.
***
Are there any Nigerian celebs you follow on social media that you think they are super fun?
Let us know below!