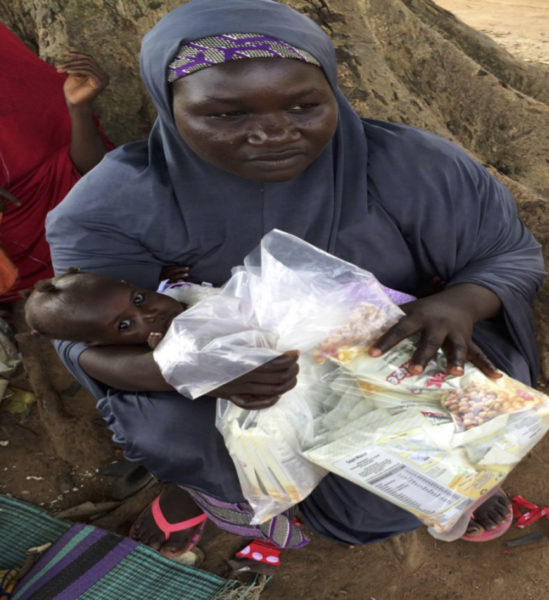 Fatima is a fragile 7-month old girl with a measured smile and dark, glowing, eyes. At only 4 kilograms, she weighs 50% less than the World Health Organization's standard of what she should weigh at her age. Fatima would essentially have to double her body weight in order to be a normal 7-month old girl. At this age, she should be developing motor skills like rolling and crawling, however, she is merely able to quietly stare, motionless, swaddled in her mother's arms.
Fatima was a 3-month old foetus when her mother fled with her and her four siblings from Gwoza, Borno state, after a siege laid on the town by the Boko Haram militant group. After spending 3 weeks in Maiduguri, they escaped to the Durumi IDP camp in FCT, Abuja. Fatima is wasted and tethering on the edge. Her little body may not be able to handle one bout of diarrhoea; or one episode of fever; perhaps not even a cold. Her ability to fight is deeply compromised, and she is in great need of nutrients in order to stand a chance.
Fatima's story unfortunately, is not unique in Nigeria. The country has over 12 million people living in hunger and according to the Nigeria Demographic & Health Survey in 2013, 37% of children under 5 are stunted, 18% are wasted and 29% are underweight. These statistics are disproportionately higher in the Northern region of Nigeria. The situation has been worsened by the Boko Haram insurgency, which started in Borno State and has spread across the North East and some North Western parts of the country. The result is an internal refugee crisis with conservative estimates putting the number of internally displaced peoples (IDPs) at over 1.5 million as at April 2015. Approximately half of the IDPs are children, malnourished and suffering from ailments caused by pertinent micronutrient deficiencies including iron, iodine and vitamin A.
AACE Foods an indigenous agro-processing company, established by Mezuo and Ndidi Nwuneli, burdened by the high rates of malnutrition in Nigeria recently launched two new products – Soyamaize and SosoNourish. Both products are proudly Nigerian, made from the best of grains and cereals, and fortified with vitamins and minerals to provide a complete meal and address malnutrition. AACE works with farmer clusters, providing training, microfinance and technology support to enable them meet the global standards of excellence.
In August 2015, AACE launched "AACE Foods Feed the Children Fund", via crowdfunding to raise funds to provide at least 2,500 displaced children with nutritious food for 3 months. According to the company's General Manager, Temitope Jebutu, "we have been overwhelmed by donations that we have received from friends across the globe who share our passion for addressing malnutrition in the IDP camps."
In October 2015, AACE, in partnership with Africare Nigeria, and with the support of committed volunteers, kicked off its IDP intervention, starting with Durumi IDP camp in Abuja. The AACE team, led by Juliet Fejinro, provided training to the mothers on nutrition and demonstrated the use of the Soyamaize. The company distributed products to over 200 children.
With Africare's support, AACE volunteers have committed to visiting the camps bi-weekly to monitor the nutritional status of the children. Their intervention involves feeding the children SoyaMaize twice a day alongside their normal diets for three months. With their parents' consent, AACE Foods will monitor their growth in order to assess the impact of the consumption of fortified foods in these children's growth patterns. The results of this programme could prove highly instrumental in AACE's campaign to ensure a more nutrition-conscious, and a healthier Nigeria.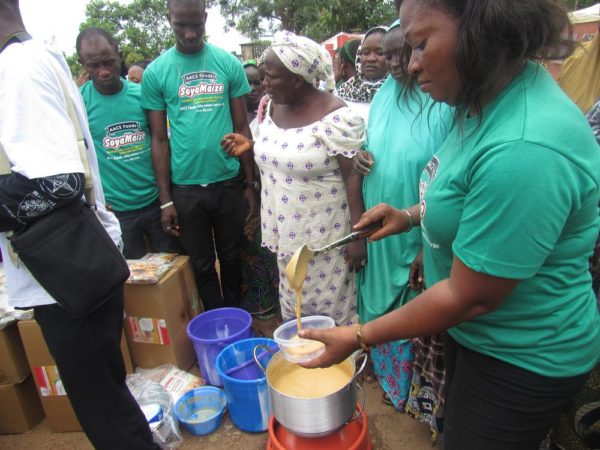 Words from Ndidi Nwuneli, AACE Foods' co-founder captures the shared sentiment of the volunteers and the company – "I am so proud of AACE's work in the IDP camps and thankful to our funders and volunteers. From feeling so depressed about our inability to respond to the havoc caused by the Boko Haram crises in Nigeria, this collective intervention restores our hope and demonstrates that committed individuals, working together in service, can save lives!"
To support this initiative visit https://www.gofundme.com/AACEFeedDechildren or send an email to [email protected], www.aacefoods.com, @aacefoods.