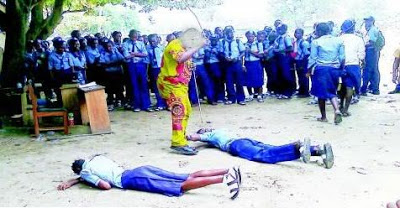 School authorities must learn to draw the line between discipline and torture, as incidents of brutality against students appears to be on the rise.
We all remember the case of the promising female SS1 student who lost sight in one eye after being slapped by a school's principal secretary. Also just the other day, the world was outraged when a video showing a South Carolina school officer grabbing an African-American female high school student from her chair, knocking her to the floor and dragging her across the classroom. There are so many instances too numerous to delineate.
And now, students of IMG Secondary School, Oke Ado, Ibadan, staged protests on Wednesday after a teacher at the school flogged a student to death, Daily Post reports.
The deceased, who is yet to be identified, was reportedly punished mercilessly for coming late to school.
In the aftermath of the student's death, fellow students went on rampage at the school, destroying property. The protests eventually escalated to the point where teachers and administrative workers of the school fled.  Policemen eventually arrived at the scene.
According to an eyewitness:
"He (the deceased) told the teacher he came late due to illness. At that point, the principal, who was passing by asked the teacher the cause of the discussion. The principal ordered the teacher to flog the student for coming late and he slumped in the process. They tried to resuscitate him but it was too late."
Police Public Relations Officer (PPRO), Oyo State Police Command, Adekunle Ajisebutu, confirmed the incident, stating that investigations have commenced.
Photo Credit: Daily Post