On, Tuesday September 22nd 2015, media personality and actress, Mercy Ajisafe, embarked on an exciting journey to Johannesburg, South Africa. It was her first time in the beautiful country, so come along with her on an exhilarating ride, as she shares her personal diary of the journey with you…
Tuesday, 22nd September
The incessant ringing – loud and shrill –  persisted until I partially opened one eye, and swatted my phone with my left hand. My alarm had so cruelly wrenched me from my dream: My team and I were being awarded with the highest commendations known to man; our last expedition to space had yielded discoveries of an earth-like planet with enough natural resources to enable the mass migration of the human race. Earth had been rapidly running out of resources and it was down to my team, headed by me (my dream equals my mission, pretty simple) to ensure the survival of the human race.
The first thing I noticed, other than the fact that I was clad in my wrapper, as opposed to my official NASA jumpsuit, was the sunlight streaming through my windows. SUNLIGHT?? Noooo, how on earth could I have set my alarm for so late? The rule of thumb is if I see sunlight, I'm late, not a just a little late either, a lot late.
The only day I should have the luxury of seeing the sunrise from my bed is a Sunday; during the week, I'm up at 4 a.m to be on air for the Good Morning Nigeria Show, and Saturdays at 6 a.m for the Saturday Morning Groove.
As panic began to set in and I tried to gather my thoughts to see if I had a guest coming in on the show that morning, it all came flooding back to me… "Phewww, you're not late for work Dupsy, in fact, you're on leave girl." I heaved a huge sigh of relief as I remembered that I, Mercy Modupe Ajisafe, would be going on an all-expense paid trip to South Africa courtesy of South African Tourism (SAT), in a few hours, okay maybe 14, but that's still a few right?
BellaNaija had invited me to be their representative for the trip, but it wasn't all fun games oo. I was sent on a mission, and I take my missions very seriously. My mission, and yes I chose to accept it, (Wait, hold on guys, I hope the audio department has cued the Mission Impossible the theme track oo) was to attend the Joy of Jazz Festival, Africa Movie Academy Awards (AMAA), as well as explore beautiful Johannesburg. I was to write an account of my experience and take over the BN social media accounts, taking their followers on a journey of South Africa through my eyes. No pressure right? *gulps* "Actually wait a minute Dupsy, you've got this, the Bella Mafia might be firm, but they're usually fair" were the thoughts running through my mind as I went over my checklist to make sure I was prepared for the trip.
I had picked my main looks for the trip the day before from Ejiro Amos Tafiri and Iconola, the only things I had to do today was pick some last minute bits from Frock It Rock It and Maju, then head to the mainland to pick up my accessories from Bland 2 Glam. Pretty routine stuff right? What could possibly go wrong?
WHAT COULD POSSIBLY GO WRONG? Famous last words huh, I mean did I miss the memo that the President was coming to town? Why on earth would I be in traffic for like 9 hours? Why? I haven't even made to 2 of the places on my list and it's time to go home and pick up my luggage. As I sat in non moving traffic fuming, I tried my best to calm down. I realized that whilst being stuck in traffic was an inconvenience, it had given me the opportunity to write my pre-trip post, telling the beautiful BellaNaijarians about my upcoming trip.
As I was sending my piece to the lovely Moremi, the assistant editor, I felt a frisson of excitement; I'd wanted to visit SA for a while, but it can be difficult getting away when you're on air 6 days a week. My older sister Abi Ajisafe, has lived in SA ever since she'd been offered the position of VP at Renaissance Capital years ago, and I had been promising to go over for a visit.
Finally, I had gotten back to the island with barely enough time to pick up my luggage and change into my failsafe travel uniform of leggings, trainers and a hoodie. And back in traffic I went… Although I was due to meet the rep South African Tourism PR rep, Mohammed, at MMIA at 7pm, I wasn't too worried as our South African Airways flight wasn't until 10:20pm.Thankfully I made it to the airport in good time and met the rest of our party, I was embarking on the trip with 2 other radio presenters; Genie from Smooth FM, and Bukola from Classic FM, and I was ready for the adventure to begin….
Wednesday, September 23rd
Six hours after the plane had departed from MMIA, we arrived at OR Tambo International Airport in Johannesburg, South Africa. And you couldn't tell me nothing! I was so excited I was swanging my braids like "South Africa, I'm herr, lets GO". I must say I was incredibly impressed by Tambo airport, if the airport is anything to go, Johannesburg is definitely going to be a beautiful and cosmopolitan city.
I soon realized our party was way bigger than I'd initially thought, Genie, Bukola and I were joined by the winners (Simbo and Idara) of contests they'd run on their respective stations, digital media expert Akin Marino and Nollywood superstar, OC Ukeje. We were informed prolific blogger, Noble Igwe, was waiting for us at the hotel.
Then came team Ghana; we were joined by SAT, representative Samantha, Ghana's Joy 99.7 FM's popular On0air personality, Lexis Bill (and his contest winner Belinda), famed media guru and freelance journalist Francis Doku, Founder & Owner of one of Ghana's biggest blogs Ghana Gist, Ebenezer, and Nollywood/Ghollywood actress Juliet Ibrahim. Talk about West Africa meets South Africa….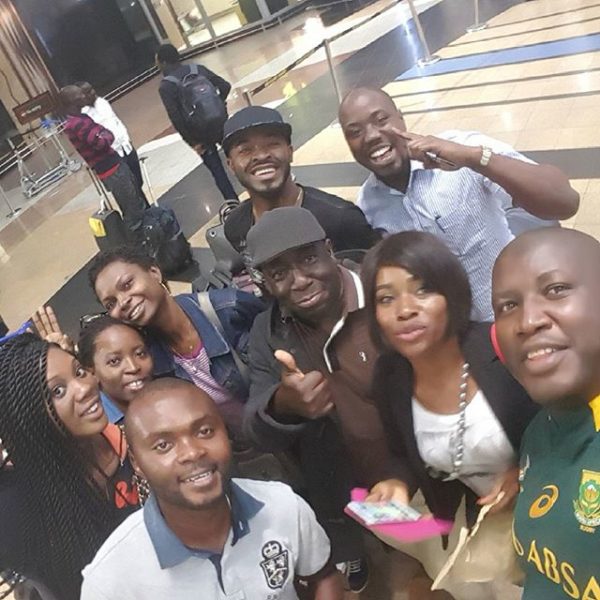 It was time for the adventure to begin…we all piled into the bus and headed to Sandton, where we checked in at The Maslow, a high-end business hotel.
We arrived just in time to have breakfast. I had eggs, bacon, sausages, mushrooms, baked beans, whole-wheat toast and pancakes with maple syrup, yup, I did that! Please do not be fooled by the skinny legs, mo ti like onje ju ooo.
After breakfast, it was time to unpack. Our itinerary was so tightly scheduled we literally only had like 2 hours to unwind.
After a few hours of rest, it was time to go downstairs and join the group, and the regional head of Sun International hotels, Jenny, for an a la carte lunch.
I initially chose the sea bass over the lamb, but after seeing how good the lamb looked (I LOVE lamb) I decided to have BOTH!! The dessert was everythinggg, I'm not usually a fan of crème brulee, but this was like a caramel toffee crème brulee with mango sorbet and crushed chocolate and ginger biscuits. Divine!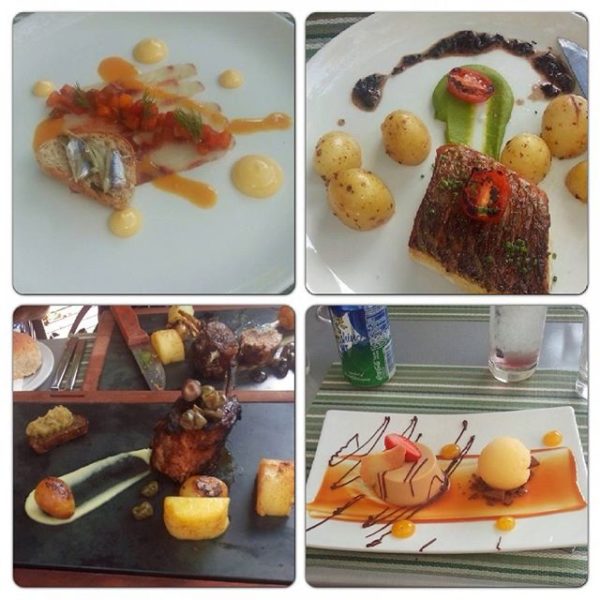 After lunch was over, it was time to begin our activities. First up, Nelson Mandela Square and Sandton City Mall. A six metre sculpture of South Africa's favourite son holds court over Nelson Mandela Square. Undoubtedly one of the largest open public spaces in the country, the Square adjoins the renowned Sandton City complex. This European styled piazza commemorates heritage and invokes elements of international style with the warmth of African hospitality. Sandton City Mall boasts over 88 exclusive stores and some of the finest restaurants South Africa has to offer. If I'm going to really honest, we spent quite a bit of time utilizing Nelson Mandela square as the backdrop for our impromptu photo shoot. You know one must always be camera ready darling.
Sandton City Mall had all my favorite high street stores: Topshop, Zara, and La Senza. It was literally a heavenly shopping experience, with high end designer stores as well as the more affordable stores. Sandton Mall offers a plethora of choices for the shopaholic.
After trawling the stores with OC, trying to help him find a pair of shoes for AMAA, it was time to go back to The Maslow and prepare for dinner.
Dinner was at the Monarch Hotel, a beautiful 5-star hotel in the heart of Johannesburg, where they'd organized a special dinner for us. We were served delicious meals accompanied by the some of the best wine South Africa has to offer. Unfortunately for my wine aficionados reading this, I don't drink so I can't comment on the taste or quality, but the rest of party seemed very happy with the choices.
Dinner was a wonderfully boisterous occasion, with Juliet Ibrahim and Oc Ukeje, serenading us with song…
We did consider going out on the first night, but we were due to go for our hot air balloon ride the next morning at 5:30 a.m, so we all thought it would be wise to retire to bed. With the exception of a few of course *cough cough* saying no names lol. Thursday 24th September One of my favorite activities of the day was our visit to The Elephant Sanctuary in Hartebeesport Dam. Did you guys know that elephants are like super sweet and friendly, honestly, they were literally our homies yo! In fact, one in particular couldn't decide if it liked Oc or Juliet more, it was totally trying to kiss them both.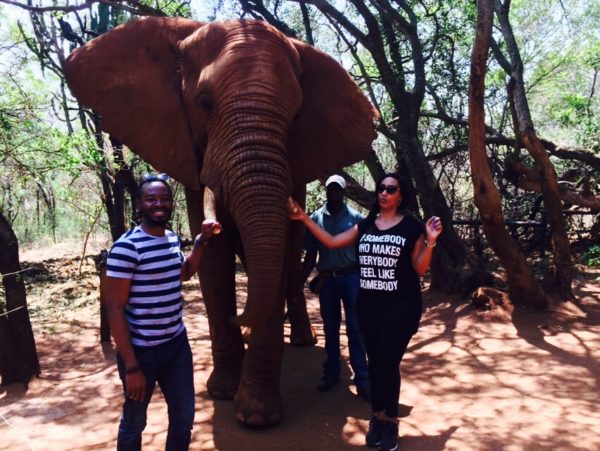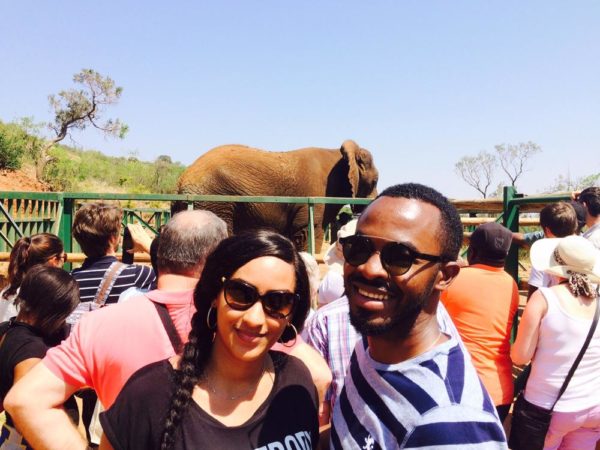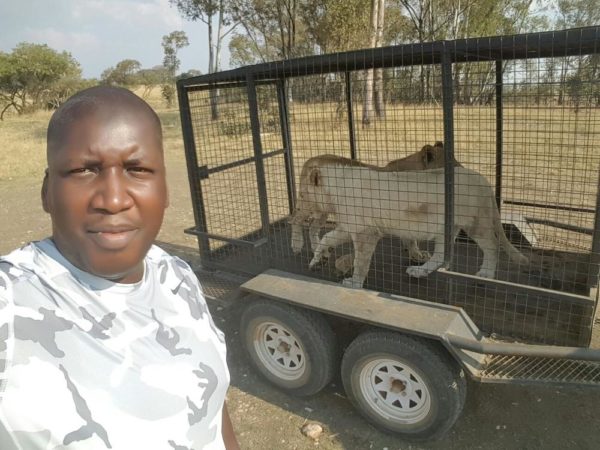 Visitors are able to touch, feed and get close to the beautiful creatures. You're also able to walk hand – in –trunk , as well as ride them, if you so please. This is an activity that I would recommend to everyone: Couples, families, friends, literally everyone!   After lunch, it was time to bring out the big dogs, actually wait, I mean big cats. That's right, we took our brave West African selves to the Lion Park, where we able to do the lion walk. For those of you reading who are currently saying "lai lai ko le possible" it was actually very safe, we had 4 rangers with us, and those who were scared were able to stay in the vehicle. The lions were all in cages, with the exception of the more mature ones in the pack. The lions were soo beautiful and regal. Truly a sight to behold.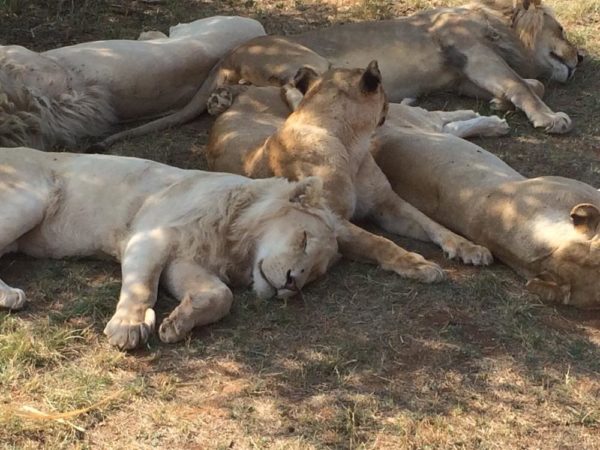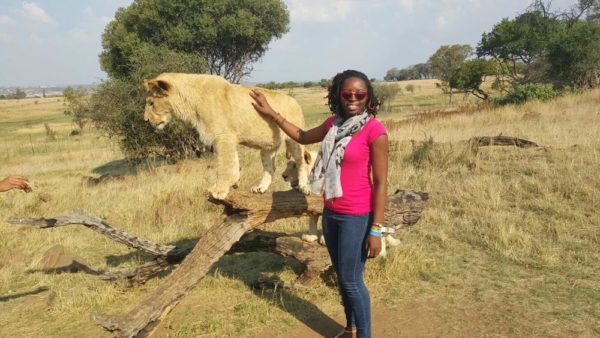 After the lion park, it was business as usual; straight back to the Maslow for the opening night of the Joy Jazz Festival. Annice, my lovely MAC makeup artist was at my room at the agreed time and I got ready for my second night out in Jozi (Yasss, Jozi is what we regular visitors to South Africa call Johannesburg you know *cough cough* lol).  
  As soon as we were ready, it was straight to a brief mixer organized by SAT at Sandton City Mall, dinner, then Sandton Convention Centre for the main attraction. Jazz babyyy.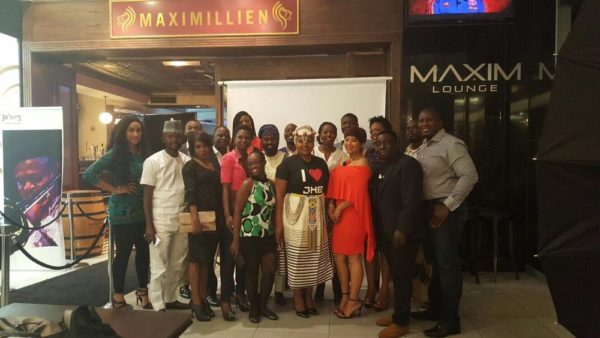 Standard Bank Joy of Jazz Festival is South Africa's second biggest jazz festival, it's currently in its 18th year, and draws a crowd from all over the world. This year's stellar lineup included Marcus Miller, Larry Carlton, Peabo Bryson, Jimmy Dludlu, Hugh Makasela, Dwight Trible and Simphewe Dana. With five different stages, on 5 different floors, it certainly was orchestra of delightful vocal and smooth jazz.   I had such a groovy time, we all really enjoyed ourselves. The opening night was a resounding success, and I couldn't wait for round two.  
Stay tuned for Part II of my South Africa adventures! All the scoop on AMAA, my tour of Soweto, and more coming up next…