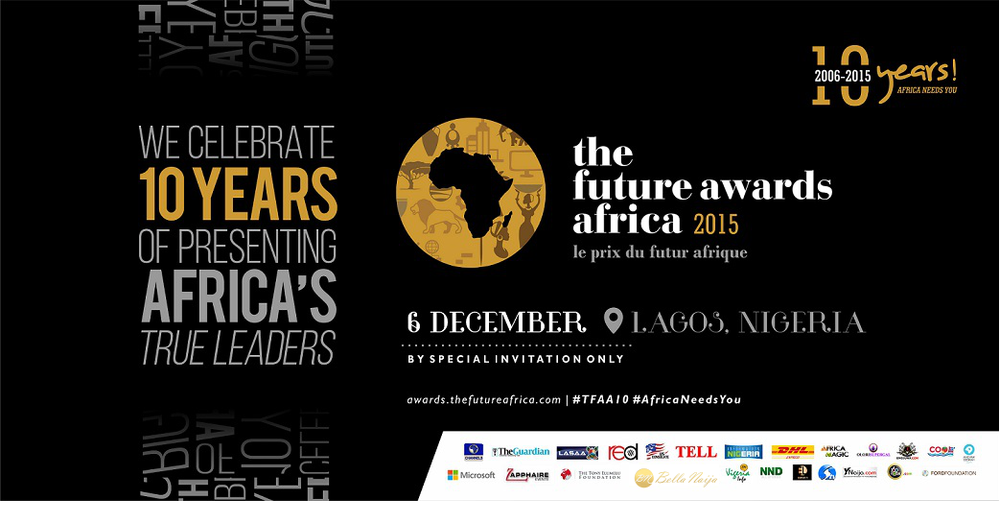 The Central Working Committee (CWC) of Africa's biggest youth event, The Future Awards Africa (TFAA) has officially launched the media campaign for the 2015 edition – which celebrates 10 years of inspiring Africa.
The campaign is themed #AfricaNeedsYou, and it will be driven by a tour of 100 cities across Africa. This tour will a) re-focus attention on the issues young people are facing across the continent, b) the case studies of how TFAA's global brain trust has solved these issues and then c) set up hubs in each city – made up of past winners, nominees, partners and volunteers at community-levels – to solve these problems.
"Over the past 10 years, we have created a platform that has spotlighted, invested in and grown businesses amounting to over $100 million dollars in revenue, supported and created change organisations reaching over 200 million African youth, transformed governments and institutions, and has inspired millions of young Africans directly with these stories told strategically through its 10-year cycle of global media partners," says Ohimai Atado who is chair of the CWC.
"There is plenty to celebrate in the ground we have covered and the impact we have made with our partners. However, there is still so much work we all have to do – and we are fired up to engage these problems, and to galvanise the continent to solve them."
The one-year tour, which kicked off in October 2015, has now visited Kano, Banjul, Port Harcourt, Ibadan, Enugu, Abuja and Lagos. Next on the schedule are cities in Johannesburg, Nairobi, Adamawa, Sokoto and Accra.
"As Africa's biggest youth platform, we have a rare capacity to spotlight the weight of the challenges that still face young people across major issues like education and entrepreneurship to existential challenges including erosion, malaria and preventable illness," says Mohamed Diaby who is a CWC member based in Abidjan.
"It is even more important to spotlight the anecdotal trend lines of these challenges as the world has launched the Sustainable Development Goals in 2015.
On our 10th anniversary, we want to engage these problems, at scale, bringing together the full force of TFAA"s influence and network."
According to Bukonla Adebakin, Project Manager for The Future Project, after each visit, #TFAAHubs will be set up in each city – in conjunction with local organisations – so that there is a community of young people led by TFAA alumni who will solve these problems and track stories of change.
Hubs have already been set up in Enugu with the Access to Good Health Initiative, Lagos with Street to School, Abuja with the Global Shapers, Kano with the Africa Focus for Youth Development, Port Harcourt with the Africa Youth Entrepreneurship Foundation, Ibadan with the One Life Foundation and Banjul with the National Youth Council, Gambia. These hubs will work with the Global TFAA Secretariat to pull resources and media attention to solve the identified problems in each community.
10 alumni of the awards will be unveiled on 8 November as ambassadors to drive this campaign.
The Future Awards Africa 2015 is powered by RED and held in partnership with the Ford Foundation, Microsoft, the US Consulate, the Canadian High Commission Nigeria and The Tony Elumelu Foundation. The event will be hosted in Lagos on Sunday, 6 December, 2015.
For more information, visit awards.thefutureafrica.com
ABOUT THE FUTURE AWARDS AFRICA
The Future Awards Africa has been called the 'Nobel Prize for Young Africans', and the 'most important youth awards' by Forbes. It is a set of prizes given annually to celebrate and accelerate innovation, creativity and enterprise amongst young Africans aged 18 – 31. It has produced over 150 winners and over 1550 nominees since its first edition in 2006.
It is presented in conjunction with The Future Project, which has a mandate to build empowered citizens across Africa, through (inclusive) enterprise and (active) citizenship. This focus on Human Capital Development is informed by our value proposition: Africa's growth needs a generation of young people who are gainfully employed and able to demand and secure better leadership.
Our projects include Aiki.ng, an employability portal presented with Microsoft; the Nigeria Symposium for Young & Emerging Leaders, #StartupsAfrica, Intern4Jobs, The m-Hub, TheFuture Enterprise Support Scheme and The Future Africa Awards & Summit, described as 'The Nobel Prize for Young Africans'.
With a network of funders and partners including the Tony Elumelu Foundation, Ford Foundation, the US Government, First Bank, MTN, The Canadian Embassy, HP, the Nigerian Government and the British Council, our work has spanned Nigeria, Ghana, South Africa, Tanzania, Liberia, Burkina Faso, Uganda, Malawi, Cameroon, Somalia, Equatorial Guinea, Ivory Coast and Kenya.
Founded by the Chude Jideonwo and Adebola Williams, TFP is supervised by a Global Board of Advisors drawn from Africa, Europe, North America and the Middle East, including the Coordinating Minister of the Nigerian Economy, Ngozi Okonjo-Iweala; Senior Economic Advisor with the Open Society Foundations, Obiageli Ezekwesili; co-founder of ONE, Jamie Drummond and the Chief of Cabinet with the Africa Development Bank, Anne Kabagambe.
_______________________________________________________________________________________________________
BellaNaija is a media partner with Future Awards Africa 2016