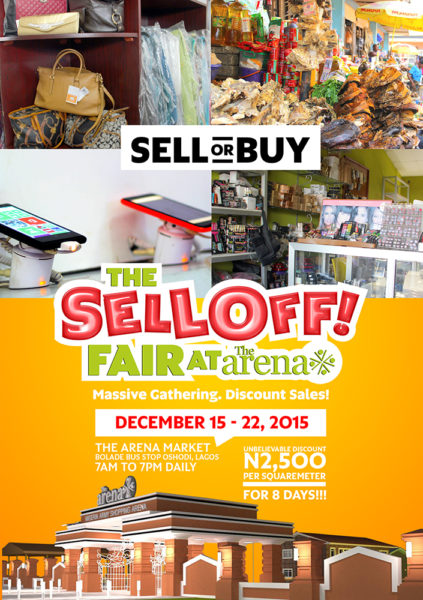 Experience a viable business platform through which you can MEET thousands of people daily, interact and sell your products in an environment with good music and lots of special attractions.
The fair will attract a massive gathering of over 15,000 people who are interested in discounted sales on all items across the 5 major categories to Sell or Buy: Gadgets, Electronics, Fashion, Food, Groceries & Hair/Makers; with top notch and adequate security provisions and other logistics necessary for smooth operations.
The Arena Market, which is the location for this fair, is situated in a choice part of the Lagos metropolis hence accessibility will not pose any issues. Over 200 state-of-the-art toilets, 72 showers, a parking lot for over 1000 vehicles, restaurants as well as banking facilities, among other things.
The Sell Off Fair is free attendance for all. FOR INTENDING PRODUCT SELLERS, spaces are being sold for N2,500 per Square meter for 8 days.
Date: Tuesday 15th to Tuesday 22nd December
Time: 7 AM – 7 PM daily
Venue: The Arena Market, Bolade bus stop, Oshodi, Lagos
For Space Booking Call 07011265913 or 09099150135
Facebook: facebook.com/TheArenaMarket | Instagram: @thesellofffair
#TheSellOffFair is packaged by FEU INTERACTIVE.
_________________________________________________________________________________________________
Sponsored Content