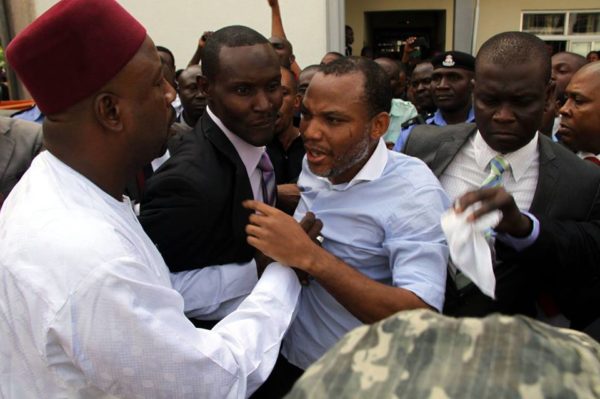 Radio Biafra director and leader of the Indigenous People of Biafra (IPOB), Nnamdi Kanu, has apologized to President Buhari over some derogatory remarks he made about him during a radio broadcast. These remarks included calling the president a terrorist and a paedophile.
He apologized via the following statement which was recently released by Department of State Services (DSS), Cable reports. See excerpts below:
Reference to the President of the Federal Republic of Nigeria as a terrorist, evil and a paedophile is regrettable and uncalled for and for that, I unreservedly apologise and will be doing so in a private letter to the President.

Before PMB, there was the administration of Goodluck Jonathan. I also said uncomplimentary things about him and Igbo elders as well, which I now recognise should not have happened because it is un-African to be rude or insolent to elders. "All I was trying to do is to draw attention to the problems afflicting society and something done about them.
However, Kanu defended the Biafra movement, stating:
I can confirm that I, Nnamdi Kanu, am the leader of Indigenous People of Biafra worldwide as a legitimately and duly-registered body at the United Nations pursuing the rights of a specific indigenous people, in this case, Biafra, to seek self determination according to the said charter. The reason for the formation of the Indigenous People of Biafra is to avail those referring to themselves as Biafrans the opportunity made available as a result of the United Nations declaration to seek the peaceful rebirth of Biafra in line with international law.
Kanu, who is currently undergoing trial at a federal high court in Abuja on on a six count charge of treason, importation of illegal good and possession of fire arms.
During his most recent  appearance in court on December 23, Kanu requested to be left in detention, saying:
"I will rather remain in detention than subject myself to a trial that I know amounts to perversion of justice.

I will not have a fair trial in this very court because information available to me indicates that I will not receive fair trial before this very judge.

I will not for any reasons sacrifice the due process of law founded on the principle of natural justice on the altar of my speedy release from detention. After all, previous orders have been made in my favour by courts of competent jurisdiction that my accuser, the state security service failed to carry out."
Ahmed Mohammed, the trial judge, subsequently withdrew from the case.