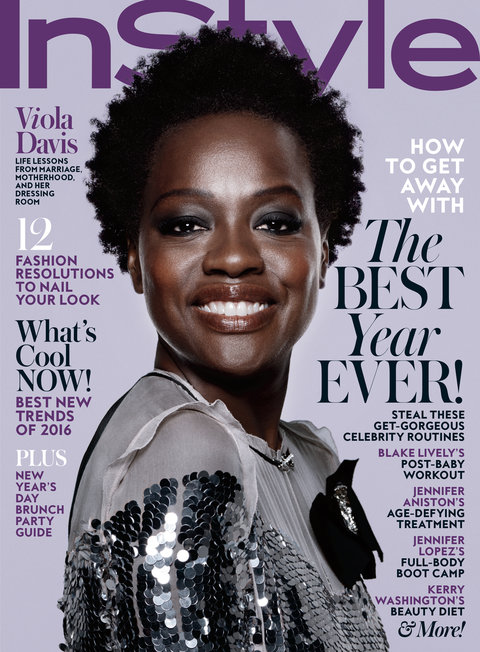 Viola Davis is the cover girl for the January 2016 issue of InStyle magazine and we love how the cover shot brings out her beauty.
Star of hit series How to Get Away With Murder, Viola Davis has been in the media for her unconventional beauty just as many times as she has been in the media for her acting.
For the January 2016 issue Viola Davis shares some life lessons on self-awareness, marriage, motherhood, and more. See excerpts below.
On the designer clothes in her wardrobe: If I were to compare my style to Annalise Keating, I would say that I have absolutely no style. Annalise Keating is an Alexander McQueen, kinda Max Mara girl. That's not me. I have a five year old, so…
On spending time with her daughter: We go into space. We explore different planets. This ship is in danger. We almost died at one point. We lost oxygen.
On how she relaxes: I am addicted to spas. If we go to a hotel, we'll be the only people in that spa for hours. We'll start at 5 in the morning sometimes.
On self-awareness: What's released me most from the fear of aging is self-awareness. I've never determined my value based on my looks or anything physical. I've been through a lot in life, and what has gotten me through is strength of character and faith.
Read up more of her feature here.
Photo Credit: InStyle