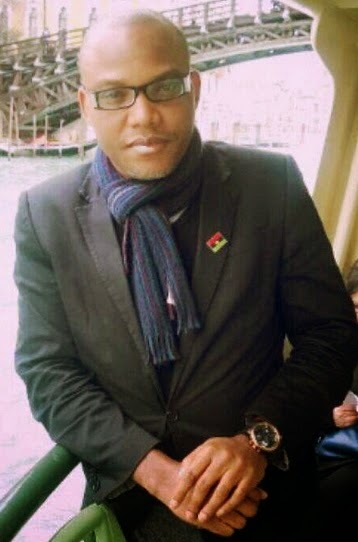 In the aftermath of  Indigenous People of Biafra (IPOB) leader and Radio Biafra director Nnamdi Kanu's release from DSS custody, and the transfer of his case to a higher court, it has been reported that a Federal High Court in Abuja last Friday leveled six charges of treasonable felony against him.
The charges have also been leveled against two other individuals named Benjamin Madubugwu and David Nwawuisi, Sun reports.
Reports state that the charge-sheet reads in part:
That you, Nnamdi Kanu and other unknown persons, now at large, at London, United Kingdom, between 2014 and September, 2015 with intention to levy war against Nigeria in order to force the President to change his measures of being the President of the Federation, Head of State and Commander-in-Chief of the Armed Forces of the Federation as defined in Section 3 of the Constitution of the Federal Republic of Nigeria 1999 (as amended) by doing an act to wit: Broadcast on Radio Biafra your preparations for the states in the South- East geo-political zone, South-South geo-political zone, the Igala Community of Kogi State and the Idoma/Igede Community of Benue State to secede from the Federal Republic of Nigeria and form them- selves into a Republic of Biafra, and thereby committed an offence punish- able under Section 41(C) of the Criminal Code Act, CAP C38 Laws of the Federation of Nigeria 2004.