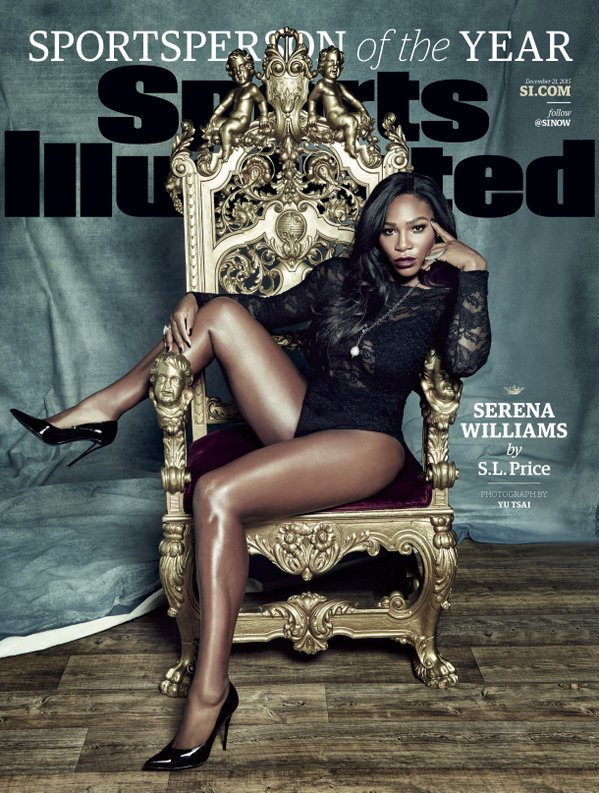 Serena Jameka Williams is wrapping up the year 2015 with the title of 'Sportsperson of the Year' from Sports Illustrated magazine.
The 34-year-old tennis pro is the cover star of the magazine's latest issue and we just love how fierce the cover is. Serena can be seen with one leg straddling the arm of the chair which she gives a nonchalant look to the camera.
Talking about why they picked Serena as the Sportsperson of the Year, SI says:
In the end, as you already know, we chose Serena Williams, and even amid such a rich collection of finalists, she was a decisive choice. Sports Illustrated honors her dominance in 2015, when she won 53 of her 56 matches, three of the four Grand Slam events and built the most yawning ranking points gap between her and her closest competitor in tennis history. We honor her, too, for a career of excellence, her stranglehold on the game's No. 1 ranking and her 21 Grand Slam titles, a total that has her on the brink of Steffi Graf's Open Era Slam record, which Williams will likely eclipse by mid-summer.

But we are honoring Serena Williams too for reasons that hang in the grayer, less comfortable ether, where issues such as race and femininity collide with the games. Race was used as a cudgel against Williams at Indian Wells in 2001, and she returned the blow with a 14-year self-exile from the tournament. She returned to Indian Wells in '15, a conciliator seeking to raise the level of discourse about hard questions, the hardest ones, really. Williams, S.L. Price writes in his cover story in the Dec. 21 issue, "proffered an open hand. Far past the time that anyone expected it, she demonstrated a capacity for change—innovation if you will. She's groping for answers and realizing she has much to learn.
Check out her full feature here.
Photo Credit: Sports Illustrated