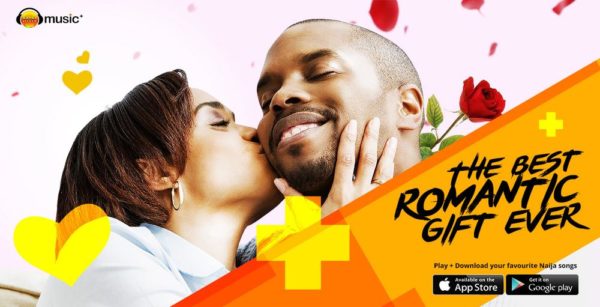 On the eve of our wedding anniversary, I was clueless as to what to get my husband. My friends had told me of a great men's store. I went there but everything looked familiar, either I'd already given him these things, or they were too mainstream for me. I'm a lady of class and I make no excuses for that, my hubby was a great guy and I was looking for something out of the blue, something that I wouldn't have done on a normal day.
I laid down and thought for hours, but nothing came and I fell asleep with my earpiece on, only to be woken up with 'My Darlin' by Tiwa Savage. I missed him even more. It was still, and will always be, our best song as it was played on our wedding day. I got up and unlocked my phone to put the song on repeat; it was playing from a playlist I'd made on the MTN Music App.
A thought flew into my head, like a swallow swooping for its prey, "I could make a playlist for my husband, from songs telling our life's story together, all within the App!" So I created a playlist including songs we loved, (well, he loved them more than me!). Songs about how we met, fell in love, how he proposed, our wedding, our first child and most of all, songs that truly explained how much I loved him.
When I finally sent it thinking I would get a quick reply and I didn't get any, I thought to myself that I may have blown it, I played the songs over again to check if I did it right then I got a short message that read, "Thanks sweetie, this is the most romantic gift ever. Thank God I found you."
Give someone you love a romantic gift today. Download the MTN music app here: http://musicplus.mtnonline.com/ or text MUSIC to 5900
To download the MTN Music Plus App:
Send "music" in a (free) SMS to 5900
An SMS description of the app offer will be sent to you
Follow the prompt
Select device type e.g. Blackberry, Android, etc
Click on the "Download" tab
The app is also available on Google Play store or on the Apple store.
_____________________________________________________________________________________________________________________
Advertorial– Sponsored Content