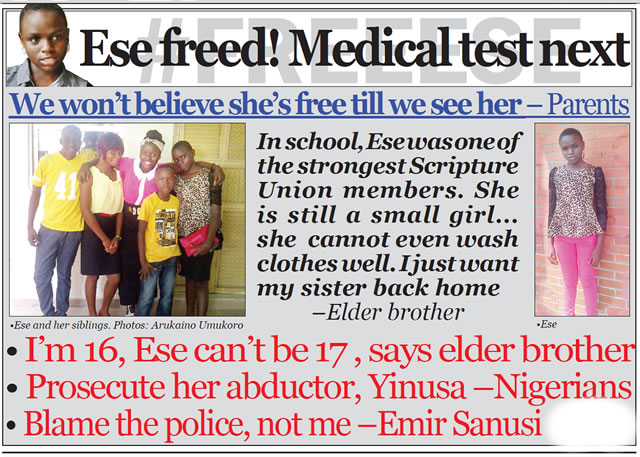 Yesterday, after an online campaign led by Punch Newspaper, Ese Oruru was freed.
Punch reports,
Barely 24 hours after the inauguration of PUNCH newspapers campaign, 14-year-old Ese Oruru was rescued from Kano State where she had been taken to by her paedophile captor, Yinusa, aka Yellow.

Ese, who was abducted on August 12, 2015, converted to Islam and forcefully married by Yinusa, was on Monday released to the police in Kano State.

The minor was released to the Assistant Inspector-General of Police, Zone 1, Kano, Shuaibu Gambo, by the Kano Emirate Council.

The Inspector-General of Police, Solomon Arase, who confirmed this to one of our correspondents via a text message, said Ese would soon be reunited with her parents.

He said, "She is safe with us. She will be reunited with her parents."

The Force Public Relations Officer, Olabisi Kolawole, also confirmed that Ese had been released to the AIG Zone 1, adding that she would be brought to Abuja on Tuesday along with her parents.

She said, "Ese has been released and as I speak with you, she is with the AIG, Zone 1, Kano. She will be brought to Abuja tomorrow (Tuesday) along with her parents.
While an alleged interview uploaded by Premium Times is making the rounds, Ese's family has confirmed that she is indeed 14. Her older brother Onome had this to say;
What will you tell people who claim your sister is 17, and not 14 years old as your mother has said?
It is funny that these people are saying all sorts of things about my sister and her age. Everybody can see it, it is clear. I can't be 16 years old, and my younger sister will be older than me. How can she be 17 years old, when my immediate elder sister, will clock 19 years old on March 7 this year? We all have about two years' age difference in between. Ese clocked 14 on February 22.