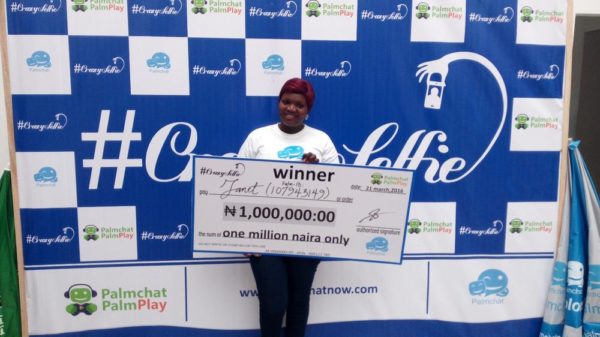 It was a day of joy and thrills for a 400 level Theatre Arts Student of the Federal University, Oye- Ekiti, Lawal Abiodun Janet, as she was rewarded the sum of One Million Naira as the winner of the Palmchat "Crazy Selfie" competition.
The competition which started in December, 2015 and ended on the 31st of January 2016, required participants to take "selfies" with really funny gestures and post on the Palmchat app. The selfie with the highest amount of legitimate interactions: likes and shares, automatically qualified for the big win.
Yemisi Oluwaseun, Business Development Manager, Palmchat at the event that marked the end of the campaign, held at the Palmchat Office in Ikeja GRA, Lagos on the 21st of March 2016 said apart from creating awareness for the Palmchat app, the competition was also a way of giving value to the users.
On the idea behind the competition, she said, it was to empower young Nigerians to create new social experience through building fun and rewarding social networks.
"In line with the promise we to our Palmchat users at the beginning of the "Crazy Selfie" campaign last year, today we have a crown queen; Nigeria's craziest selfie taker Abiodun Janet. The selection process like in most competition was transparent and fair; all malpractices in voting were carefully eliminated by our backend algorithm. So, we are proud to present Janet with the cash reward of One Million Naira", said Victor Onwudiwe, Palmchat Customer Service lead.
Abiodun Janet, couldn't hide her excitement when she was giving her cheque, in her words: "I have been on Palmchat for a long time and I have met a lot of great people on the app. When I heard about the Crazy Selfie competition, I decided to participate and here I am today as the winner. I really give God thanks for making me see this day," she says.
"Honestly, when my daughter first told me about this, I didn't believe it until today. I am one of the happiest mothers alive. This money will go a long way in helping my daughter fulfil her dreams" adds the winner's mother.
Since the launch of Palmchat 5.1.4, the social networking app has continued to soar, thrilling social media users as a result of the unique features embedded in it.
The app which currently enjoys over One hundred million active user base around the world is set to launch its latest version, Palmchat 5.2., an upgrade on the present version soon.
The new Palmchat 5.2, comes with new uniquely tailored features such as in-app Palmstore, a totally retooled 'Broadcast' and 'Locals' handles. Users can also sync the new Palmchat 5.2 app with their phone book seamlessly to connect with existing friends plus they can enjoy customized hashtags for their posts on broadcast.
The Palmchat 5.2 app is available for Android and iOS users on Google Play store and Apple store respectively.
______________________________________________________________________
Sponsored Content