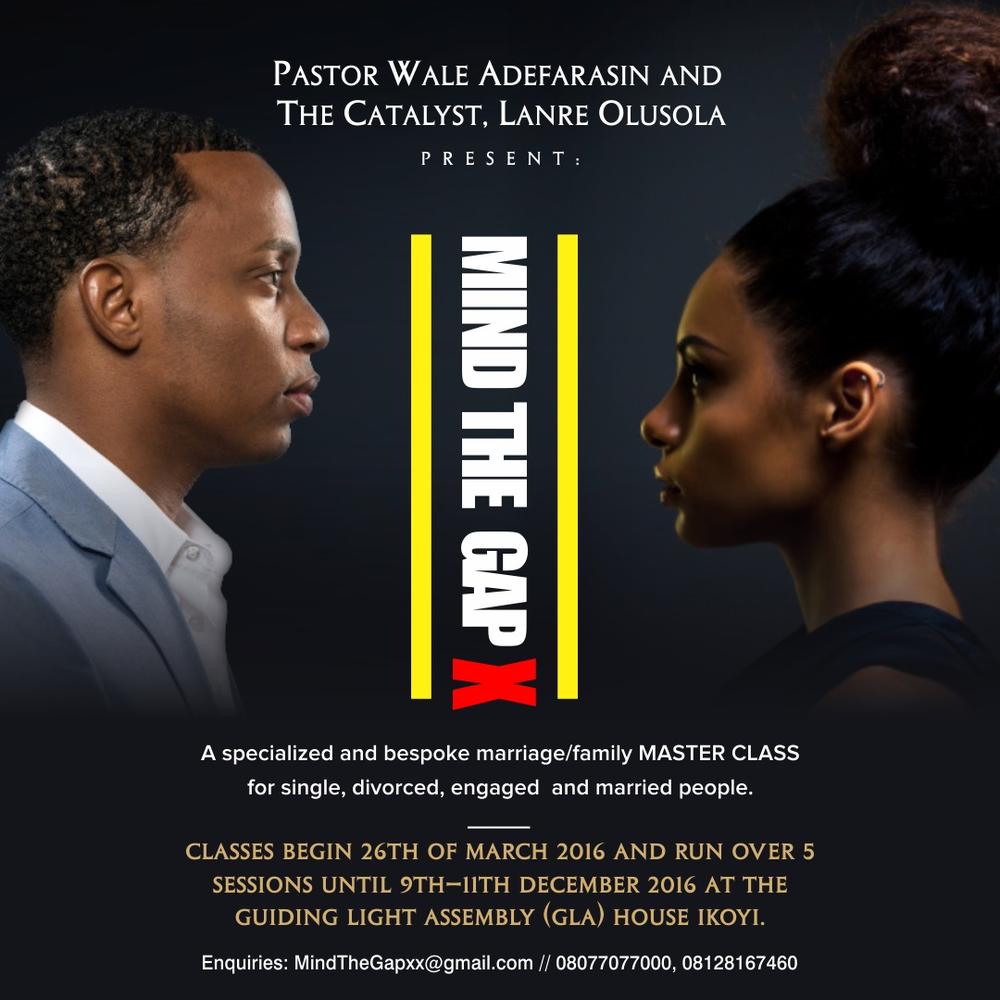 "Love does not leave a relationship, people do"- The Catalyst, Lanre Olusola
Renowned Life Coach and Psychologist, Lanre Olusola (The Catalyst) collaborates with Wale Adefarasin, Senior Pastor and Founder of the Guiding Light Assembly (GLA) to present a unique program tagged Mind The Gap X.
Mind The Gap X is a specialized bespoke marriage and family oriented masterclass for single, divorced, engaged and married people. According to the organizers, the current rate of divorce, separation and dysfunctionality in families these days is highly alarming. However, Wale Adefarasin has commented that, regardless of the level of chaos, it is still possible to rebuild the family and consequently, the society
You go to school to get degrees, study for specializations and certifications to advance your career, how about taking classes for your marriage and family? With Mind The Gap X, participants will increase their knowledge on marriage, family, relationships and how to master family life and home.
How it Works
Classes which have been broken to themes begin on the 26th of March 2016 and will run over 5 sessions until 9th to 11th December 2016.
THEME 1: THE PILLARS THAT BUILD STRONG AND HARMONIOUS FAMILIES
Date: March 26th, 2016
Time: 10am -5pm
Speakers: Wale Adefarasin , Olakunle Soriyan and Lanre Olusola,
Fees: N10,000 for couples and N5,000 for individuals
Lunch will be served
Registration is set to close on the 24th of March – Register Today!
Email or Call to Register via [email protected] | 080 770 7700 & 0812 816 7460
THEME 2: FAMILY AND FINANCES
June, 2016
THEME 3: CHILDREN (INFERTILITY/PARENTING)
September, 2016
THEME 4: MARRIAGE: DEALING WITH IN-LAWS & EMOTIONS
October, 2016
THEME 5: HOME; LIFE; FUN WORK BALANCE – COUPLES' RETREAT
December, 2016
If you have a family or plan to have a family, you are encouraged to register to attend this program.
Watch the Mind The Gap X trailer on here