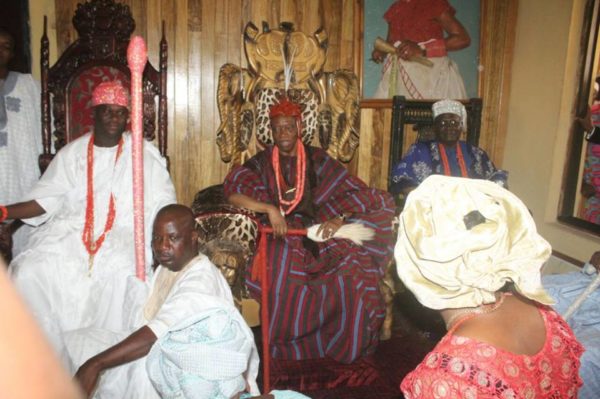 The Deji of Akure Kingdom, Oba Aladetoyinbo Ogunlade Aladelusi (Odundun II) has identified only the people who can trace their origin to Ile-Ife as the bonafide descendants of Oduduwa.
The paramount ruler made this remark while hosting The Arole Oodua, Ooni Adeyeye Enitan Ogunwusi(Ojaja II) who yesterday night paid him a unity visit in his palace at Akure, Ondo state. He lauded the new Ooni for his exhortation of God at all times, his dedication to uplifting the youths and his unity train he moves around the country especially among Yoruba Obas. He therefore assured his vistor who he described as his father and that of the entire Oodua nation of his Kingdom's total cooperation as they all originated from Ile-Ife hundreds of years ago. The Deji said;
"Arole Oodua, we are very glad to receive you today in Akure Kingdom, you are the father of all of us in Yorubaland except those who are not true descendants of Oduduwa. the way you have been exhorting the Almighty God, your dedication to uplift the youth and your train of unity that moves around d country especially Yoruba Obas is indeed very commendable and may God continue to bless you" Deji said.
Ooni in his speech expressed delight at the way he was honoured by the king and people of the capital city, he emphasized on peace and unity among the Yoruba people as the only guaranteed key to progress. The Ooni expressed;
"I am overwhelmed by the love the kabiyesi Deji and good people of Akure have showed to me this night, I have come here for peace, unity and progress of Yorubaland, I have been moving around the country in respect of this because that's simply what we need to move our nation forward"
Ooni Ogunwusi had earlier same day paid a courtesy visit to His Royal Majesty the Olowo of OWO, Oba Folagbade Olateru-Olagbegi at his palace at Owo who led him to the palace of Oba Ojomo Oluda of Ijebu-Owo from where they all went straight to the commissioning ceremony of Best Western plus Mydas Hotel owned Prince Rotimi Ibidapo.