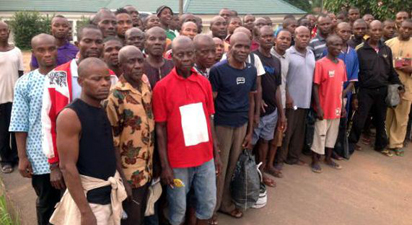 Two weeks ago, 76 men, mainly farmers were arrested in Agwu Community in Enugu state by "men in military uniform" and taken to Umuahia, the Abia state capital.
Confirming the arrest, the traditional ruler, His Royal Highness Igwe Godwin Nwobi said that the men were searching for two women reportedly abducted by Fulani Herdsmen. The monarch said the Fulani Herdsmen settled in their community on their own and have been destroying crops in their farms. He said that they have complained to the government but nothing was done.
As regards the arrest, he explained,
"When we got such information, the youths and men were gathering in our village square to discuss the matter and plan for a rescue mission when suddenly they were surrounded by men in military uniform who arrested 76 of them and carried them away in trucks."
It was alleged that the men had already explained themselves to the "men in military uniforms" and they were left alone. Then suddenly, according to Vanguard, "one Alhaji came out and met them and allegedly placed a call after which some more army vans arrived and bundled them to Umuahia where they were clamped into prisons."
According to Thisday, "The Nigeria Police Zone 9 Umuahia, which jurisdiction covers Enugu also said it was not aware of the Ugwuneshi people who were arrested and brought to Umuahia with the Zone 9 police public relations officer (PPRO) DSP Emmanuel Jiakponna, saying that the incident was not brought to the attention of the police."
ThisDay also stated that "The Army public relations officer 14 Brigade Ohafia, Major Sydney Mbaneme, said the 'Men in military uniform' may not be soldiers as impersonation of soldiers by civilians do occur. If at all they (men in military uniform) are soldiers, they are not our soldiers."
The men who were remanded in Afara Federal prison, Umuahia were taken to a Magistrate court in Umuahia last Friday on a five count arson and illegal possession of dangerous weapons charge as well as burning down 90 houses at Obinwanne Fulani Community Settlement in Umunneochi. They pleaded not guilty to the charges and were granted bail of N200,000 with five sureties who must be residents of Umuahia or Umunneochi.
Alternatively, the traditional ruler of the community would sign with two other prominent individuals he deems fit who are resident in Umuahia or Umunneochi.
The bail conditions  were perfected and the men have since been released. The case was then adjourned to April 29th for trial.