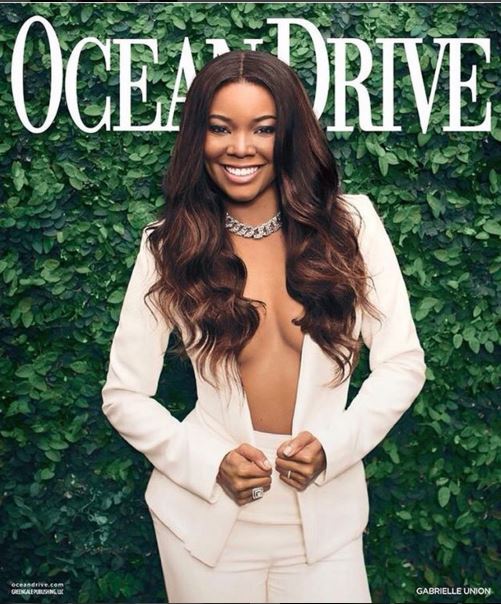 43-year-old Hollywood actress, Gabrielle Union looks amazing on the cover of Ocean Drive Magazine's May/June 2016 issue. This is her second time as cover star for the magazine.
In this issue, she talks about being financially independent in her marriage to Basketball player Dwayne Wade and the place of diversity in Hollywood.
Here is an excerpt of what the 'Being Mary Jane' actress had to share with the magazine:
On having her own financial independence in marriage to Dwyane Wade:
"He appreciates my independence, and my high credit score, and the fact that if I want a Chanel bag, I'm not asking for his credit card; I've got my own."
On her happy marriage:
"If you have good, effective, honest communication, you can handle any issue or problem in a relationship. D is literally my best friend. We really, really enjoy spending time with each other more than anybody else. Well, with D, maybe I'm tied with LeBron! But I'm definitely his favorite female! If you have the chance to marry your best friend, I would highly recommend it."
On Hollywood's Lack of Diversity
"Half the time, [African Americans] don't even get the opportunity to fail, at least let me audition, so you can say I just wasn't good enough, but most times black actors can't even get in the door. The idea that the playing field has ever been equal is a farce. With leaps and bounds of advances, it's still grossly unequal—and that goes for the Latino, Asian, Middle Eastern, and LGBT communities as well. We've made strides, but if Hollywood is really going to mirror the world that it's catering to, we have a long, long way to go."
On Her Latest Project for Invicta:
"Fashion has been an important part of my career. It's become such a fun outlet for expression."
Check out some of the beautiful photos for the spread!
Read more here!