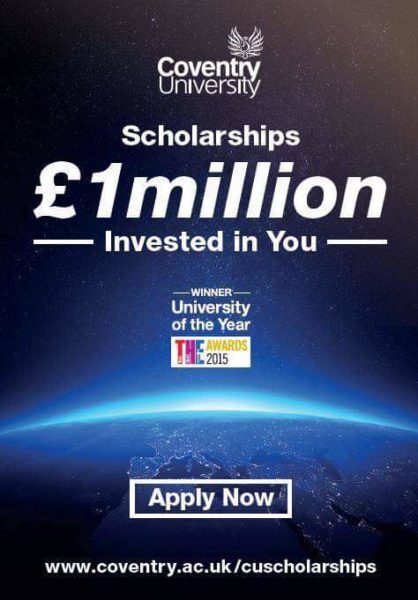 Meet Daya Evans and Lisa Williams in Nigeria this May, to discuss the £9,000 undergraduate scholarships and £3,000 postgraduate scholarships from the Faculties of Arts & Humanities, Business & Law, Health & Life Sciences, and Engineering Environment & Computing, for the September 2016 academic session on:
Lagos Open Day
Date:Tuesday 24th May 2016
Time: 11.00am – 4.00pm
Venue: Protea Leadway Hotels Ltd, Ikeja. No.1, Mogambo Close, Maryland, Ikeja, Lagos State
Abuja Open Day
Date: Wednesday 25th May 2016
Time: 11.00am – 4.00pm
Venue: Chelsea Hotel Abuja. Plot 123 Cadastral Zone A0, Central Business District, Abuja
 Port Harcourt Open Day
Date: Thursday 26th May 2016
Time: 11.00am – 4.00pm
Venue: Golden Tulip Hotel Port Harcourt. 1C Evo Crescent, G.R.A Phase 2, Port Harcourt, Rivers State
To register for this free open day event, please visit www.coventry.ac.uk/nigeria
To confirm your seat reservation to meet with delegates from Coventry University UK, please send an email to [email protected] or call 01 342 8034 and 07083993204
Kindly bring along with you copies of your academic qualifications for on the spot admission to Coventry University UK September 2016 start date.
__________________________________________________________________
Sponsored Content