Beauty and fashion entrepreneur Veronica Odeka is one inspiring woman. Once a model, the mother of three is has made a name for herself in the fashion industry as one of the best stylists. She also offers style clinics/workshops and now she's taking the beauty industry by storm with her new nail product, Vane Polish. Read more on her story here.
In this interview with BN Beauty's Eki Ogunbor, Veronica tells us what the journey has been like so far and her plans for expansion into other parts of East and South Africa having covered West Africa with sales in both Nigeria and Ghana. The VANE empire keeps growing and it's success is a reflection of Veronica's great personality and stellar work ethic which is a major key in business. She also owes much of her success to a supportive husband who keeps her balanced and grounded.
BellaNaija: Please tell us about your journey, what's it been like so far?
Veronica Odeka: My Journey as an entrepreneur has been an important one of learning and balancing my various strengths. As a stylist, I'm always involved in fashion and beauty, nail polish was my first interaction with beauty as a child, and I wanted to re-create that innocence of beauty with perfectly polished nails. The transition wasn't easy, but I must say its been worthwhile for me.
BN: After introducing your nail polish, why did you also decide to open the Vane Nail Bar?
VO: The polish was accepted on a high note by so many wonderful people, however I realized there was a need not being met when they purchased the polish and so after getting repetitive feedback from consumers, I identified the need and provided a solution by opening the Vane Nail Bar at Wolly's Mall 27 fola osibo in Lekki phase 1.
BN: What has the public reception been like for both your nail businesses? (Polish & Nail Bar)
VO: The response has been very supportive. I am constantly receiving tags on social media from people wearing vane nail polish, images and emails from people across Africa and internationally who share my excitement. So many people are into supporting their own people with pride on owning or creating a brand or product and iI must say I have the best customers who have shown their loyal support from day one till now.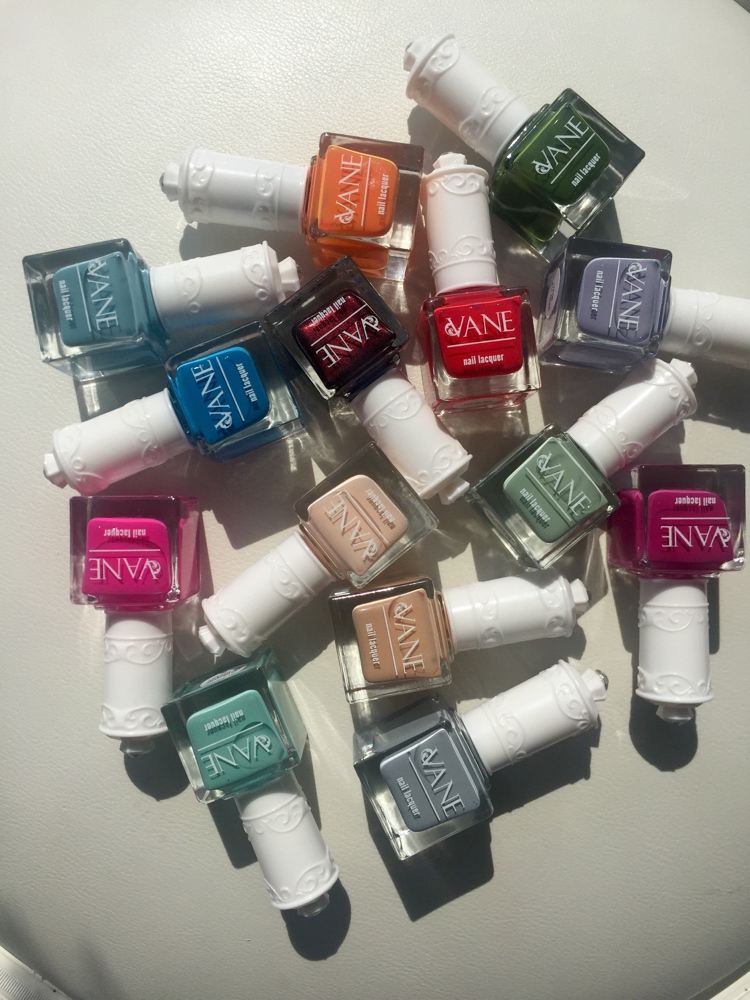 BN: Ever since you started this business (Vane Polish and Vane Nail Bar), what are some of the challenges you've faced as a business owner in Lagos?
VO: There are so many challenges for every business owner, so I don't feel mine are unique but I will say people do not like change, which is understandable, So getting the nail salons to give my polish a chance was in itself a major challenge but once they started using it the requests have kept coming and the feedback positive. With every challenge, I tackle them with serious prayer, smiles and a persuasive attitude of positivity.
BN: Where do you produce? (Have you ever thought of production here in Nigeria? What would that entail?)
VO: My polishes are produced in the USA for now to ensure the price and most importantly the quality stay competitive with the other international brands. However it would be ideal of course to produce my polish here in Nigeria. If the opportunity for land and investment for equipment to manufacture Vane Polish became available, I wouldn't hesitate to venture in that direction.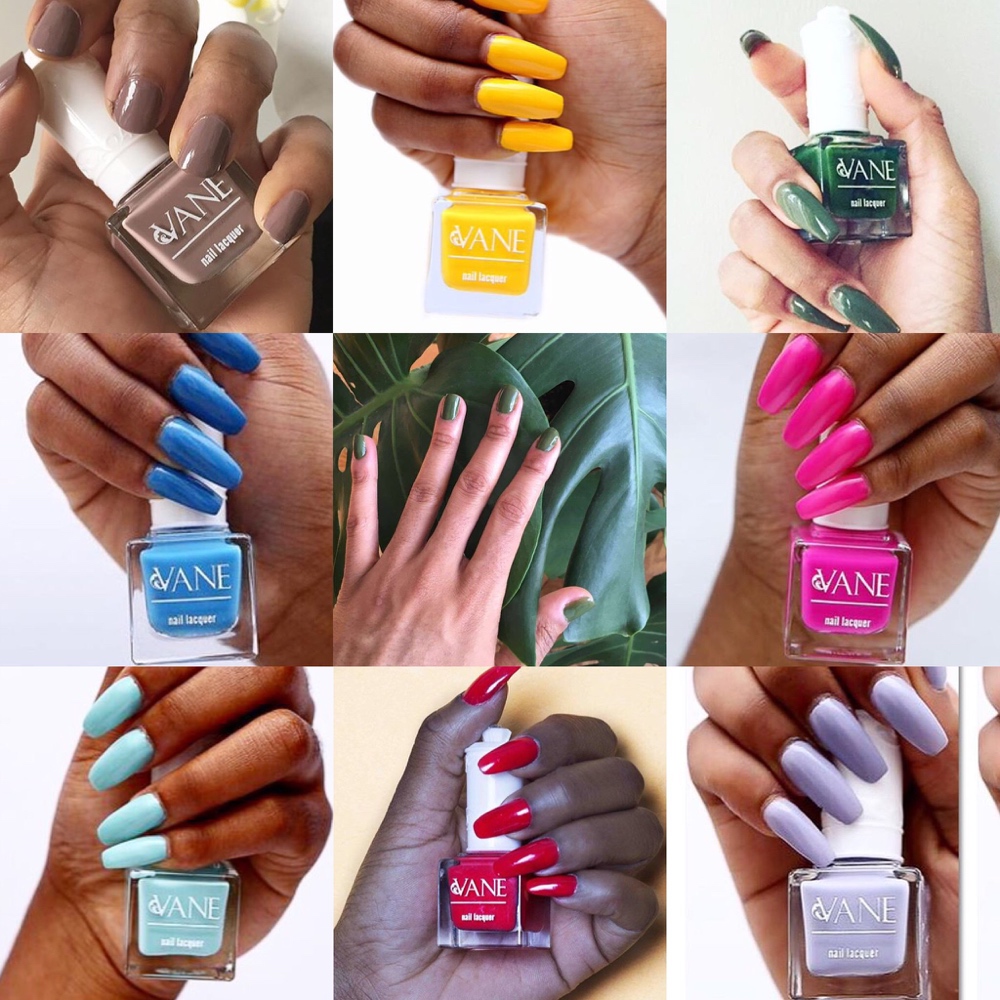 BN: How do you pick colours and create names for these colours?
VO: Well currently we have 35 colors in all and I go through a series of color combinations in the lab usually by mixing a lot of other combinations and then colors are arranged by grouping (its a strategy I came up with as a stylist working with color all the time). Once the groups had been created the next step is to continually add to that color group and the names are based on feelings towards what the color represents. Sometimes it takes a few days and other times several weeks to get the right name for the colors but its always the right fit so I take my time.
BN: What's the most popular colour you find people reach for? (Do they vary with season or there are some cutomer staples?)
VO: So my best seller is a dark maroon named 'The Darker the Juice', this is a color that favors all skin types, followed by all 6 of my nudes which are instant hits across the board.
BN: Being a stylist who also works with fashion trends, are there some of your favourite nail trends you'd like to share with us? (Favourite colour, nail shape, techniques, care tips etc)
VO: One of my favorite nail trends is a 2 tone mani this is using 2 different colors on your nails to create an interesting illusion. I also love nail art and the technicians in the Vane Nail Bar specialize in creating amazing trends with our polishes based on the current color trends.
BN: Aside from the Vane Nail Bar, where else can we find the Vane polish for sale? (Within and out of Lagos)
VO: Vane Polish which has now become the premium luxury polish used in all the trendiest nail salons in Nigeria is stocked in over 53 salons nationwide including 7 Houses of Tara and all Grey Velvet stores also in Accra, Ghana. We are of course always looking to expand into Eastern Africa and of course South Africa, should the opportunity become available. A list of all the stockist are available on the website www.vanebeauty.com. We also sell in the USA on amazon.com and we ship internationally.
BN: How do you balance work and family? (Being a stylist, beauty enterpreneur, a wife and mother) Trying to find balance in anything is a juggling act and most times isn't easy, how do you cope?
VO: Honestly, there is always a period of sacrifice between family and career. Sometimes I feel really bad for working late and it's not easy but I find comfort in being blessed with a wonderful support system at home and at work. My husband is the reason I have balance as he sees my drive and passion daily and he's my number one supporter and backbone who's belief in me keeps me grounded and balanced and makes it's all worth it for me to achieve my dreams.
BN: What goals do you hope to acheive with the Vane empire? (Concerning styling and beauty products.
VO: Wow!! I have many goals but they are all realistic goals within the fashion industry for Vanestyle, of which one of them is to re-open the Vanestyle showroom and continue to expand the very successful Vanestyle clinic which provides women with insight on fashion and style on a bigger platform by partnering with big brands for sponsorship and touring nationwide. For beauty, I plan to add more products to Vane Polish down the line. But for now we are focusing on the Vane Nail Bar, providing the best service in pampering pedicures and trendy nail art. In all, I want the VANE brand to be known for being a leading female empowering fashion and beauty brand for women.
BN: We miss Vane Style Fashion Fix, any possiblity it's coming back? Even with a nail segment?
VO: The Vane Style Fashion Fix had to take a break because I was pregnant with my 3rd child, but now that I'm back on course I've been taping and the Vane Style Fashion Fix will be premiering soon with fixes to all your fashion most asked questions.
 ***
Thanks so much for talking to use Veronica. We hope this inspires other upcoming entrepreneurs to achieve all they can.
Follow on Instagram: Veronica Odeka | @veronicaodeka, Vane Style |  @vanestylesr, Vane Polish | @vanepolish.
Visit the website: www.vanebeauty.com.