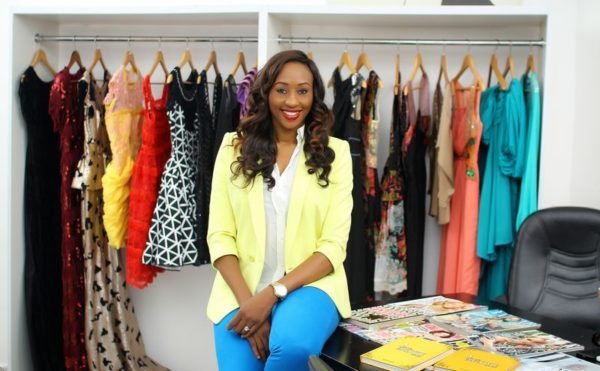 She has been called the stylist to the stars, one of the best stylists in Africa and one to definitely have on speed dial.
Owner of the Vanestyle agency and a stylist with over 12 years  of experience in the industry, Veronica Ebie-Odeka is one of the names that have definitely reformed the norm in Nigerian style.
Since her move to Nigeria, Veronica has styled some of the biggest names in the entertainment business like Tiwa Savage, Dolapo Oni, Davido, Waje and a host of others. With a wealth of experience from her time spent modelling for brands such as Betsey Johnson, Armani, Just Cavalli, BCBG and Donna Karan and her tutelage under top stylist Cassandra Walker, understanding style and what it takes to style celebrities & socialites for various events wasn't far fetched.
To Veronica, styling wasn't enough, she decided to take her passion further by opening the first official stylists' showroom in Nigeria – The Vane Style Showroom. With sample pieces from top Nigerian brands as well as catering to celebrities and a clientele based on retainer-ship, The Vane Style showroom opened another door into the world of lucrative styling.
 Pushing boundaries with her new gig on styling the cast of Ebony Life Tv and holding the fort down at Vane Style showroom, BellaNaija caught up with Veronica to chat about her passion for fashion, how she started the Vane Style showroom and who she has loved styling the most over the years.
Let's start from the beginning. Tell us about Veronica and how styling as a profession started for her.
I grew up in Houston and started modeling when I was 17 , then moved to Los Angeles and shuffled between there and New York as a runway model. I later returned to Houston and graduated from College there.
Styling came more as a natural progression from modeling. During slow breaks like Summer I'd work in retail stores assisting women pick out outfits as well as styling several friends for outings along the way. I graduated from the University of Houston with a BA degree in Communication and a minor in Public Relations and took several short courses in fashion at the London College of fashion.
When did styling start for you and how long have you been doing it?
I've been styling for roughly over 10 years , and I started in between summers for family and friends and then clients.
You are largely known for your showroom – the Vane Style showroom. What inspired you to start it up?
The start up of the showroom was from sheer frustration. I was always carrying a multitude of accessories, shoes, and garments ( clean and uncleaned ) in my car from day to day. Then I noticed it was piling up and becoming very stressful to keep track of all the pieces and realizing I needed to have an organized space where I could organize what I needed to use on a daily bases.
What exactly is your showroom about and how does it operate?
The Vane-Style Showroom is a designer PR one stop shop that offers an innovative style platform where designers can gain necessary and needed exposure for their brands, and stylists can pull multiple sample pieces from various designers in one stop. Designers no longer have to worry about the tasking trials of being harassed for their garments, following up for returns, dry-cleaning and images while stylists who are relatively new and don't have access to many designers now have an opportunity to liaise with them through the showroom platform.
What designers do you stock and is there a criteria for them to have their designs in your showroom?
The rooster of designers in the show room changes from season to season and depends on what services the designers need from us. Currently we stock Meena, Beatrice Black, Ms. Makor, Obsidian, Andrea Iyamah, Republic of Foreigner, Grey, Kinabuti, Needle Point, Dzyn and Vintage Colette. However we welcome established and emerging designers within Nigeria and Africa. What is required is they must have produced at least 2 collections and have sample pieces readily available.
Does the showroom offer services to individuals who are not stylists or designers?
Since the showroom is for PR purposes to aide designers and generate sales, services for personal styling or fashion consulting are offered directly by me through setting up consultations.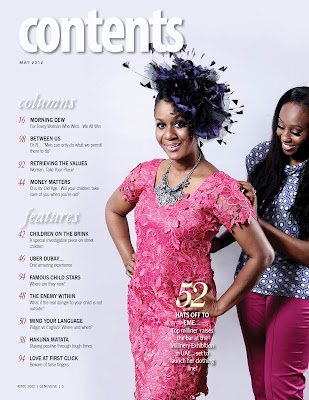 What was the selection process for picking the people you work with?
I always want to work with designers who are truly passionate about their brand, gaining the right exposure and who are ready to take the right steps in the fashion industry to better their relationships with the consumers.
What is your favorite trend happening right now?
I absolutely love crop tops because they can be worn in a sexy demeanor with high waist trousers or skirts.
What is your best part of being a stylist?
When I put together an ensemble for a client and see true joy on their face because they look amazing. That for me is satisfaction guaranteed.
Take us through a day in your life? What is a typical day for you like?
I wake up usually between 5AM – 6AM mediate and pray, then work out. I have breakfast with my sons daily and then depending on the type of day I either prep for a shoot from the home style wardrobe, head to a client's home for a consultation or go into the office for a conference meeting with my team on strategies.
I try to set aside 2 hours to reply emails, phone calls and set up meetings. Most days there is either a celeb client coming into the showroom for a fitting or we're selecting pieces to style a photoshoot, campaign advert or production show. Most afternoons are reserved for visits to personal clients, lunch meetings with potential clients or pulls from designers. I'm home by 8 and I spend time with my sons before bed, go over my daily activities with my husband , read a few chapters from a book then go to bed.
If you weren't a stylist what profession would you have gone into?
I'd still be involved in fashion as either a fashion buyer or fashion PR.
You have a strong media presence on social media, how do you use these tools to build your brand?
Social media allows my brand to reach potential clients through visual aide and also strengthens my communication with interested parties. I put out what I do because I know that's what people want to know. Who I'm styling, what goes on behind the scenes, latest trends and makeovers etc. So by updating through social media platforms constantly I'm keeping them informed.
Name 4 celebrities that you have absolutely loved styling and why.
Genevive Nnaji because she truly understands the art of style and is absolutely beautiful . We have great style chats together and her wardrobe is a stylists playground.
Mo Abudu , because she always wears the clothes gracefully and makes my work look effortless.
Adora Oleh she's a canvas and looks great in anything you put her in and is always willing to take a risk with clothes.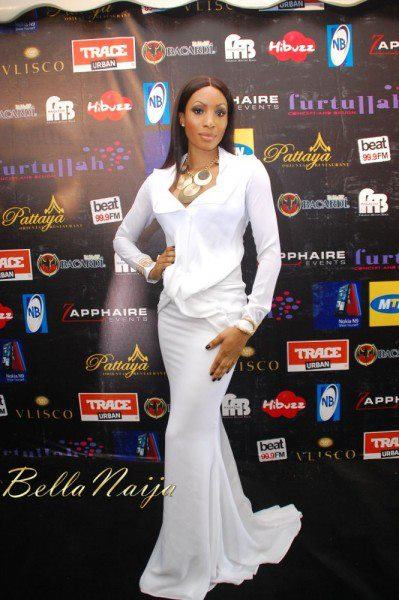 Dolapo Oni who I adore because she has a great eye for her own style but lets me push the boundaries when I need too.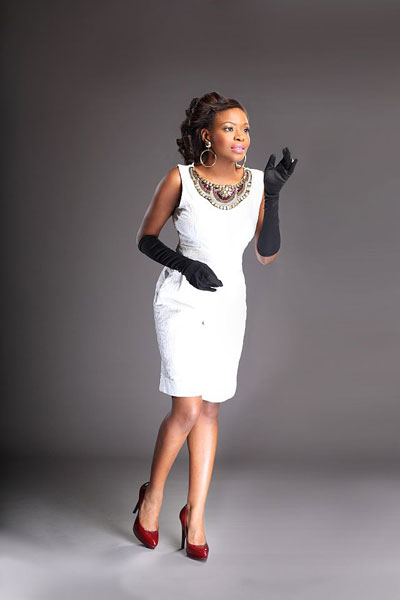 Where do you see the showroom in 5 years?
At the forefront of fashion PR in Africa and being able to accommodate 5 times the number of designers we currently represent. I Also see it with stronger liaison links in the UK/ US because I believe as the fashion industry grows we all grow together and as long as I keep myself and my team focused we believe all things are possible.
A lot of people see the styling profession as one that is all about making people look good. Is there more to it than meets the eye?
Styling is much more than making people look good, it's about confirming in people that they can feel great about how they look as well. When a person feels great the next step for them is looking great so once you help build one's confidence about feeling amazing it's projected in their outward appearance.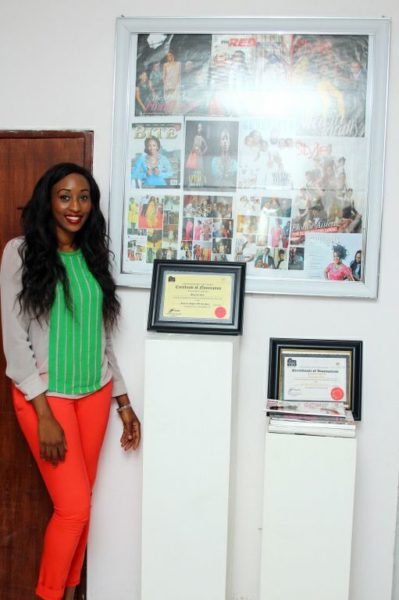 Laid back questions
How would you describe your style?
My style is non fussy and easy. I do love a bit of texture, loads of color and interesting prints paired with structured pieces.
If you could style anyone abroad who would that person be and why?
It would be Britney Spears mainly because she has a truly amazing body and has no sense of style. I would love to just make her over in a subtle way.
What do you like to do for fun?
I spend time with my family because my husband and sons are so entertaining but I also travel quite a lot to relax and recoup.
List 5 items that you think anyone who cares about her style should have.
A bright shade of lipstick (preferably red, ) a structured bag, a nice watch , great hair style, and an amazingly well cut blazer.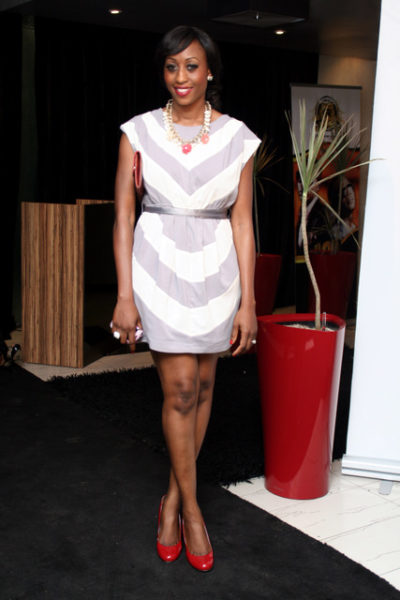 What advice do you have for aspiring stylists, celebrities and other concerning style
For stylists I always explain to them it's best to intern for 1 year, even if you think you know it all. I'm always learning from other stylists and clients on just how to give the best service I can so it's never ending. 1 to 2 years is a substantial amount of time to learn on the job. Always look at it as free education for your own brand.
For celebs I always tell those I work with the same thing… you are your own brand. It is imperative to show your best by looking your best even when it comes to daily wear. Invest in a stylist to help put looks together from your wardrobe because we have an eye for creating ensembles that will work for you. Another set of eyes never hurt ones' red carpet moment.
When it comes to the everyday woman/man be it the power executive or co-worker don't be fooled into thinking you don't need a stylist or style consultant. Most people in high level careers are busy and don't have time play dress up or don't care to shop, so enlist the help of a stylist to de-tox your wardrobe, shop some pieces for you and put together numerous looks you can be satisfied with for daily work wear to weekend getaways.
We loved chatting with Veronica and Bellanaija wishes her the very best.
Watch Veronica's style videos from her Ndani TV Looks by Veronica clip.

Photo Credit: Marcydolapooni | Vanestylesr.blogspot | Hautefashionafrica