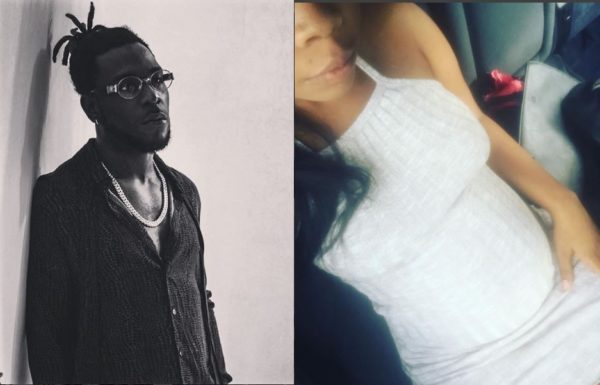 For the past few days social media has been buzzing after an Instagram user came out with claims that she is pregnant for Burna Boy.
According to the lady, named Uju Stella, she has tried reaching out to everyone possible that might be Burna Boy's friend because Burna Boy has refused to take responsibility for the child and he is acting this way because she refused to terminate the pregnancy.
In a recent post on her Instagram page, she claims that Burna Boy has been threatening her and that he went as far as breaking the door of her house.
BellaNaija has reached out to Burna Boy's team for his side of the story.
On Instagram yesterday Burna Boy posted a video of himself singing along to a song that states "f*ed that girl once and now she's claiming that she's pregnant".
Nigerian Twitter has since come for the music star with a lot of people trying to "school" him on reproduction.
See Twitter reactions below.
Awkward… I don't think Burna boy realises how much of a one hit wonder he is https://t.co/4zmUQpHGD8

— Dan Soff [JOKUZA] (@Swagadore) May 17, 2016
Is Burnaboy still 21? Cos all Nigerian new artist dont every grow past 21. They just go from 21 to old age. Ndi ala!?

— Ferdinand (@Burmese_Tyga) May 16, 2016
Burna Boy trying to remember if he pulled out or not and also if he went it raw or not ? pic.twitter.com/ejlkVbYPVS

— KING SKIWO (@Skiwo) May 16, 2016
Uju: I'm pregnant

Burna Boy: How can? It was just once

Everyone: Haba! But once is enough na

Burna Boy: pic.twitter.com/vDQOd8sdH3

— Anyadu (@The_Africanist) May 16, 2016
Other Nigerian musicians with baby mama drama be looking at Burna Boy like

Ogbeni welcome to the squad pic.twitter.com/GrYBIb8AW1

— KING SKIWO (@Skiwo) May 16, 2016
When u sleep with her once and she gets pregnant #BurnaBoy pic.twitter.com/lF0L2DaA3V

— Nigerian God (@Echecrates) May 16, 2016
Uju will probably bornaboy for Burnaboy pic.twitter.com/6frOK3cpre

— Ibe (@I_pissVodka) May 16, 2016
This should be Burna boy begging her and trying to convince her not to keep it… pic.twitter.com/O5rsrDJacR

— Zii (@Ada_zii) May 16, 2016
Burna boyyyy. She go soon born boy. Baba bomboy. Burna fada. One shot one goal. pic.twitter.com/dWuRKZNo38

— The Goddess ✨ (@Brendalishus) May 16, 2016
When Burnaboy's babymama heard Davido's baby mama gets 300k per month at her Abortion appointment ? pic.twitter.com/1xHtV4vMb0

— Ugo (@MrOkeke_) May 16, 2016
While Burna Boy has maintained radio silence on the issue, he has continued to promote his endorsements, his music and generally continue life as usual.