Come Experience Everything Children at the Exclusively Children Exhibition 2016 | 27th – 29th May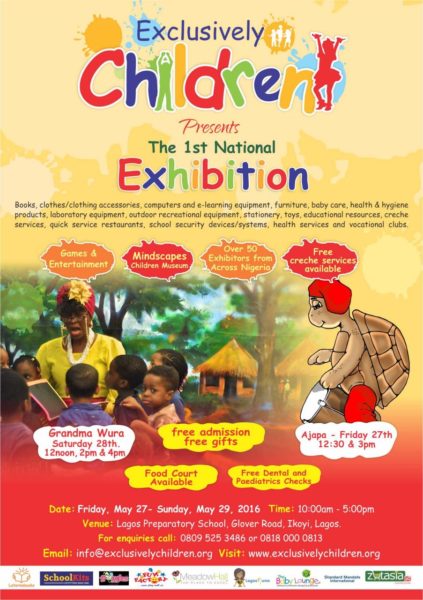 Are you a parent? Do you love children? Are you passionate about their welfare, growth & development? Do you sell products and services for children?
Join us at the Exclusively Children Exhibition 2016 where you will experience EVERYTHING CHILDREN! Meet with hundreds of exhibitors in every category imaginable…service providers, vendors, Importers, Distributors & Manufacturers of Toys, Food, Books, Stationery, Learning & Educational Resources, Games & Outdoor Equipment, Clothing, Schools, Furniture, health, safety & security and lots more!
Come experience EVERYTHING CHILDREN on ONE platform
Date: Friday, May 27th to Sunday, May 29th 2016
Venue: Lagos Preparatory School, Glover Road, Ikoyi, Lagos.
Time: 9am – 6pm Daily
Enjoy enlightening, educative and fun-filled sessions: story-telling with AJAPA and GRANDMA WURA, play zones, seminars and discussions with subject-matter experts. There will also be FREE dental & paediatric checks, FREE creche services. Admission is ABSOLUTELY FREE.
Exclusively Children…everything children on ONE platform
_______________________________________________________________________
Sponsored Content