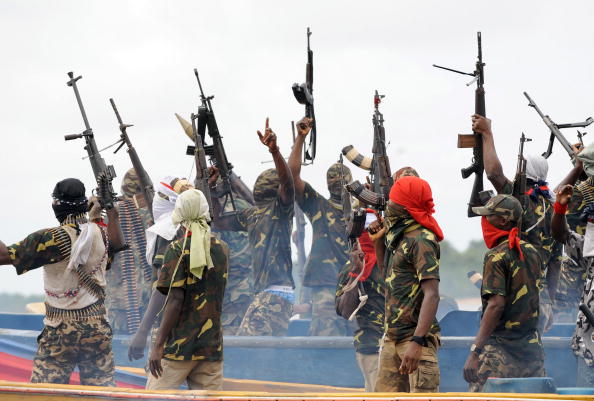 The militant group, Niger Delta Avengers (NDA) has released a statement distancing itself from the bombing of the  Agip (NAOC) pipeline on Saturday, May 21st 2016.
This is coming after the NSCDC confirmed the arrest of some of the suspects who allegedly carried out the attack on the oil facility.
According to the statement, the act was carried out during their 14-day cessation facilitated by "an illustrious Ijaw son of the Niger Delta".
The group said that they are neither criminals nor oil thieves, but "concerned activists of the Niger Delta Republic".
Read the statement signed by its spokesperson, Col. Mudoch Aginibo below:
Let it be known that the Niger Delta Avengers are not criminals or oil thieves. We are simply concerned activists of the Niger Delta Republic. The High Command of the Niger Delta Avengers want to thank all our commanders for the 14 day cessation of hostilities in the Niger Delta.

 

We hereby distance ourselves from an act of vandalism that was not carried out by us that occurred during the 14 day cessation, notably the Agip (NAOC) pipeline that was blown in Bayelsa state in the early hours on Saturday May 21st, 2016. This bombing was not carried out by the Niger Delta Avengers.

 

An illustrious Ijaw son of the Niger Delta facilitated the 14 day cessation of hostilities between the Niger Delta Avengers  and the federal government. It is however pertinent to note that he too has been betrayed as his contact with the federal government stopped midway and flew out of the country.

 

Once again it is important to note that the Niger Delta Avengers are well read and well traveled and there is no place in the world where a negotiator is removed midway through negotiations. We have lost faith in the federal government's ability to deal with the people of the Niger Delta. The federal government and the rest of Nigeria shall witness the unfolding of our plans.

 

To our elder brothers(ex-agitators) not in support of our movement, we warn that you stay clear or we will crash you as we know you but you do not know us.

 

Long Live the Niger Delta Avengers 

Long Live the Niger Delta Republic 
Photo Credit: PIUS UTOMI EKPEI/AFP/Getty Images