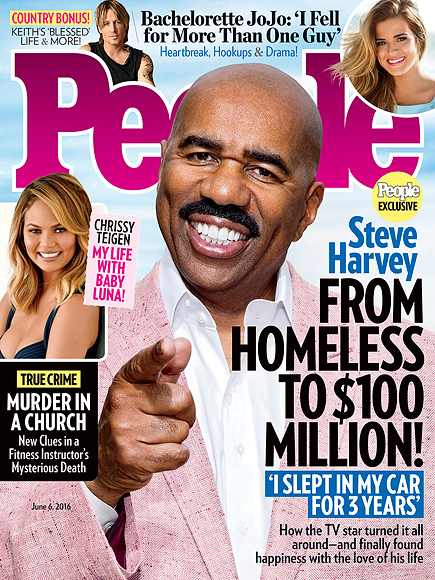 How many people can you say have successfully built an empire from absolutely nothing? Media mogul Steve Harvey is one man who can boast of that feat.
Covering the latest issue of People Magazine, Steve Harvey opens up on how he built his $100 million empire even though he was once a homeless man. He opens up exclusively to PEOPLE about overcoming homelessness to build an entertainment empire.
He says "It kills me when I hear very successful people say, 'I always knew I would get here.' I didn't. I always hoped I would get somewhere, but this is above and beyond. My imagination didn't even go this big."
PEOPLE reveals that when he first quit job to take a chance at being a comedian, he found himself separated from his wife, on his own and living on as little as $50 a week.
Talking about that period in his life Steve Harvey said "That was an ugly period, just very painful. Everybody has a moment when they turn back, when you say to yourself, 'This is too much'. I had it on several occasions."
On his motivation to keep going he says "I sat down and started crying, but a voice said, 'If you keep going, I'm going to take you places you've never been.' It was like God said, 'Don't quit, you're almost there.'"
Did you know the famous talk show host wasn't always so articulate? He says "I had a stuttering problem, and I was from the 'hood.'"
According to Steve, making a decision to become a comedian caused a strain on his family.
People reports:
Harvey won the $50 first prize during his first shot at performing, and he quit his job the next day. That decision did not go over well with his wife and the mother of his two daughters, Marcia.

"I'm married, I have twins [Brandi and Karli, now 33]. I'm supposed to provide for them, but I had to take this chance," he recalls.

Harvey continued to struggle and only made $3,000 as a comedian in his first year. He and Marcia went on to separate and eventually finalized their divorce in 1994. His relationship with his daughters fell apart, something that took a huge emotional toll on the comedian.

It wasn't until they got older that Brandi and Karli were finally able to understand why their dad needed to pursue his dreams.

"Years later they said to me, 'Dad, we didn't understand why you left us, but we know now you had to go. You didn't just belong to us. You belonged to the world,' " Harvey said.

Admits Harvey, "That was emotional for me."
People Magazine also took us inside the star's home. See the clip below.
For more from his feature, visit www.people.com