Lead-Forte Gate Schools (Primary and Secondary) is an excellent and exceptional School with an anchor for greatness. It offers a unique environment for both parents and pupils, with proven expertise and a firm commitment to raising future leaders through excellent education, balanced and good moral standards.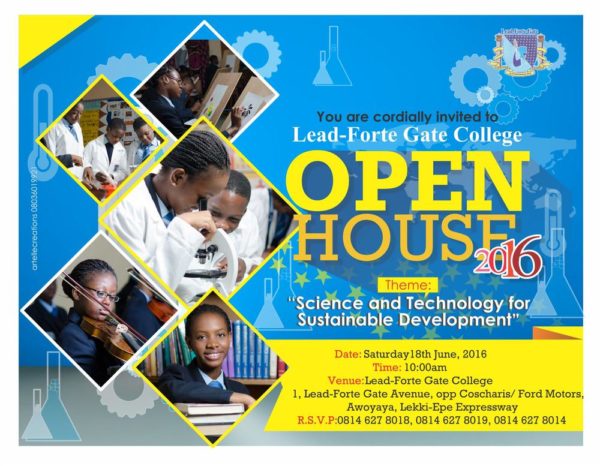 Lead-Forte Gate Schools' Open House is a great opportunity for all to see the presentations of our seasoned students in areas of "Arts and Craft, Science & Technology, research & exploration" and lots more.
This year's Open House Exhibition commences in the Primary School on the 15th of June 2016, and is titled "Celebrating literary works".
It promises to be an exciting and great event, with numerous features including a live stage drama presentation titled "The Lion and the Jewel" (An adaptation of the play the by popular Nigerian writer Wole Soyinka)
The exhibition continues on Saturday the 18th of June 2016 at the College. The theme for the event is "Science and Technology for sustainable development"
A lecture titled "Celebrating literary works" will also be delivered by Mrs. Oluronke Soyombo of the Quality Assurance Department, Ministry of Education.
The general public – Parents and Proposed parents are invited to this occasion, which will also serve as a great opportunity for prospective parents to come and view the school's top quality facilities and interact with the staff and management of the school.
 Details
Primary School
Date: 15th June 2016    
Time:9 a.m. prompt    
Venue: Lead-Forte Gate School, No 1 Insha Allah Street, Off Ramat Crescent, Ogudu G.R.A
Secondary School  
Date:18th June 2016
Time: 10 a.m. prompt
Venue: Lead-Forte Gate College, 1-Lead-Forte  avenue, Container Bus Stop, Opposite Coscharis/Ford Motors, Off Lekki-Epe Exp way, Awoyaya-Lekki, Lagos
Contact: [email protected]| Phone: 08146278018, 08146278019, 08146278014 | Website: www.lead-fortegatecollege.com
_______________________________________________________________________
Sponsored Content