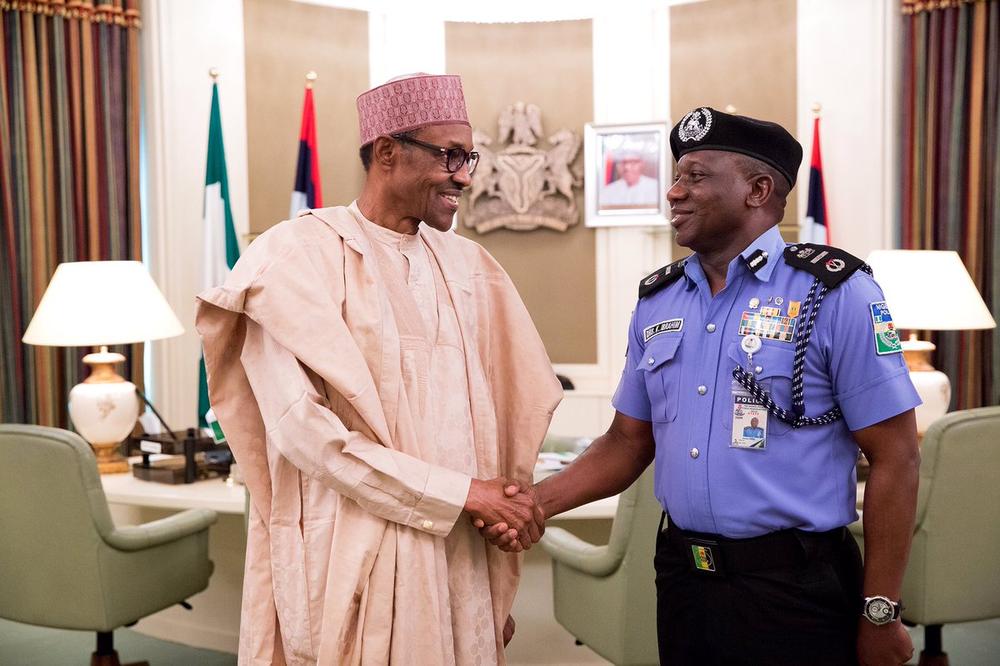 President Muhammadu Buhari has decorated Assistant Inspector-General of Police Ibrahim Kpotun Idris with a new rank of Inspector-General of Police (IGP) in acting capacity.
The News Agency of Nigeria (NAN) reports that the new acting IGP was accompanied to President Muhammadu Buhari's office by the outgoing IGP, Solomon Arase.
The acting IGP, who hails from Kutigi, Lavun, Niger state, was born on January 15th, 1959.
Idris was enlisted into the Nigerian Police in 1984, after graduating from the Ahmadu Bello University, Zaria, with a Bachelors degree in Agriculture.
He also holds a degree in Law from the University of Maiduguri.
Idris has served in various commands and formations in the Nigerian Police, working in the Police Mobile Force for 17 years as Unit Commander, Squadron Commander, and Commandant.
He served as Commissioner of Police in Nasarawa and Kano states and was also the Commissioner of Police in charge of Police Mobile Force at the Force Headquarters.
He was also at the United Nations Mission in Liberia and East Timor and was awarded "Medal of Merit" by the President of the Republic of East Timor in recognition of his service.
A statement by President Buhari's Special Adviser on Media and Publicity, Femi Adesina said that Idris, who was in charge of Operations at the Force Headquarters before his appointment as the acting IGP, will act in that capacity pending his confirmation.
Speaking to State House correspondents after the decoration, Idris assured Nigerians that under his leadership, the Nigeria Police Force will be governed by internationally recognised core values of policing.
According to him, his tenure will ensure strict compliance to issues of integrity, accountability and respect for diversity in the society.
"Obviously under our collective leadership, the Nigerian Police Force is going to be governed by internationally recognised core values of policing everywhere in the world.

That is the issue of integrity and accountability, issue of respect for diversity, issue of compassion, issues of ensuring that our streets, our neighbourhoods, our communities remain safe.

And we are going to do everything possible to ensure that we provide the best service for this country," he said.
Also speaking to the correspondents, the out-going IGP Solomom Arase thanked Nigerians for their support and cooperation and urged them to extend the same to the incoming acting IGP.
See Photos below: