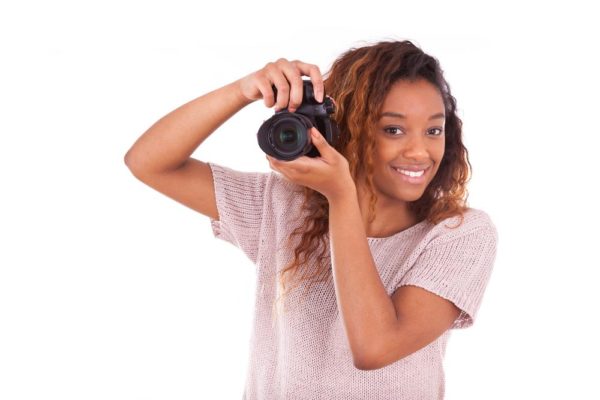 There won't be any mention of the thriving Nigerian wedding business without the wedding photographers who continue to capture every breathtaking, quality and inspiring moment of a hit wedding and bring them to life through their gorgeous pictures.
Wedding photography has gone beyond, 'Lights, Camera, Action'; it now requires a form of diligence, patience, inspiration, creativity and paying attention to details. Popular Nigerian photographers who specialise in wedding photography include: Jide Odukoya, Jide Alakija, Dotun, OghenewoAkara, Kevwe, Klalap, Wani Olatunde and a host of others. What has made these successful wedding photographers stand out is their craftsmanship and resourcefulness. For aspiring wedding photographers, these are some things to note for great wedding photography.
Details are ver important
The cake, gloves, table design, wedding centre pieces, brides shoes, bridal train outfits, catching of the wedding bouquet, little groom and little bride holding of hands may seem unimportant, but they matter. They give awesomeness and add breathtaking quality to the finished pictures.
Train and be retrained
Understand the photography industry. You can do this either by going to a photography school, or learning from an experienced photographer. You can also take an online course. However, learning does not stop with physical classes. Keep up with recent industrial trends, new photography equipment and camera products. Know all the brand names photo magazines, wedding sites. Attend photography and wedding conferences, workshops, seminars, add value to yourself and become more exposed. Learn from the experiences, mistakes and successes of others.
Get assistance
Do not be a Jack of all trades. Seeking for help, even if you will pay for it, should not be seen as a waste of money. It helps you save time and efforts. One man cannot be in two or more locations at the same time, or hold a camera and speed light together. If there are two or more wedding photographers covering an event, there will be more shots to choose from, pictures taken from different angles, insights, locations and views, will present more variety of pictures to choose from for couples to select the best. Acquaint your crew/team members with their job responsibilities days before the main event.
Be prepared, punctual and timely
Before setting out to a job location, ensure you have your camera equipment and accessories ready, full batteries, water proof storage. Save your pictures and have backups on many storage devices as you can (external hard disks, flash drives, compact discs, and laptop). Customers can come asking for pictures you took several years ago, and you can give them, but with additional fee. Google drive offers an online storage capacity.
Though it seems impossible to store so many pictures (thousands of pictures consumes thousand bytes of storage), try to save few edited ones that you can.
Also eat a hearty breakfast, as you have to stand hours on end before, during and after the wedding. Most times a wedding service/reception can go on for hours before caterers will remember to offer you food. Do not wait till you are offered before you eat, have some snacks, energy bars to keep you going.
Visit the location a day before to acquaint yourself with site of the wedding and not arrive on the D-day to avoid lateness or being lost. Arrive early, do away with distractions and be professional at all times including the times when your temper is aroused.
Prompt delivery is key
Delivering wedding pictures, four months after the wedding is a No-No. With super fast photo labs and picture processing units, the couple can get the soft copies of their wedding pictures same day as the wedding. The edited version can be delivered a week after, and a photo album latest a month after the wedding. The earlier you complete and deliver a wedding order, the higher your chances of getting more work done. Avoid pile up and backlogs of wedding pictures.
Analyse your customer experience
Client reviews are basically important to a thriving wedding photography business, once an order has been completed and delivered, ask for feedback from your customers, let them send you an email/sms or post on their Facebook page and give positive reviews about your service, if they are satisfied or not. Customer referrals and word of mouth of advertising is the lead form of business advertising, generating new sales and business leads. Customer feed backs will give information on your areas of strength and weakness, which area needs improvement and what aspect of your business the clients love the most. Customer relationship, picture quality or timeliness.
Networking is vital
Network and connect with other professional wedding photographers, photo printing companies, and other individuals involved in the Nigerian wedding business industry. You don't have to limit yourself to only the people in Nigeria, as there are Nigerians living outside Nigeria who have need for the services of a wedding photographer and are potential business partners.
Utilize the potential of social media
To successfully build your brand and business image, join Facebook groups related to your photography interest. Have Facebook, LinkedIn, Instagram, Twitter pages and get a website for your photography business too. Advertise on wedding blogs, sites and online forums. In 2016, there has been a lot of conversions of online fans/readers/audience to customers. Engage with your followers, post pictures of previous jobs, behind the scene videos, tweet customer responses and watch your client base soar.
Never compromise on integrity
This is the reason why many photography businesses have failed in Nigeria and only few Nigerian photographers still remain prominent. When every other thing fails, integrity will keep you going and help keep your customers.
Be genuine and creative
Don't be limited by the norm, draw inspiration from other professional photographers, nature, wedding pictures and your own ideas. Stand out from the crowd; let your pictures identify you. Be special in the pictures you create.
Agree on terms of engagement
Have a contract with the wedding host spelling out and job requirements. Details of what is expected from the wedding photographer are important.
In the contract, the following must be specified;
• Date and time of event
• Venue of wedding
• What parts of the event are you expected to cover? Church service, Nikkhai, court /registry service, reception, bride's dressing, bachelor eve.
• Accommodation /transportation logistics? Will the photographer be responsible for his lodgings/transport arrangement so he can add it to his service charge or there is an alternative?
• Photography fees and service charge: Fees must cover duration, cancellation clause, expenses, Vat and refund /additional fee policy.
• Number of pictures/shots to be taken pages of album, number of edited pictures, cd or DVD, photo album or photo book.
• Terms of payment: Payment before delivery or after delivery, discounts, percentage of payment to be made before undertaking a job. Always encourage your customers to make payments into bank accounts and not pay cash.
Always watermark your pictures
To avoid copyright infringement, illegal use, and protect your intellectual property. Anyone who intends to use your pictures should have to ask for permission. Also, a watermark will guarantee that others know the originator and owner of the picture. Place a watermark where it can be visible and not easily removed.
Create a portfolio
A portfolio is your mobile curriculum vitae; it is a collection of your best pictures that shows your experience and quality of your pictures. It can be in a photo album, cd, a pdf file or a website. On request, you should be able to provide the hard copy or a link to pictures of previous work done.
Build a lasting brand
Branding is important to building your image as professional wedding photographer. Be protective of your brand and always put your best foot forward. Get an attractive logo, letterhead, company's account. Register your photography business, start a blog/Instagram page and strive to be better than the last work done.
Always use a professional camera and expert services
This is the most important thing. Buy or hire a good camera, tripod, speed light. This will eventually reduce the hours of editing. It will also give you clear, quality and professional looking pictures.
If you must give out pictures for editing, hire professionals who will get the job done efficiently. Use a quality photo printing company. Remember, every flaw in the images will reflect negatively on your business. Aim for the best customer satisfaction always, even if it means you are spending more to achieve it.
Photo Credit: Dreamstime