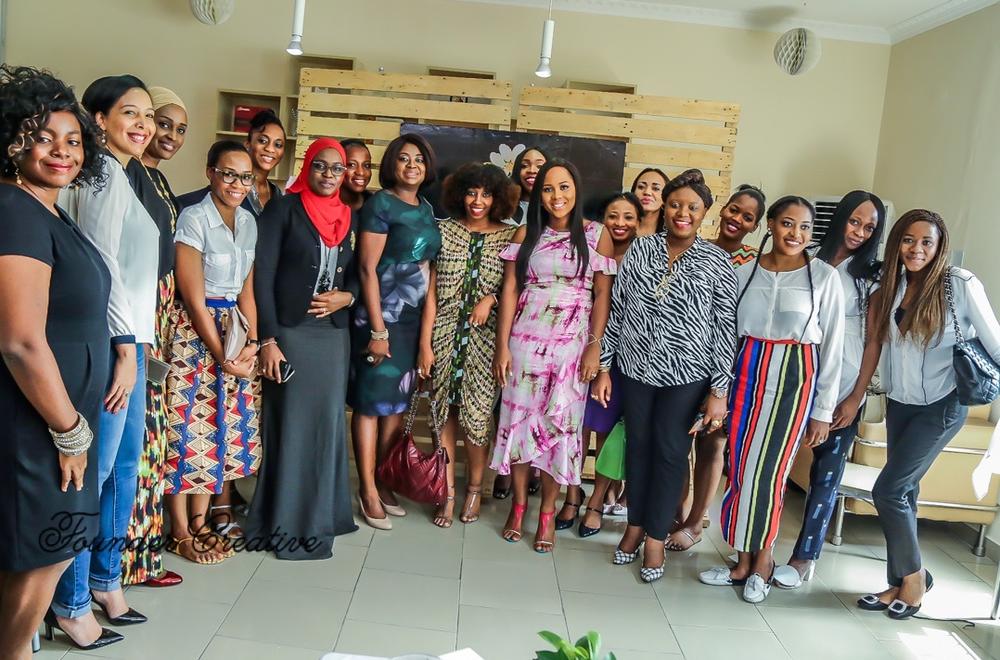 Hello BNers,
I will like to share a really positive recent experience.
I'll keep this short and sweet. I was tempted not to share photos as that was not really the purpose of the event but I believe that if 1 person can take something good from this or learn from the points raised, that will be so awesome.
Have you ever felt Lonely?
I don't mean lonely in the bae sense, I mean professionally lonely…let me explain.
As a young-ish entrepreneur, especially when you attain a certain level of success, suddenly it may seem as though you are supposed to have all the answers.
People come to you for advice, you get invited to speak on panels or even to give speeches.
While that is all well and good, for me, entrepreneurship is a journey. One day things are good and you truly feel "on top of the world", on other days, it may seem as though you have hit a roadblock and you are in dire need of a breakthrough. Even a simple problem can be magnified because "no one seems to have the answer". Older mentors may have forgotten how they passed through that stage while friends and family may not fully grasp the issue. When experiencing this as an entrepreneur, who do you turn to?
I've gone through all of the above and came to the realization that one of the greatest resources we have as entrepreneurs is our peers! Building really business relationships, beyond the surface level, based on sharing and learning. That is one of the key reasons why it was important for Founder Creative to happen.
Why aren't more women-owned ventures transitioning from Good Startups to Great Multinationals?
There is this question that lingers in the back of our minds, "how do I go from being good to doing something GREAT". The transition of building a thriving business to becoming a world-class brand. I've asked myself this question so many times.
Many programmes are targeted at Startup entrepreneurs and then others are targeted at moguls. What about that sweet spot in-between?
That's where the idea for the Founder Creative was born.
Founder Creative is built on a simple idea.
~ To provide an opportunity for innovative successful young entrepreneurs to connect, share, ideate, learn, collaboration and grow.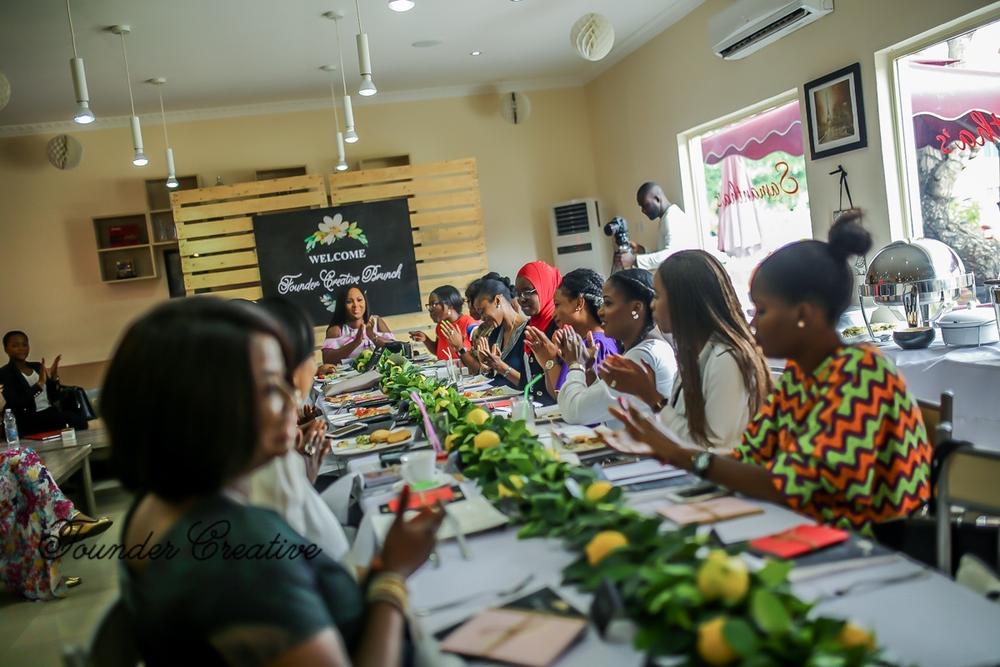 On Saturday 4th June 2016, a small group of entrepreneurs came together, many were meeting for the first time while others knew each other casually or professionally.
Agriculture, healthcare, fashion and technology are just some of the diverse list of industries where the invited founders have made their mark.
Scroll down to see the list of amazing guests. Thanks to each and every woman for sharing her story.
The theme was focused on storytelling – Sharing candid and practical stories about our entrepreneurial journeys.
It was truly powerful and at times, even emotional!
We started out by getting to know each other, and then we dived into sharing our stories, asking questions and finally a Q & A with a very special guest.
Key Learnings included;
The power of Fearlessness in Business
We listened to remarkable stories about "impossible" situations which became possible simply by taking a chance and asking. From there, negotiation, planning and strategy took over but we all know that sometimes we are scared to hear – "NO". Give it a try, be bold, be fearless.
Learning from Failure and not Giving Up
It's funny how you hear about a certain successful business person and believe their journey has been "perfect". We shared lessons on failures and how to get up and try again in the face of devastating situations.
I'll share a direct quote from one of the founders – "Failure, or a perception of, does not in anyway mean the end of your story. It's how you deal with that set back that determines your outcome."
The role of Faith
Faith definitely plays a part in entrepreneurship. Based on the stories shared by founders at the event, it plays a role in pulling yourself back up after failure, it plays a role in setting values and standards and so much more.
Corporate Governance and Structure
This is non-negotiable, if you want to build an institution, the structure and corporate governance is key. Remember to register your trademark, if you haven't done this, do it as soon as possible!
Continuous Learning
Whether you are just starting or you are a veteran entrepreneur. You have to keep learning both formally and informally.
The Personal Connection
Whether anyone likes to admit it or not, our personal lives play a pivotal role in our entrepreneurial success. The question of "how do you balance personal life with business" may seem straight forward but it really isn't. In the end, we got a mix of views, it is a case of trying your best and doing what works best for you as there is no secret formula.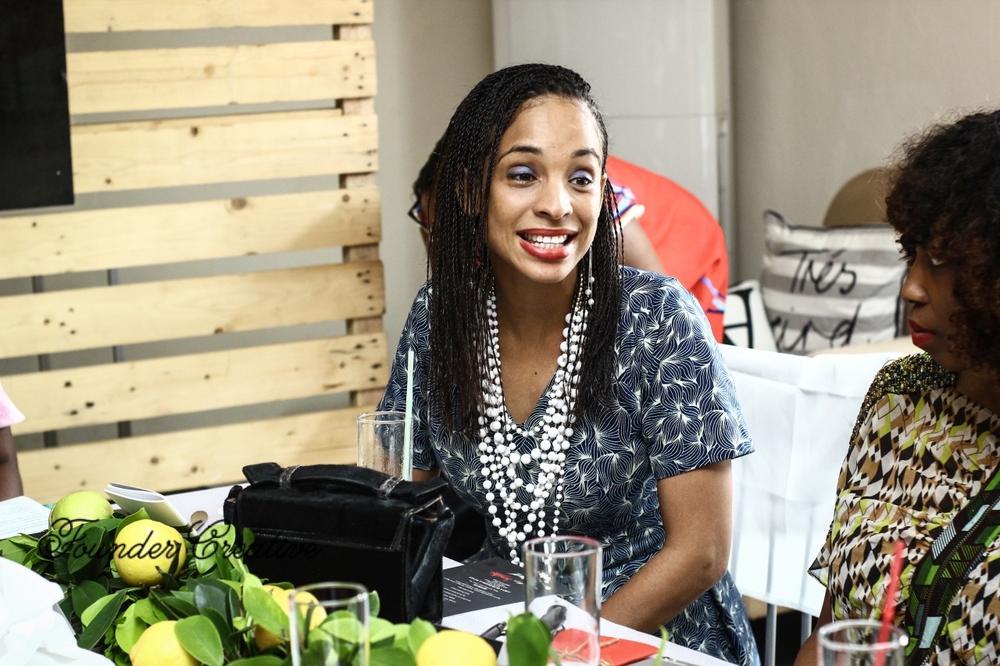 Our very special guest was Ndidi Nwuneli, who is the founder of LEAP Africa, one of Nigeria's leading non-profit organizations and the co-founder of AACE Food Processing & Distribution, an indigenous aggro-processing company and a partner at Sahel Capital, an advisory and private equity firm, focused on the agribusiness sector in West Africa. She also serves as the director of the African Philanthropy Forum. She has 20 years of experience in international and entrepreneurship development.
We asked Ndidi some tough questions and she answered gracefully.
She touched upon the non-negotiable need for business structure and emphasized the need for a board no matter the size and stage of your business. For many of the founders at the event, this was a major takeaway.
I'll love to hear your thoughts and if you have any knowledge to share, you are welcome to leave a comment.
***
Photos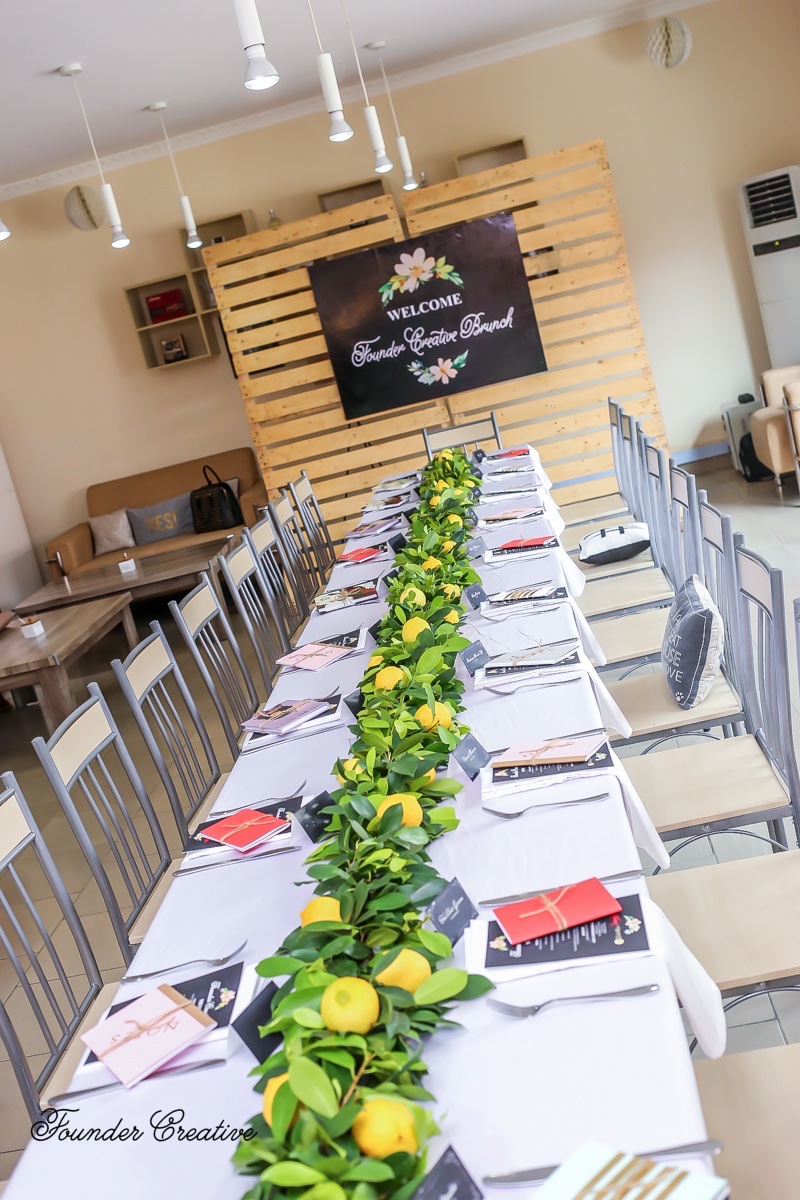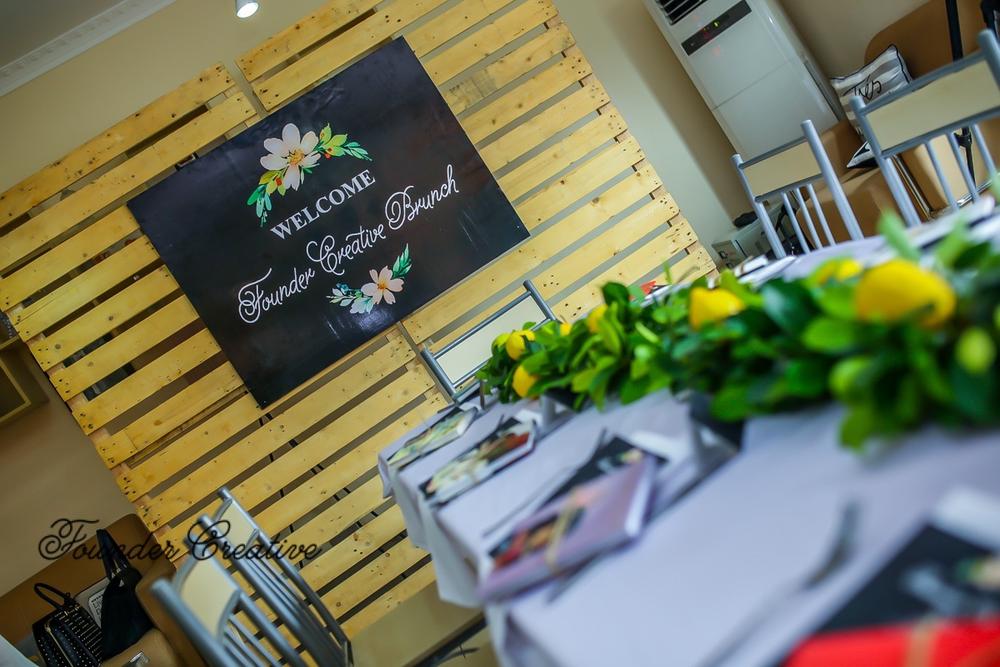 ***
Everyone who attended is beyond amazing, with lots of awards, outstanding educational qualifications, business excellence, charity involvement and so much more. Here is a super summarized version which gives you a brief overview of their business ventures.
Nkemdilim Begho
Managing Director of FutureSoft (Future Software Resources Nigeria).
She is also the co-founder of The Bake for Change Development Foundation, an NGO focused on empowering street children through skill acquisition, vocational training and educational scholarships.
She is also a director and founder in 3 thriving startUps, Anne Li Unique Gift Ideas, Compare Insurance Nigeria and Fucaire Lifestyle Ltd, publishers of ASPIRE Luxury Magazine.
Christine Ogbeh
Founded Quorum in 2007 with core focus on creating an experiential link between brands and their consumers. She is also the Founder of QBOX, the largest costume party company in Nigeria with hundreds of costumes available for sale or rental purposes and the Wedding Guru offers services ranging from decorating to designing invitation cards for the ever expanding Nigerian wedding industry.
Most recently, Christine founded the Wedding Mall in Abuja, Africa's pioneer wedding business incubator which pulls together top-choice wedding vendors under one roof for ease of access for intending brides and grooms.
Mosunmola Umoru
Founder, Honeysuckles PTL Ventures. A proud farmer and also Founder of the Farmshoppe. Currently serving our nation as the Technical Adviser (Youth & Gender) to the Federal Minister of Agriculture and Rural Development (FMARD).
Dr. Ola Orekunrin
Founder Flying Doctors Nigeria (FDN) Limited. FDN is a Medical Emergency Service that specializes in air ambulances, medevac, medico-logistics services, remote site medical solutions services, medical infrastructural development and medical training services.
She recently launched the Emergency Transport Unit which is a removable medical cabin built into a commercial aircraft which conveys patients around West Africa and beyond often at 10% of the price of a full air ambulance.
Dr. Samiah Oyekan-Ahmed
Founded Fusion Lifestyle Limited in December 2009 after relocating from Lagos to Abuja.
The company's ventures include The Fusion Lifestyle Family Fair, themed "business clinic" events FusionConnect, The Fusion Lifestyle Store – A multi brand lifestyle concession store housing 40+ brands and counting.
Founder of The Gift Source. A one-stop gift resource company that provides event favors, corporate gifts and kids party packs which is currently changing direction to start producing their own line of quirky gifts.
Co-founded Fruit Garden in 2015 and is the sole franchisee of JewelScent USA products in Nigeria.
Honey Ogundeyi 
Founder and CEO of Fashpa.com and Digital Agency – The September Group (TSG). Fashpa.com is Nigeria's Leading Online Fashion Retailer and one of the first online-only fashion technology companies in Nigeria.
Osaru Alile
Co-founded Caxton Alile Design; A pro-African creative force and founding company of CaxtonAlile Living (the AfroTemporary Brand producing Light fixtures, Home décor products and greeting cards), Apparel Partners, CC Interiors & its new initiative EteriorSpaces.Com – A Virtual Interiors platform and social enterprise which aims at #CreatingHappySpaces for all, irrespective of ones budget.
Founded Careers in Interior Design (CID) alongside 3 other Interior Designers here in Lagos to inspire and train young designers or creatives interested in Interior Design and related fields.
Toyosi Akerele-Ogunsiji
Founder/CEO of RISE Networks, Africa's leading Social Enterprise with a deliberate interest in Youth and Education Development harnessed through Technology. Founder, PrintMagic – world-class print company.
Currently a Mason Fellow and Mid Career Master in Public Administration Candidate at the Harvard University Kennedy School of Government.
Tosin Oshinowo
Since 2012, Tosin has been lead Architect at cmDesign Atelier (cmD+A), an architecture design consultancy practice based in Lagos, executing notable projects in the city such as Maryland Mall, which is due to open in June 2016.
She has served as the convener of SHO-N-TEL (2009 – 2014) at the University of Lagos, an event series that takes practicing professionals back into the studio to present their experiences to undergraduate and postgraduate students.
Adenrele Sonariwo
Founder and director of Rele Art Gallery, Onikan Lagos – an unconventional, contemporary art space that has been and is on a mission in various capacities to trigger a new found appreciation, engagement, and followership with the arts; exposing a larger, global audience to African contemporary art.
She is currently at work on a global art project that could possibly be leveraged as cultural diplomacy for Nigeria and would give the Nigerian art scene / market a worldwide boost.
Fatima "Fantis" Muhammad
Fantis Muhammed is the Founder of SantiFoodCo, born in 2014 – a Yogurt and Granola brand based in Abuja.
She started her entrepreneurial journey in 2003 with Adcity Ltd, a corporate event Management Company based in Abuja.
She has invested in apparel manufacturing by founding the H.Magnet factory opened for mass production of T-shirts and Polo Shirts at the Kano Free Trade Zone, the factory is now operational in Abuja.
Uzo Orimalade 
Founder, Cupcake Couture Lagos (which provides retail and corporate clients with premium baked goods), Uzo's Food Labs (which provides consulting services to the food, beverage & hospitality industry, cooking classes and demos to individuals and corporates, food writing and other associated services) and The Garden From Uzo's Food Labs (an organic garden that sells organic cut produce and seedlings).
Oreoluwa Somolu Lesi
Founder and Executive Director of the Women's Technology Empowerment Centre (W.TEC). W.TEC is a non-profit organization she setup in 2008 to build the capacities of Nigerian girls and women, to increase their economic power and ability to speak about issues affecting their lives, through information and communication technology (ICT)-based training, research and mentorship. She loves books and also owns a bookshop!
Bukky Karibi-Whyte
CEO and Founder of boutique Public Relations Firms, The Bobby Taylor Company and Invicta Africa Communications Limited.
Rukky Ladoja
Co-Founder of GREY, Grey revolutionalized the modern Nigerian fashion industry with well-priced, retail-ready clothing. Co-Founder, Eve & Tribe.
Timi Bode-Ejiwunmi
Founder and Creative Director of I Do Weddings.
I Do Weddings is a one stop weddings solutions company. Under I Do Weddings is a bridal line called Love Tims. Love Tims provides beautiful wedding dresses at par with international standards, saving a bride time and the cost of flying abroad. The brand includes a retail space for its bridal accessories including jewelry, hair combs, tiara's veils and clutch bags and a signature perfume line.
Bilikiss Adebiyi-Abiola
CEO and Co-founder of Wecyclers Nigeria Limited. Innovative social enterprise Wecyclers offers convenient household recycling service using a fleet of low-cost cargo bikes. Wecyclers is powering social change using the environment by allowing people in low-income communities to capture value from their waste.
Ehime Eigbe-Akindele
Founder and MD of Your Way Foods. Your Way Foods is the holding company for Sweet Kiwi Frozen Yoghurt, Beet Root Health Bar and Cinggis Mongolian Grill.
She is passionate about small business branding and co-founded the Brand Identity Global (BIG) Conference. She founded "Hands in Lagos", a non-profit focused on fostering volunteerism in Nigeria.
Wadami Amolegbe 
Oluwadamilola Amolegbe founded HauTe Fashion Africa Magazine in 2006 with a successful transition to becoming the 1st African Fashion Website HauTeFashionAfrica.com.
Her charity involvement is vast including raising funds for the renovation of the Fashion Design Department in Yaba College of Technology, LofeLofe.com's Paint the City Project.
In 2015, she officially started her company, W. Amolegbe Consulting – a Project & Talent Management firm with a focus on Art, Entertainment, Fashion and Social Media. W.Amolegbe Consulting project managed the inaugural Founder Creative event.
Uche Pedro
Founder, BellaNaija (thinking she needs to start other businesses after reading all of the above)..ok, she's the Founder of Founder Creative 🙂
Uche is involved in various private and public charity initiatives. She's also on the board of LEAP Africa.
***
The discussions were so in-depth, insightful and emotional at times! It is difficult to convey in photos but I believe you can get a glimpse of the camaraderie.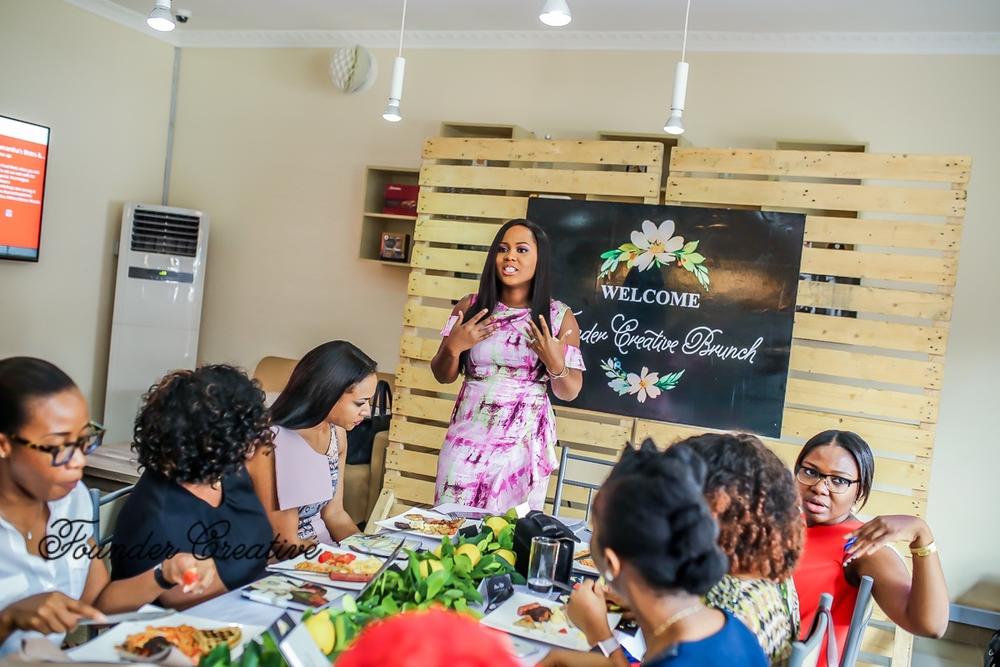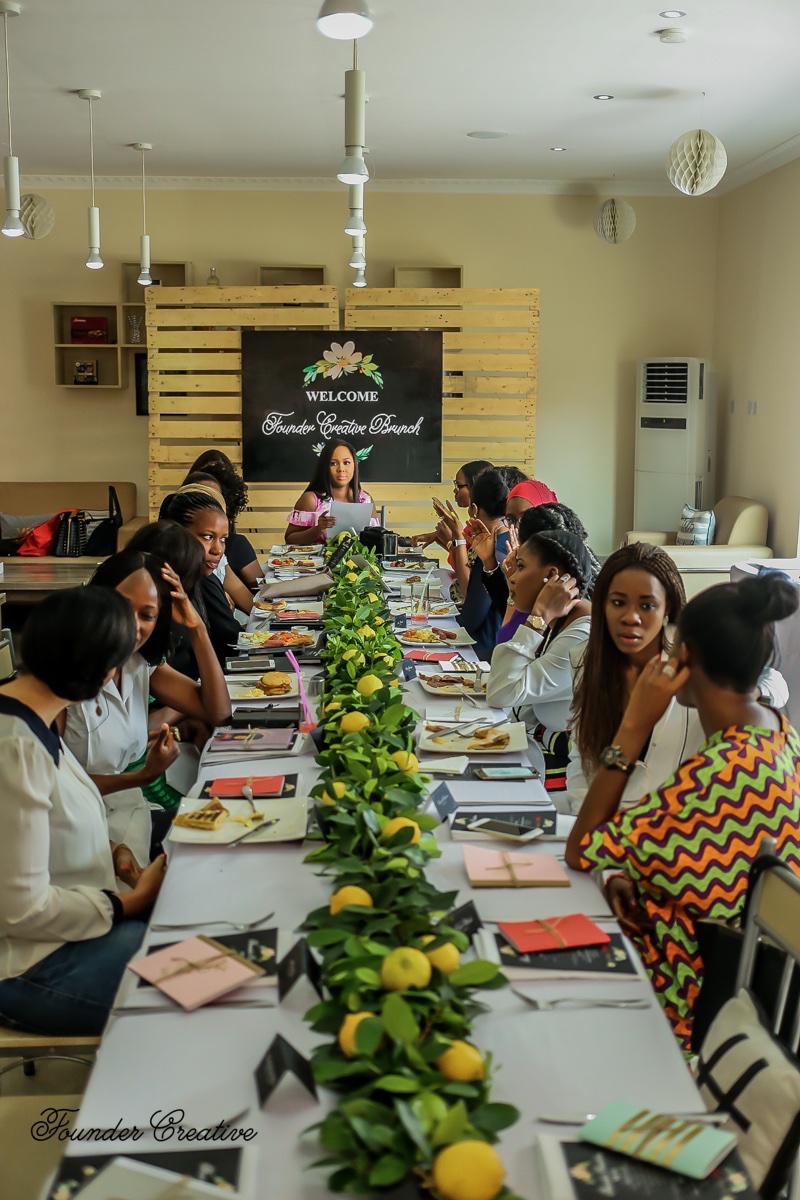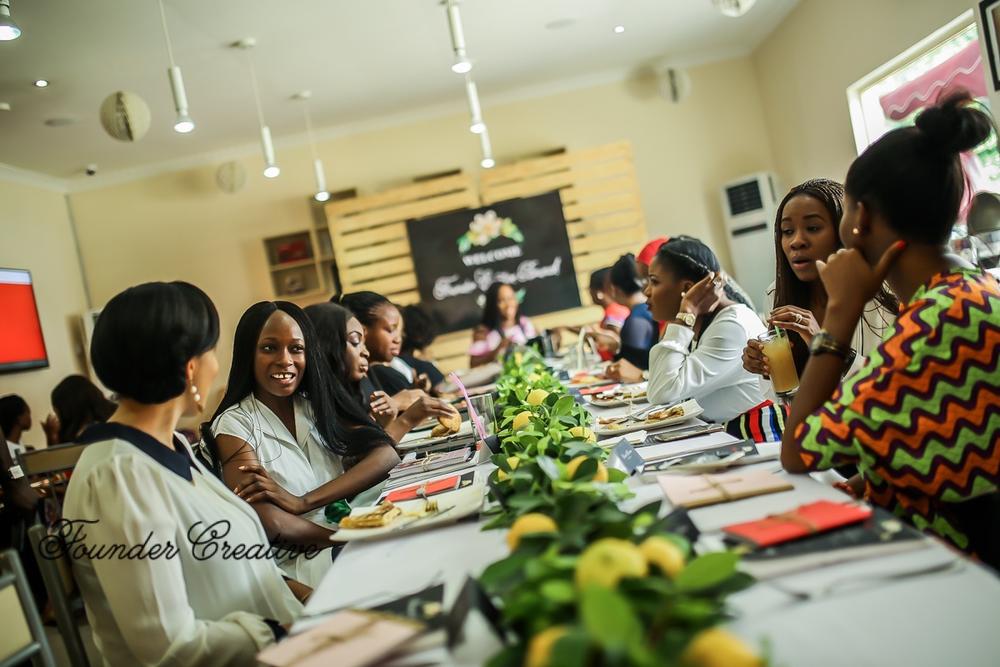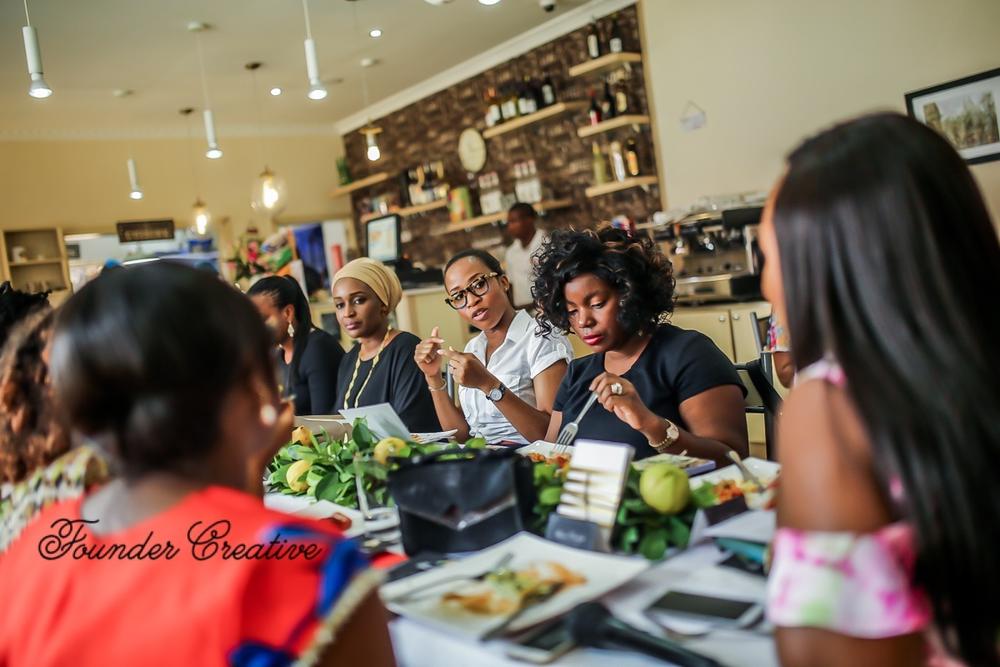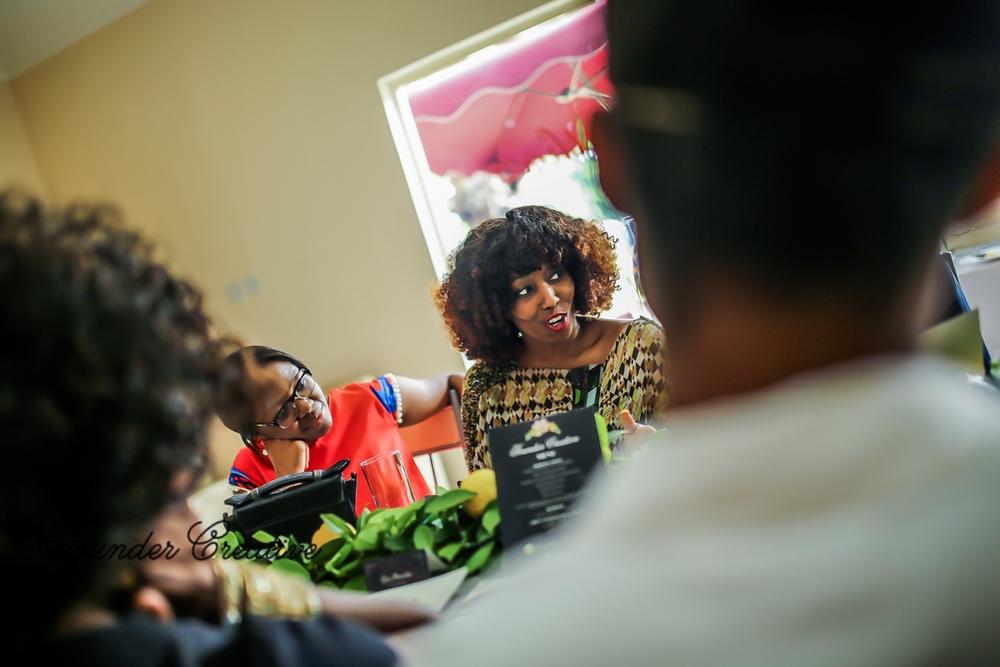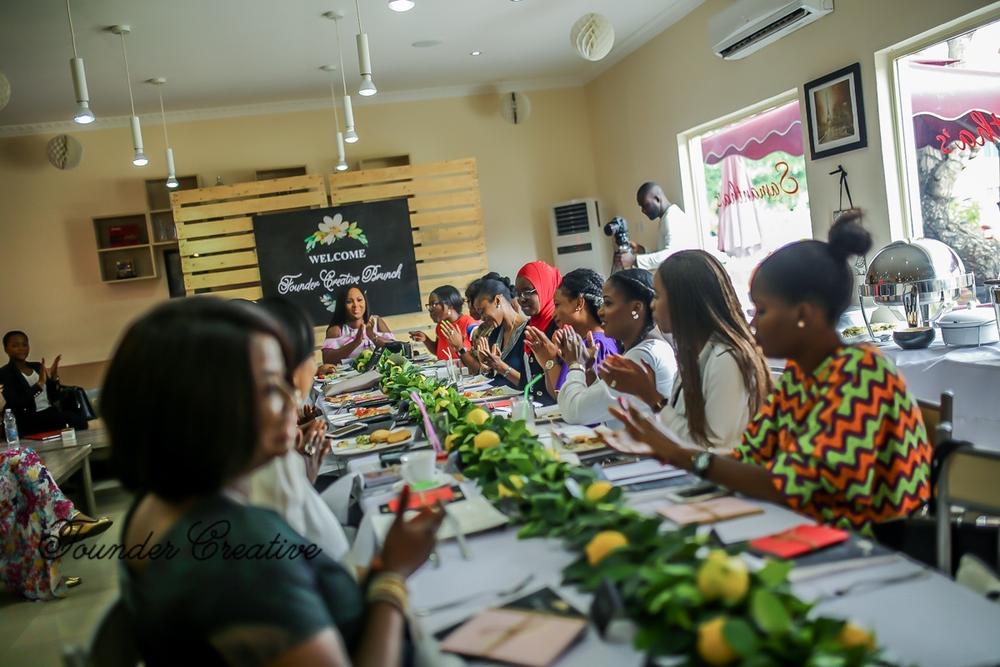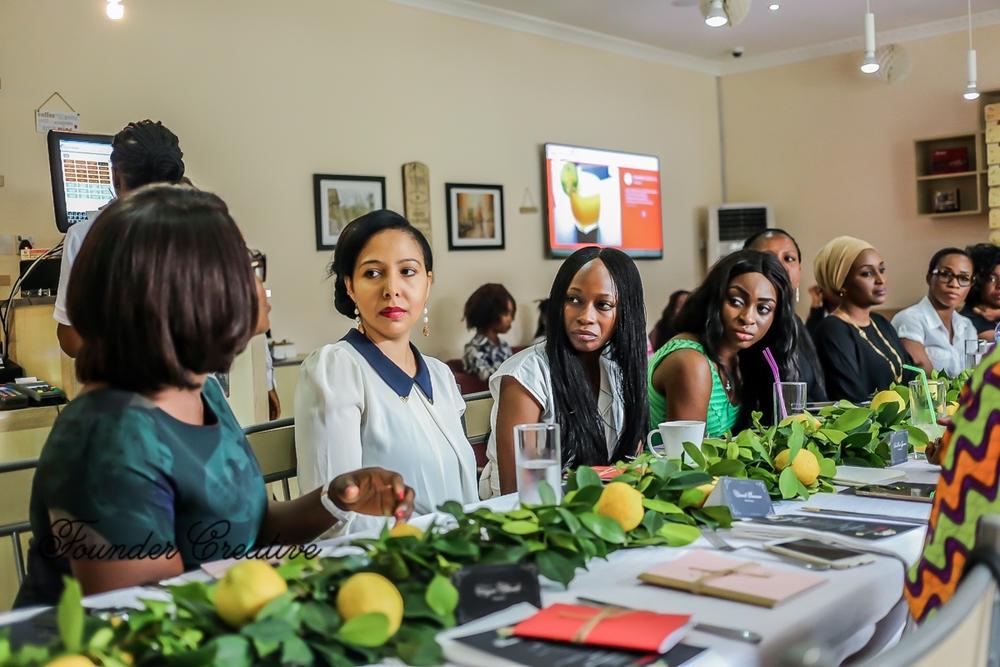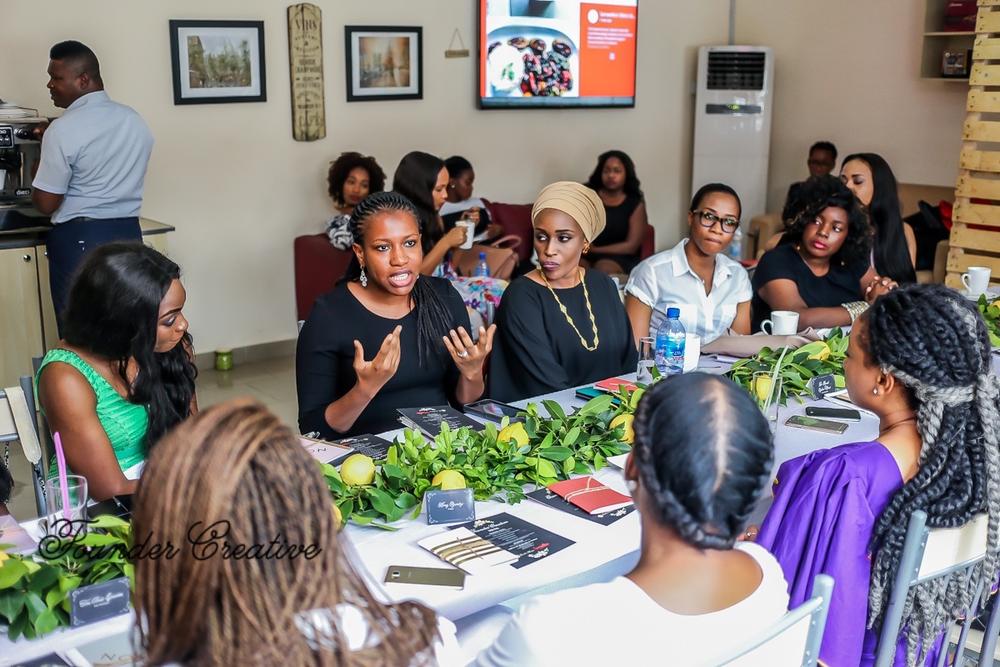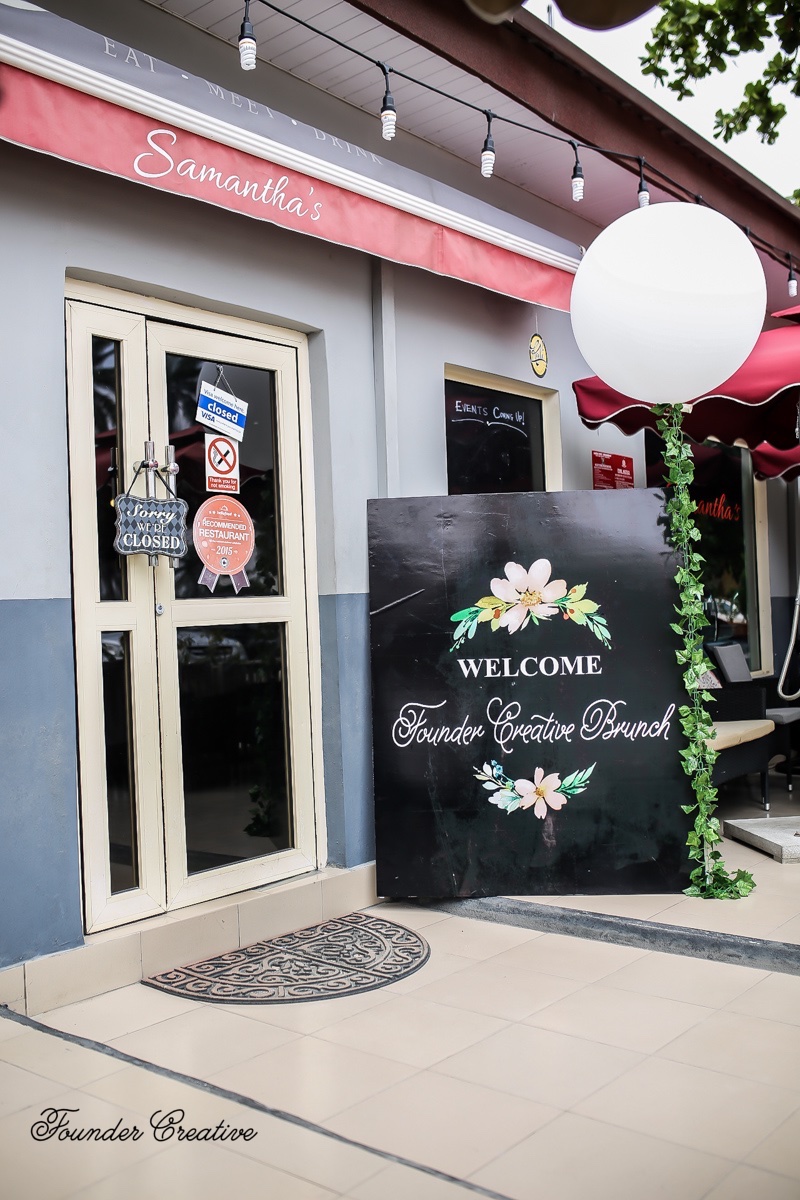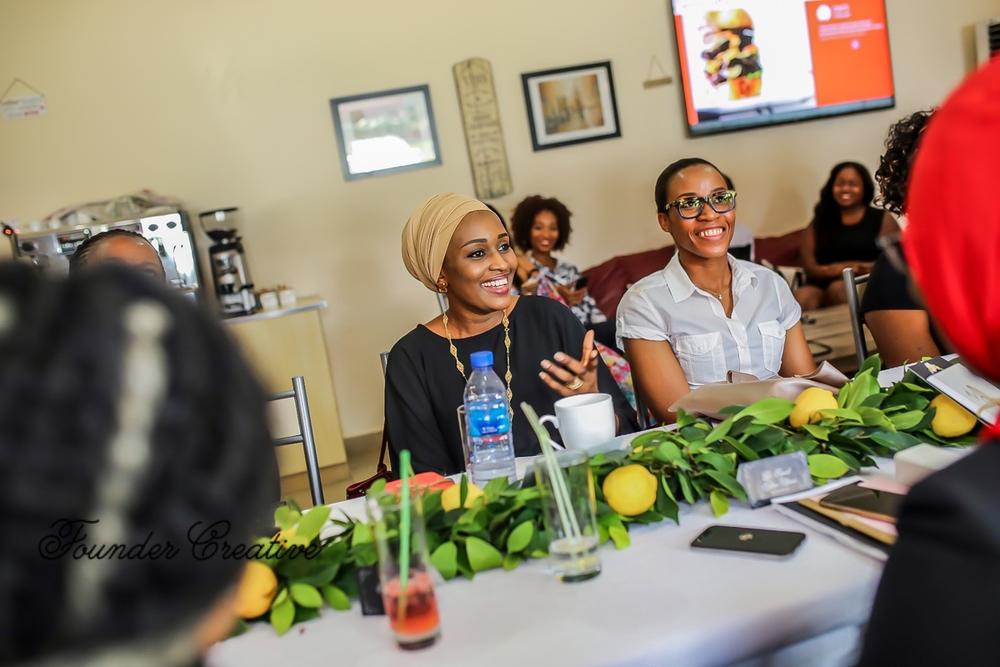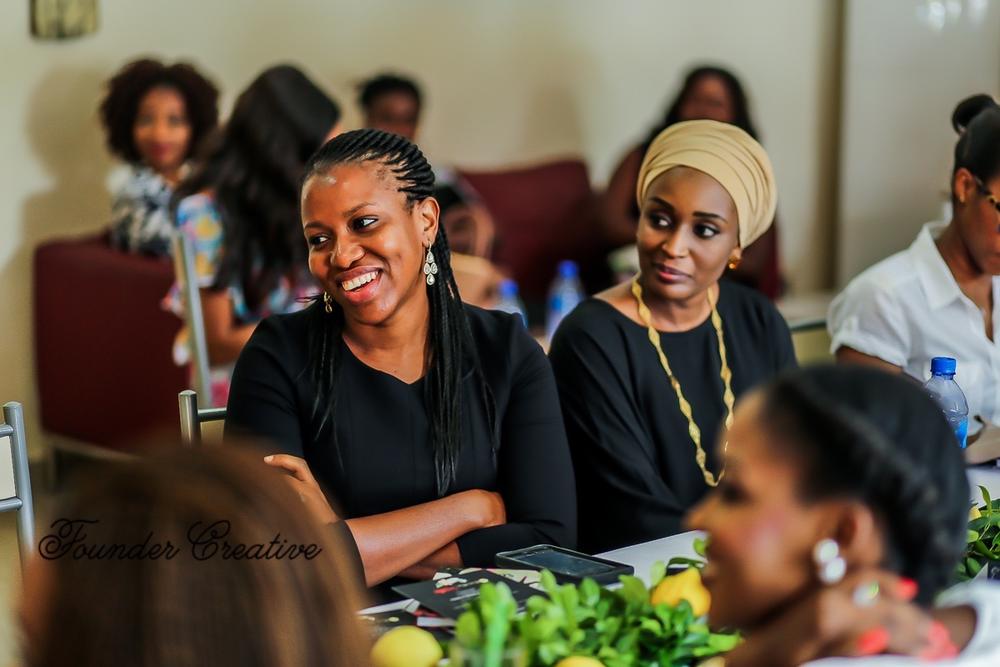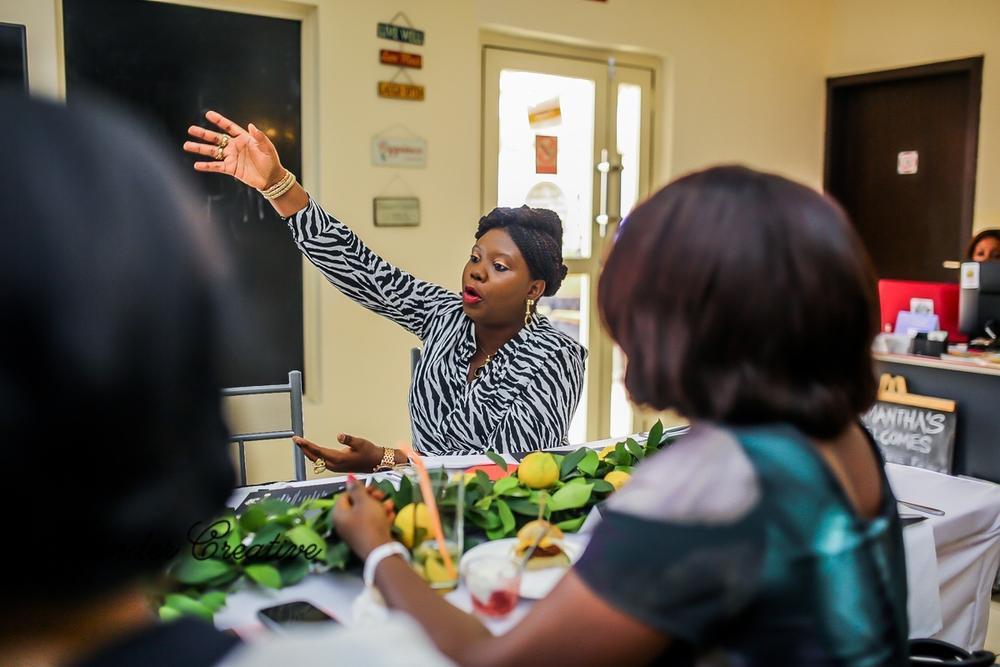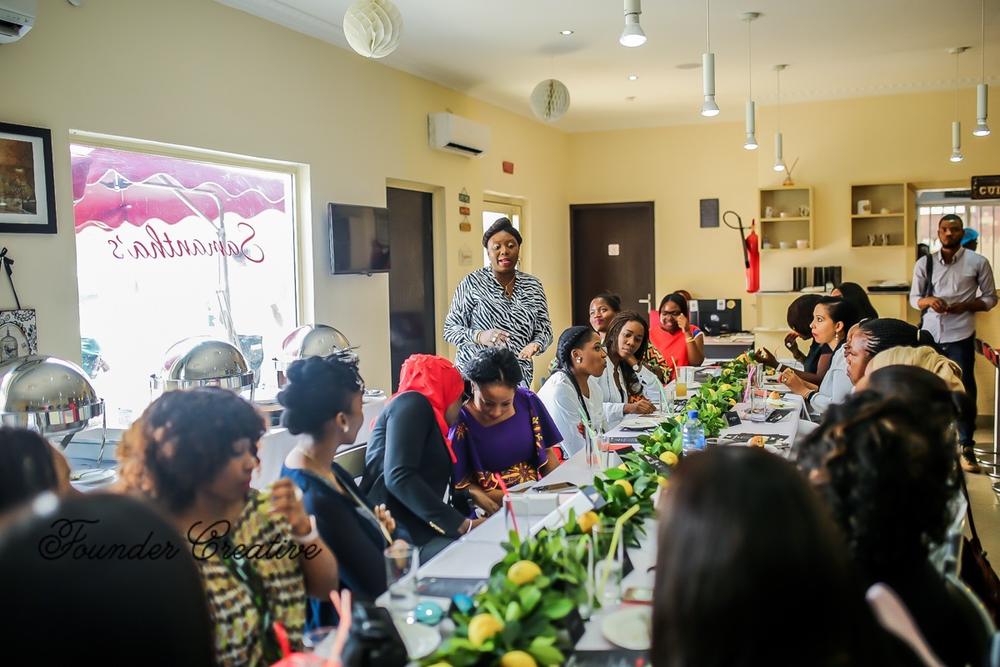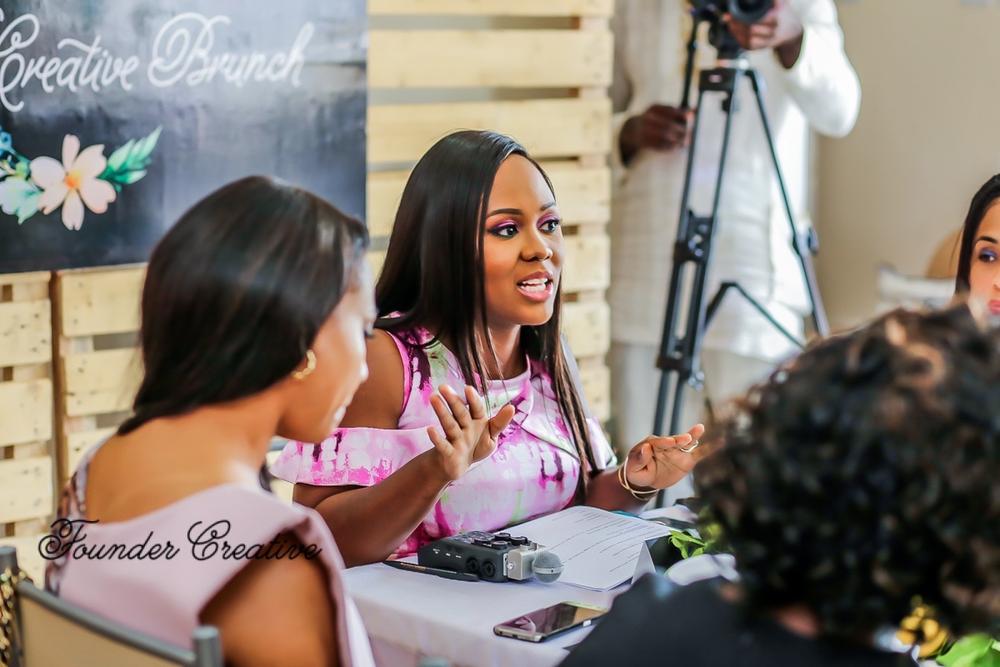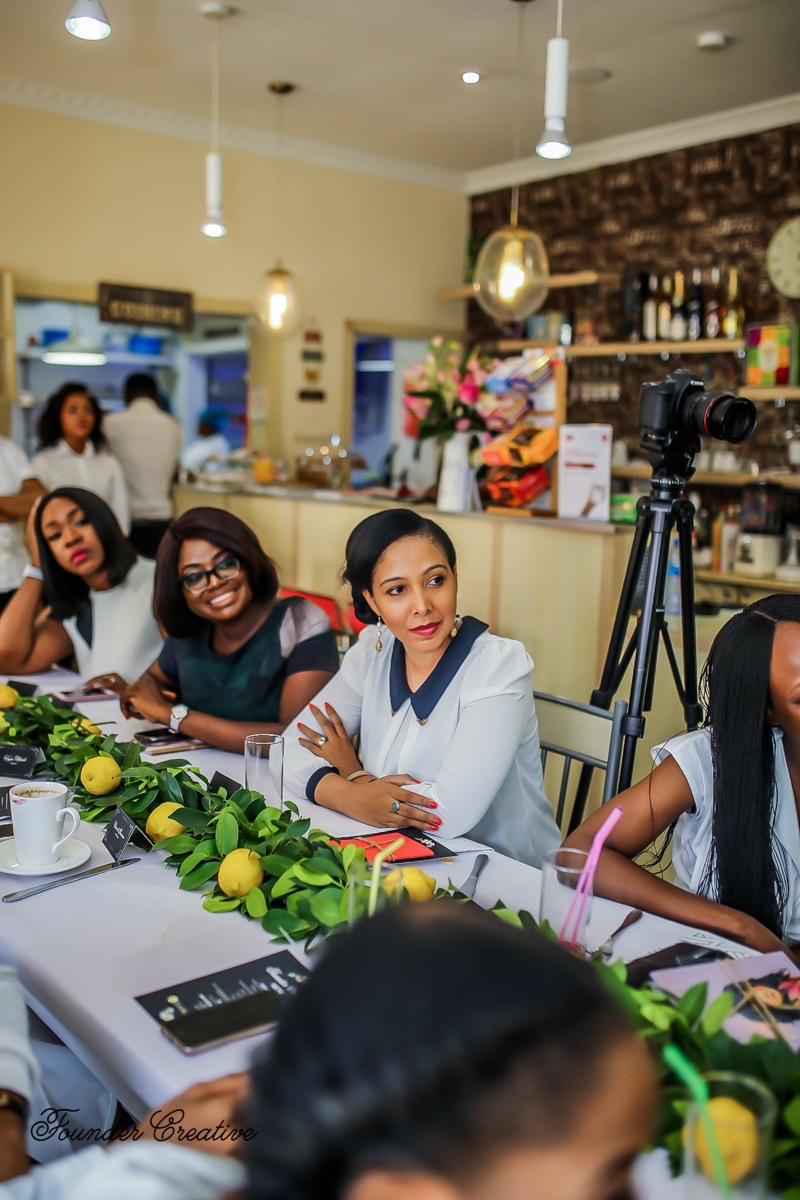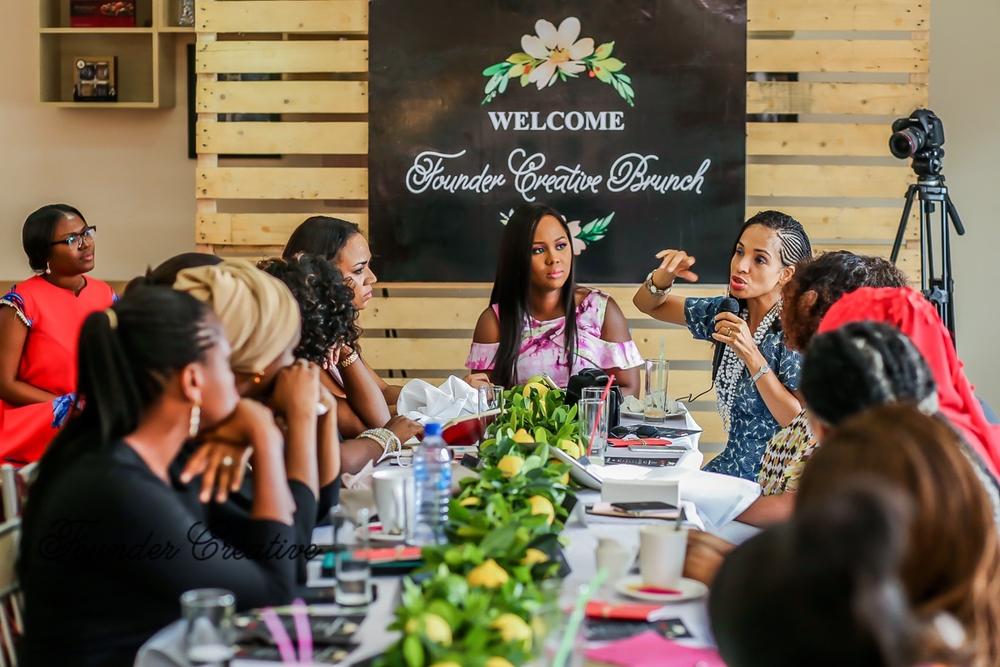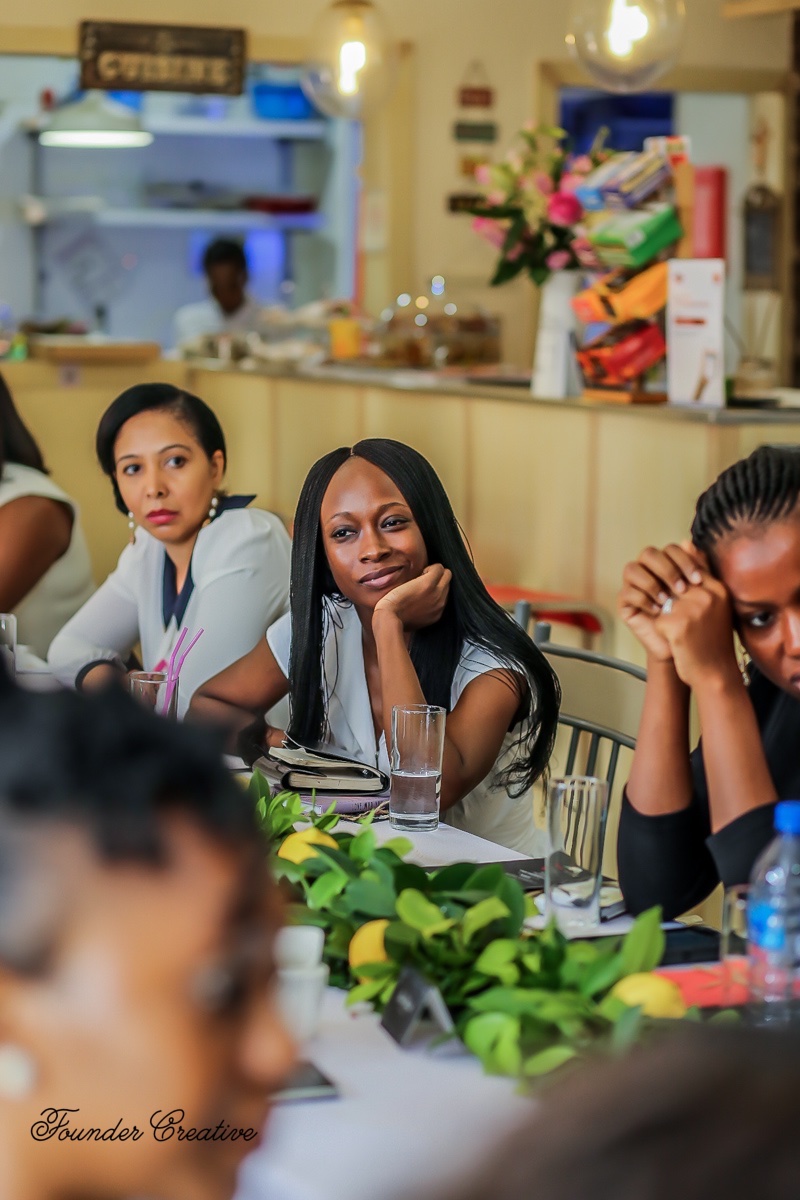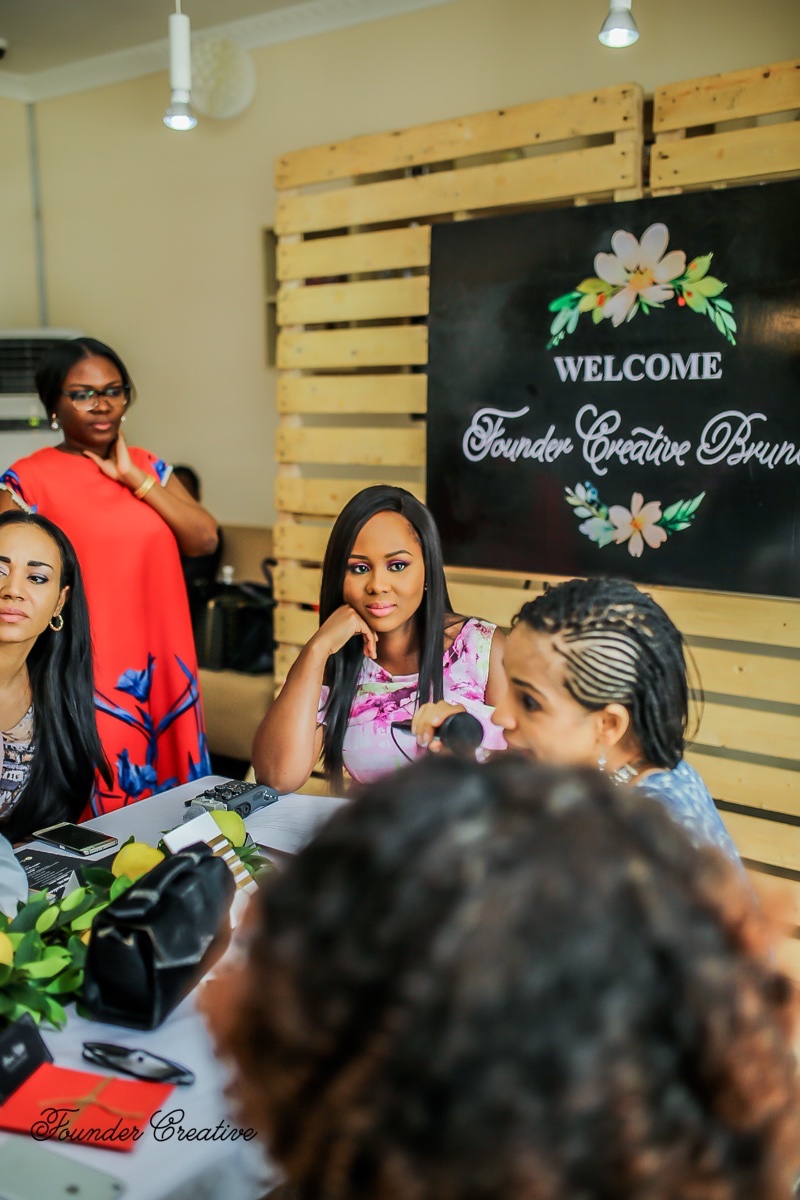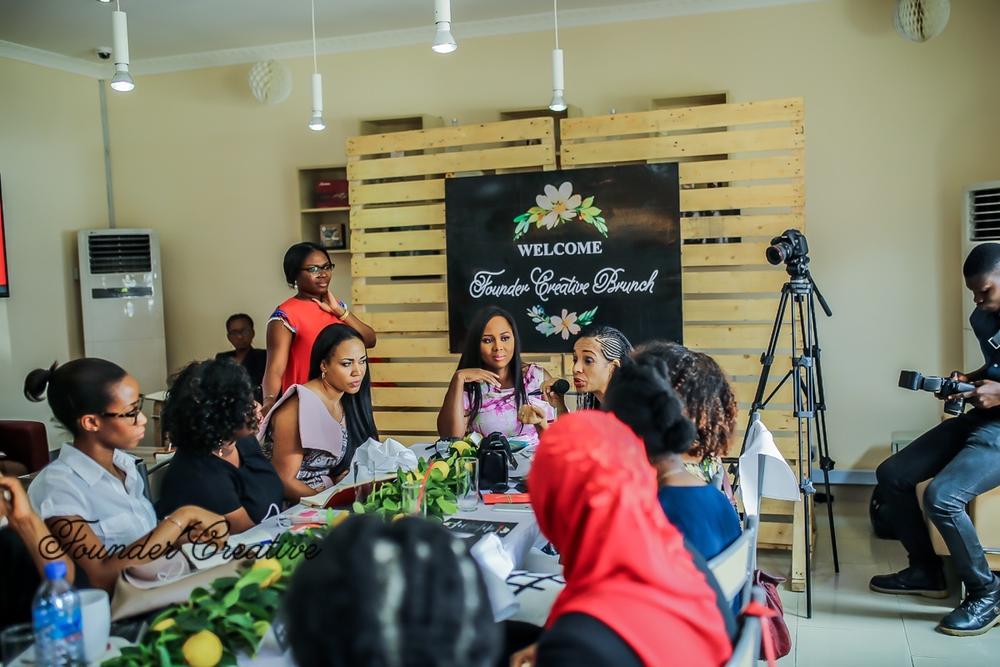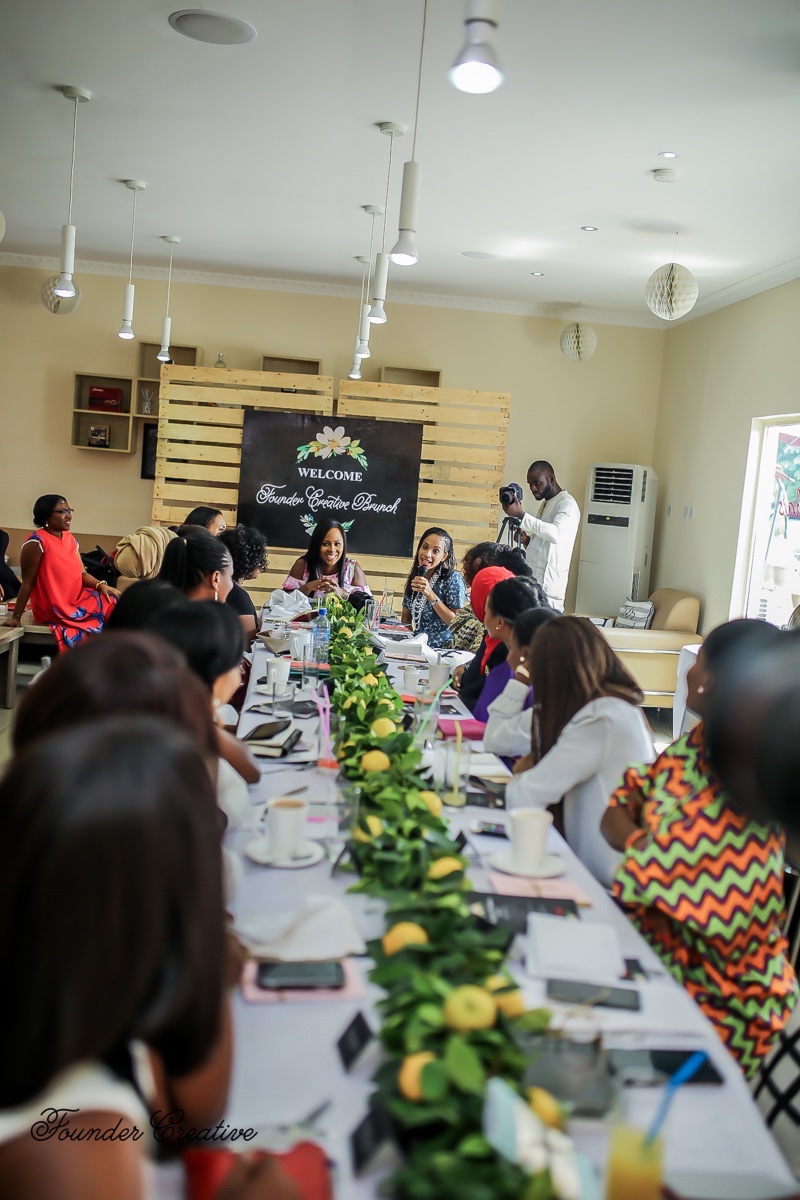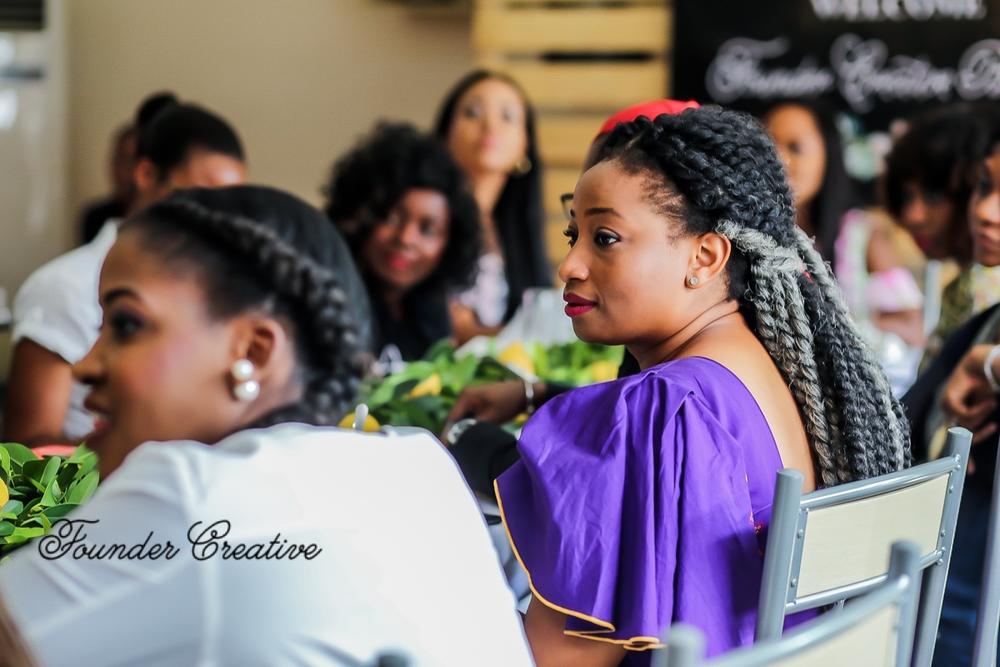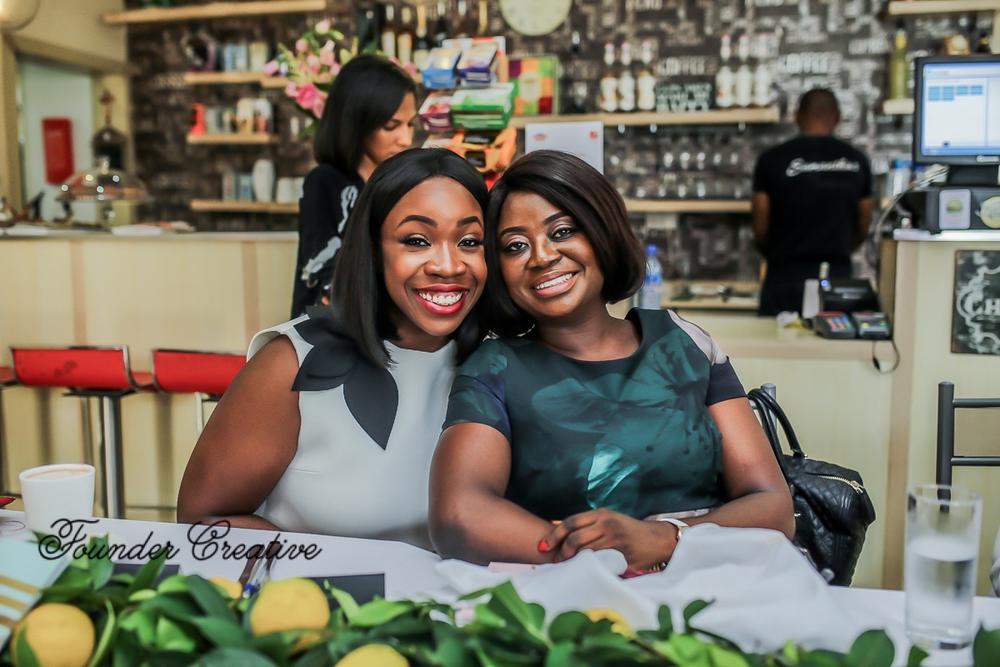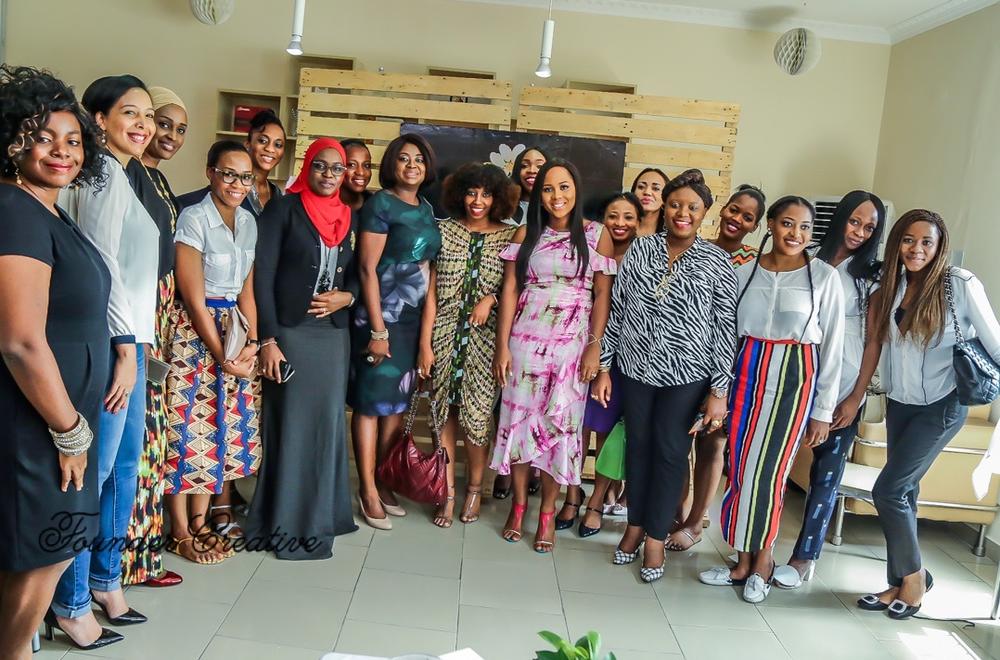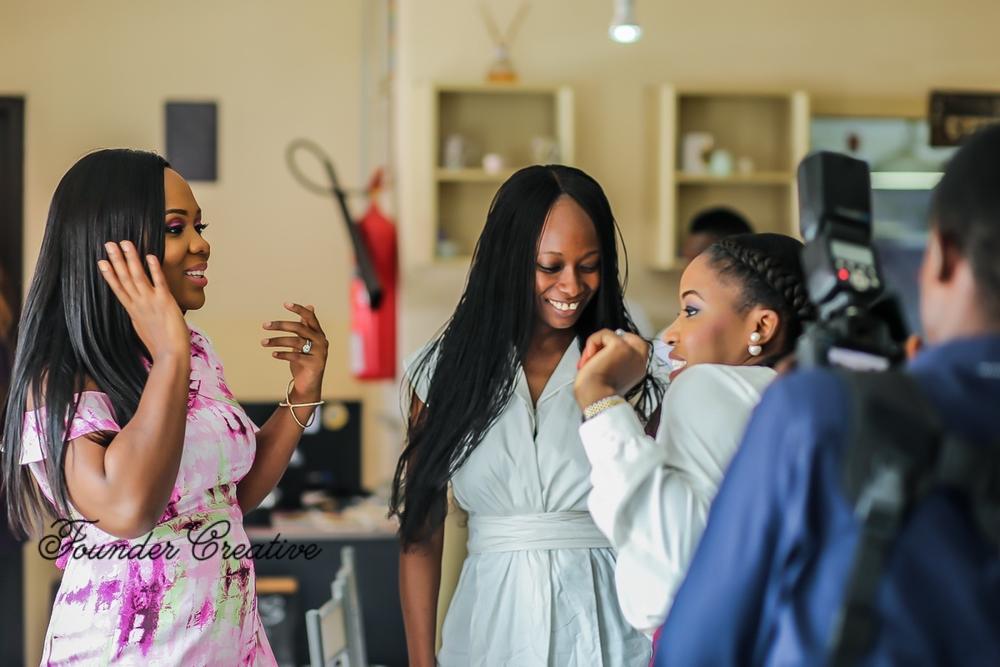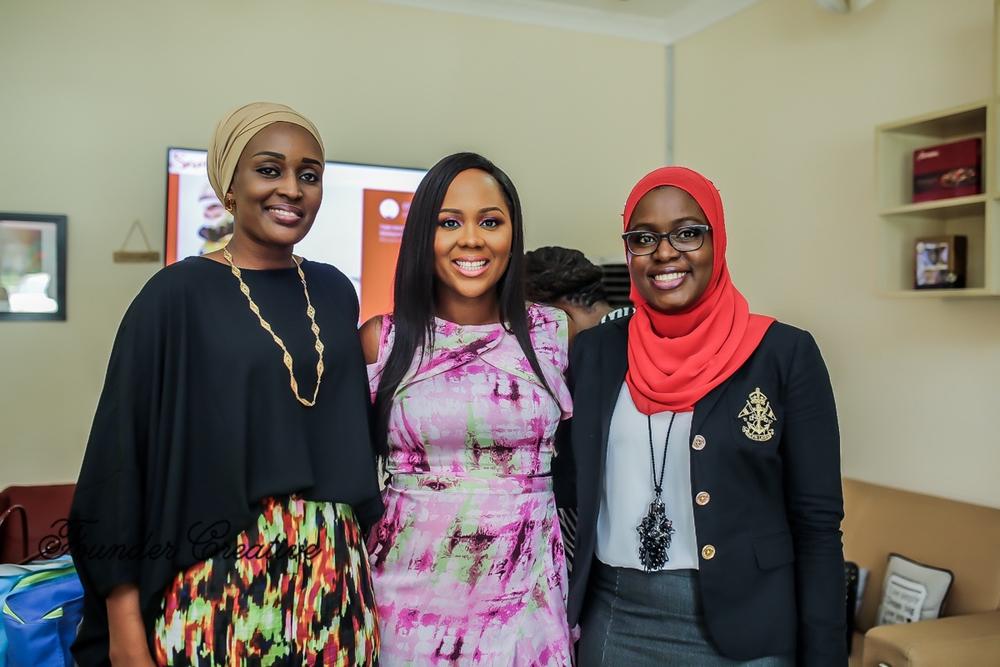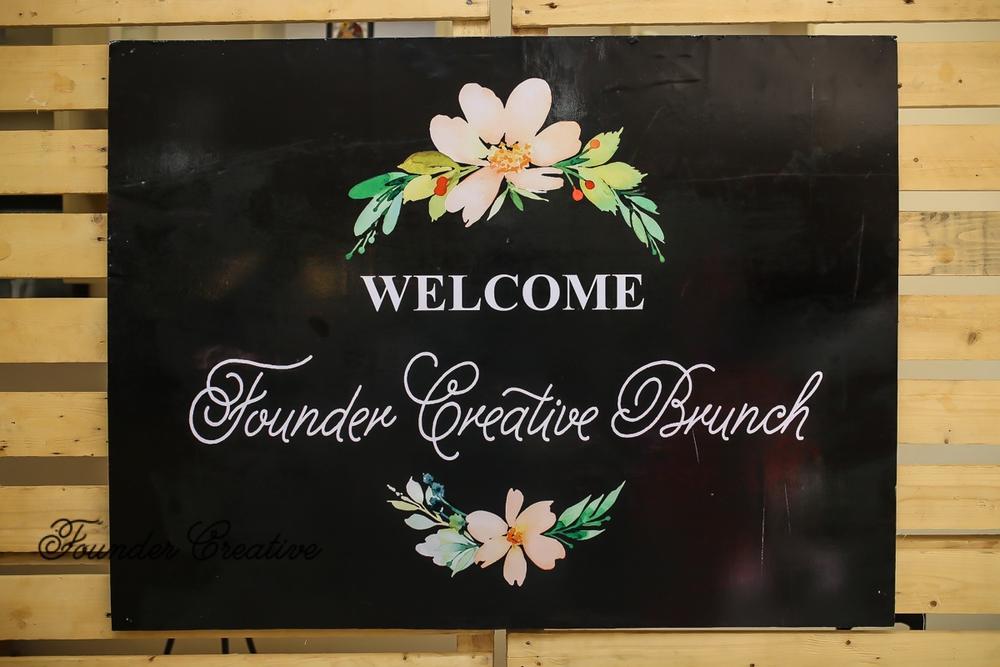 Project Management: W.Amolegbe Consulting
Venue & Food: Samantha's Bistro, Ikoyi
Decor: Fara & Zara
Photography: J.Gates Visuals
Photography: Insigna
Videography: Lanre Esho Films