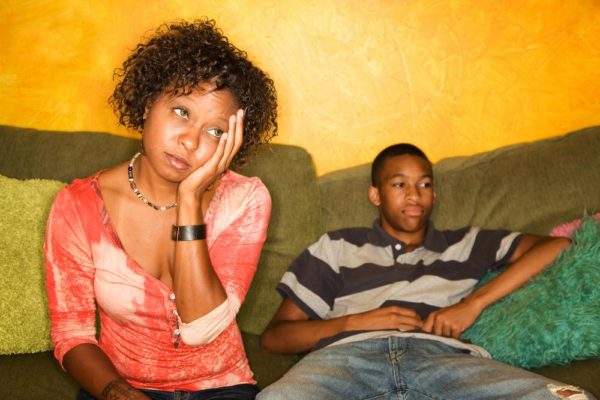 Aunty Bella is our  agony aunt column on BellaNaija. We launched this column in the early days of BN and periodically feature issues sent in by BN readers. We hope the BN family can offer insightful advice.
***
This is my story. Please, bear with my typing and the length of my story.
I am 24 (Yoruba). He is 26 (Efik).
I met him September 2015 and gave him a chance in October. He claimed to have loved me long before I knew him (secret admirer), but he had a female friend – which he claims that is just his friend and nothing more.
I fell in love with him along the line, and we got going well. But this friend has been a problem. She calls him always and even does my duties better than I do and on few occasions, he has shoved it in my face – that I was not doing what I should be doing but rather his friend was. It included calling him and praying for him when he had an interview sometime ago (which he didn't give me details about) but he told her about it, and she was busy praying for him..lol.
We tried to sort her out but he started lying about her. Whenever she calls, he wouldn't pick it when I'm around and if I ask when last they spoke,he would say, "it's been long ooo", whereas, they just finish talking.
This friend of his gave me a lot of concern, but he kept telling me there was no cause for alarm that I am the chosen one and what is mine is mine. I was opportune to speak to her once when he introduced me as his fiancé to her over the phone. She asked if I was his fiancé and I confirmed it; then, I asked who she was as I was informed that she is a friend. She answered me by asking if dat was what he told me. Next, she told me not to worry that she wanted to speak with him. That was the end of the conversation that day before I left.
After then she and my boyfriend still continued talking after which she told him in a text that she didn't like what he did the other day…i.e she talking to me.
Next concern was his mother. She accepted me someway and complained to him that I don't help her with the cooking. See me see trouble! Next she answered my call and spoke to my mother to warn me off her son. I tried to leave but it didn't work…he begged and begged. I couldn't stand seeing him sad, so I stayed back; but we stayed away from his family per se.
Meanwhile my parents warned me off, but I thought that "love conquereth all things"..lol…
Finally his female friend again showed up months later at an event and we got talking and I asked her what relationship she had with him. she said "he will come and answer the question". Then she asked me if I was related to him. I also told her that "he will come and answer the question".
Please did I do anything wrong in answering her the way she answered me?
My boyfriend came and was informed of the situation but he could not answer any of our questions..he now began to beg me to "let sleeping dogs lie"…Biko which sleeping dogs should lie?
At that point I knew there was more to that girl….he later secretly and unintentionally said that she supported the event financially and he didn't want to seem ungrateful by answering that question that day. Well, I made up my mind that night to leave the relationship, no matter how hard it seemed, and I made my intentions known to him.
As usual he begged and called my friends to beg me. I am not interested anymore though, I still love him very much.I am only trying to be strong but it tears me apart sometimes.
I reported myself to my parents and they have forgiven my disobedience and they now hold me to my words that I wouldn't go back to him again.
But oftentimes, I feel confused like I didn't do the right thing, and I feel peace also that the wahala of relationship is on hold for now.
Now his mother is calling for me and her to have a dialogue on the way forward after apologising for the previous experience. She claims I'm her wife and that she loves me very much. These mothers-in-law sef….me I'm afraid of her ooooh….
I am scared that my parents would not accept him if we get back later. I am confused whether to still give him a chance because I know he is cheating right now with that girl and some other side chicks(because I secretly saw him after we parted ways with that girl…hmmmm…)
I am pained but I still think I can forgive him…
Please, help a sister so I don't want to make a mistake.
I am trying to follow my heart and use my head but it is not easy oooo…
Photo Credit: Scott Griessel | Dreamstime.com