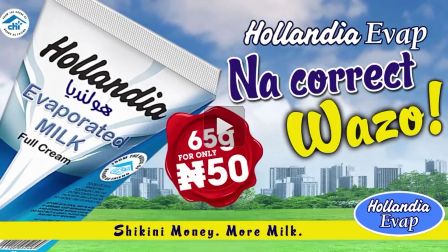 'Never innovate to compete, innovate to change the rules of the game" is a famous quote from David Adeife. These words have been proven to be true as brands worldwide seek to add value, earn consumers' confidence and create a larger share of the market for themselves. Consistency and innovation are the two reasons why major global brands have grown or declined. From Nokia to Kodak, the story of brands on decline as a result of the refusal or inability to innovate is evident.
David Adeife's quote is brought to bear in Nigeria's dairy market where a major brand – Hollandia Evaporated Milk, has changed the rules of the game through innovation in that sector with its entry. It is the first Nigerian Milk brand to be packaged in aseptic Tetra Pak. Unlike some milk brands that are packaged in Tins which are prone to hygiene issues due to the corrosive nature of its packaging, Hollandia Evaporated Milk is hygienically produced with the aseptic Tetra Pak packaging which is the benchmark for quality. It remains the only milk brand with a convenient resealable cap, with this you do not have to worry about storage and contamination as you can always reseal the pack unlike other milk brands.
In terms of quality and quantity, the brand has an edge as evident in its Hollandia Evap "Correct Wazo" 65g which goes for N50. It is called the "Correct Wazo" because it offers 10g of more creamy nourishment than other brands in its category. Compared to some other milk brands that have employed the strategy of reduction of contents to remain relevant to consumers, the Hollandia Evaporated milk 65g "CORRECT WAZO" makes so much economic sense as it offers consumers more creamy, great tasting and highly nutritious milk believed in some quarters to be comparable to none
According to Maryam Nnaji, a house wife in Lagos,
"the convenience of the Hollandia Evap packaging is key to its preference by my family in contrast to tins which can be hygiene prone once opened.  These are challenging times and the extra 10g of quality milk I can derive from the Hollandia Evap "Correct Wazo" 65g is valuable when put side by side with other brands in same category which sell at same price of N50"
Hollandia Evaporated milk has proved to be an example of brand's consistency and Innovation which remains the driving force for sustained relevance in the Nigerian Market. This has furthermore helped the brand to forge deep affinity with its consumers due to its excellent quantity and quality. Little wonder, Hollandia Evaporated Milk is widely accepted by consumers all over Nigeria.
_______________________________________________________________________
Sponsored Content