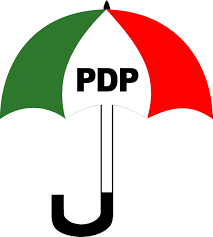 Reacting to a Thursday ruling by Justice Okon Abang of the Federal High Court sitting in Abuja, the Peoples Democratic Party (PDP) leadership has said that its National Convention slated for August 17 will hold as scheduled.
Abang had declared that the party's national convention that held on May 21 2016 in Port Harcourt was illegal. He therefore ruled that the constitution of the National Caretaker Committee led by Ahmed Makarfi at the convention was illegal, declaring every action taken by the committee as nullity.
In a statement signed by Prince Dayo Adeyeye, a member of the National Caretaker Committee (Publicity), the PDP described Abang as a controversial judge who "is deliberately engaging in acts of derailing the Country's democracy".
The statement posted on their Twitter handle read:
The Ruling of a Federal High Court in Abuja on Thursday July 28, 2016, presided over by controversial, Justice Okon Abang is objectionable, questionable and very strange, to say the least in the history of Nigeria Judiciary.

What Justice Okon Abang did today (Thursday) is to Seat on an Appeal over the Court of competent and coordinate jurisdiction and that's what makes his Interlocutory Order very strange. The Judgment of the Federal High Court in Port Harcourt was very clear that the NCC was duly constituted and recognized; and in line with that, the scheduled National Convention for August 17 2016 still holds.

Let Nigerians recall the 2 Judgments before the Port Harcourt Judgment, declared that Senator Sheriff is not qualified to be Chairman given that the PDP Constitution 2014 which he claimed brought him to power is not in existence and therefore, null and void.

The PDP wants Nigerians to know that Justice Okon Abang is deliberately engaging in acts of derailing the Country's democracy given the fact that his Court is not an Appeal Court that can set aside any Judgment.

Justice Abang has penchant for abuse of court processes and actions of legal impunity.

This Judge, Nigerians will recall, issued Judgment against the Governor of Abia State that led to INEC re-issuing Certificate of Return to a man who did not contest election thereby causing unnecessary hardship on the people of that State.

He also issued an Order to INEC to recognize Senator Sheriff's candidates in Edo and Ondo states before they could even plan their purported congress in Edo.

In today's (Thursday) case, same Judge outrightly denied the PDP representation in Court which is unheard of by serving Plaintiff (Sheriff & Co.) who instituted the Case also as PDP (defendants). His excesses are extremely absurd, strange and unbecoming of a Judge who enjoys putting the Judiciary on the spot.

We, bring this matter before the highest level of Judiciary in the Country to stop this Judge forthwith from waging war against the PDP.

We are equally calling on Nigerians and the international community to compel Nigeria Judiciary to address Justice Abang's excesses before he kills our hard earned democracy.

However, the Party is law abiding and therefore, will apply for Stay of Execution of this Order and also Appeal it.

Finally, the Party calls on all its members and teaming supporters nationwide to remain calm and law abiding and be rest assured that the PDP National Convention will hold as scheduled and all preparation towards the August 17, 2016 National Convention remains the same.
In a related development, a former National Publicity Secretary of the party, Olisa Metuh, has dissociated himself from the court action filed by Sheriff.
Metuh was included in the suit as a plaintiff. He said he never instructed anyone to include his name in the suit, and that the Sheriff-led faction of the party has said that his name was listed in error.