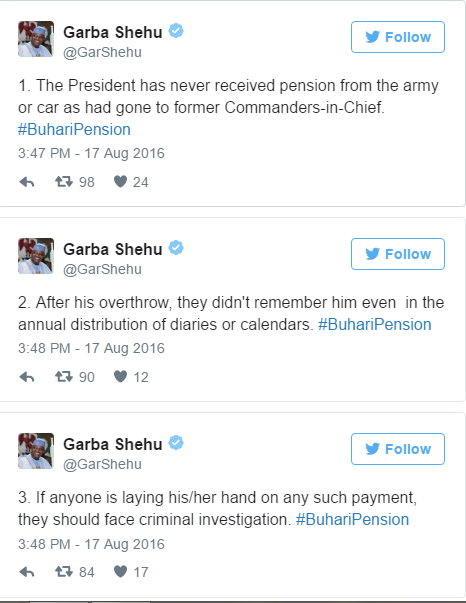 The Senior Special Assistant to President Muhammadu Buhari on Media and Publicity, Garba Shehu has said that the President never received pension or car from the Army.
He added that whoever is receiving such payment on behalf of the President should face "criminal investigation".
 He made this known in an 11-tweet statement yesterday.
He also added that he (President Buhari) stopped collecting allowances of former Heads of States after he assumed office on May 29, 2015.
Read the statement below:
The President has never received pension from the army or car as had gone to former Commanders-in-Chief. After his overthrow, they didn't remember him even in the annual distribution of diaries or calendars. If anyone is laying his/her hand on any such payment, they should face criminal investigation.

President Buhari stopped collecting allowances paid to former Heads of State the moment he took office as elected President last year. This is verifiable from the SGF (Secretary to the Government of the Federation)'s office.

Since his overthrow as Military ruler, the army never instituted a pension for him. The army is known to supply cars to former heads of the army. President Buhari never got any of that.

On the other hand, there is a directorate in the SGF's office paying allowances to all ex-Heads of State. This is not pension. President Buhari stopped collecting this from last year.

The cars he got came from the former President (Goodluck Jonathan) through the ONSA (Office of the National Security Adviser). This was after the bomb attack on his convoy in Kaduna. Before this time, the presidency did not supply cars to him as they did the formers Heads of State. Please be guided. Thank you.