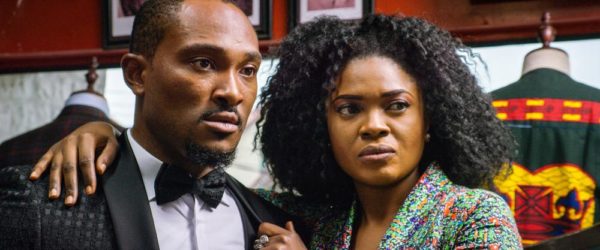 I went into the screening of Omoni Oboli's Okafor's Law with no expectations. So, when I found myself chuckling after the first few scenes, I knew this one was going to be a winner for me. I laughed so much; I almost forgot the movie had Blossom Chuks Chukwejekwu half naked at some point.
Okafor's Law follows the well known Nigerian theory that alludes that once a man has had sex with a woman, he has unrestrained and unfettered access to having sexual relations with the same woman. To put it in more crude terms: "Once De'be, Ever De'be"
This concept is very well known amongst Nigerian millennials, with a lot of conversations surrounding the theory being discussed even here on BellaNaija. So, Omoni Oboli decided to make a film where her lead character, Chuks, the Terminator, played by Blossom Chukujekwu, was tasked by his two closest friends to prove the theory was indeed a law. Ironically, his real name is Chuks, and these two friends are also called Chuks(')! Look guys, it's raining Chukses (sp?) Oh, and the nickname, Terminator apparently came from being a sexual executioner. Well, would you look at that?!
Having hinged a significant part of his life's work on this ridiculous bet, Chuks, The Terminator, sets out on the task of having sex with three women from his university days: Fifi – played by Ufoma McDermott, Tomi – played by Toyin Aimakhu and Ejiro, played by Omoni Oboli.
These three women are then unconsciously conscripted into the game being played by the three Chuks'.
There was something distinctly interesting about the style of the unfolding of this story. The use of flashbacks in the telling of the story, as well as the tastefully executed sex scenes made the film even more interesting.
I really loved the scene where The Terminator told the history of Okafor's law – throwing the audience back into what could be deemed a cultural representation of Nigeria on a global stage – seeing as this was the Toronto International Film Festival.
The lines in the dialogue were witty and smart; I wanted to get into the mind of the scriptwriter so badly. And this was a sour point for me as I'd read of the allegations online about the script of this film being stolen from a writer called Jude Idada. With no proof to back the allegations, and no response from the Oboli Team about the rumours, I wondered if it should stop my enjoyment of the film.
It didn't.
Okafor's Law did show me how much of a pedestal Nigerians place sex. I mean, considering how full of apparent religious morality we claim to have, casual sex is still such an intrinsic part of our lives. Okafor's Law showed me the normalcy of it all and made me think how differently we would be if we weren't all just pretenders.
But pretence was a huge theme in this film as it was a requisite tool for Chuks the Terminator to win his quest. Blossom's acting was great and it was very easy to see him take on the role. With the other two Chukses(?) I'm not quite sure their delivery of the lines had the punch the roles required; but, Gabriel Afolayan (who played Chuks, the Baptist) was a little more convincing than Ken Erics (Chuks, the Fox)
There were a few scenes that the film could have done without, honestly. The traditional wedding scene had cringe worthy acting and it dragged on for a few minutes. The scene at the cinema where Chuks ran into some girl from his University days. I kept expecting that scene to translate into something. It didn't. Loose threads are just an inconvenience for the movie watcher.
Toyin Aimakhu's role as Tomi the hard core Ad exec. fell flat. It wasn't really the Yoruba accent seeping through her words; it was more about the fact that the part she was playing just didn't come through. However, at some point in the film she reversed into her element – yelling insults in Yoruba. Then, it worked. Unfortunately, an actor is supposed to be versatile and should be able to slip into various roles as the script demands. If your work shines best when you're acting only certain stereotypical roles, it's an indication for more training and practice.
Omoni Oboli's role was interesting, and I believe she would have played a better Tomi. However, she played a nice Ejiro and her body IS pretty HOT! The part where she asked her friend to drive her to the park to see Chuks was a bit weird. Which park? Yet, she landed at the park where Chuks was sitting and waiting for her.
I have to mention the scene that stuck me as ODD the most, and it involved alcohol. Y'all know I love and know my cocktails, right? So, why in all that is right and bubbly did Chuks get Fifi's body guard (played by Kemi Akindoju) drunk and passed out in such a short time. Okay, so one hour? Two? How long did Fifi sit over there (we could see her in a booth at the lounge) while her body guard got plied with alcohol, so much so that she fell asleep? I tried to do a mental math of the body mass of the recipient of the body guard and the length of time it took to get this alcohol active. Nah! It didn't add up. And in all that time, Fifi never glanced over to where her body guard was sitting? Come on, guys! Come ON!
My favourite part of the film was when Richard Mofe-Damijo gave Chuks, the Terminator, the best gift the audience collectively approved of.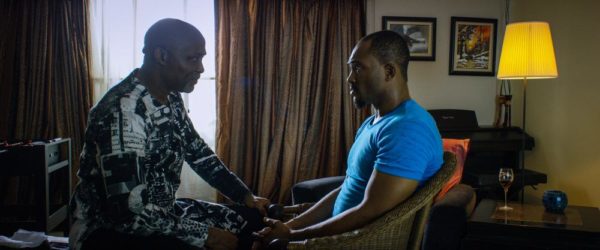 Tina Mba was a graceful delight on the screen and she played the role of Mama Chuks so well. I have to say I'm really happy about the infusion of old and new Nollywood in the selection of Nigerian films screened at TIFF16.
The work done with this film is highly commendable, especially with the recognition and selection for this film festival. I know how hard it is to get funding to make films in Nigeria, so it was quite nice to see careful product placement of brands through out the film. Those brands believed in the work being done by Nigerian creatives, and it gives me so much joy.
Okafor's Law truly made me laugh, and for that, I'm grateful to the filmmaker.
***
No payments in cash, or promise of favours, have been received in exchange for the 'Atoke at TIFF16' stories. The views expressed in the stories reflect the writer's personal take from the events she attended at the festival – and not the opinion of a film critic.
Photo Credit: TIFF