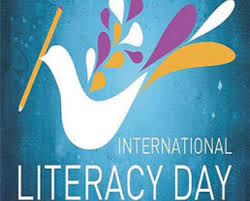 A university lecturer, Mutiu Ganiu, on Thursday advised the Federal Government to include Reading as a subject in school curriculum, to boost literacy among students.
Ganiu, a lecturer at the Al-Hikmah University, Ilorin made the call in an interview with the News Agency of Nigeria (NAN) in Lagos.
He spoke on the occasion of World Literacy Day observed worldwide on Sept.8 of every year.
Ganiu said Reading as a subject would address current challenges students face in understanding information presented to them.
"You never know how to read until you have been taught to do so. That is why the government needs to include Reading as a subject in schools to boost literacy and knowledge.

Reading is not just trying to decipher some black symbols over a white background.

Reading is about understanding the content of a book because there must be an interaction between the mind and the text.

Some pupils find learning difficult because they do not possess the required reading skills. That is why they read and still fail examinations.

The inclusion of Reading as a subject would help address this problem and promote active learning and literacy," he said.
Ganiu, currently a doctorate student at Universiti Utara, Malaysia, also said there was the need to teach Listening in schools to boost learning.
He said research had shown that some students failed to learn in schools because they were bad listeners.
The lecturer decried poor reading culture among Nigerian students, saying that the situation had adversely affected the standard of education.
He blamed the problem on students' over-exposure to social media, including television and internet related-devices.
Ganiu also blamed the inability of parents and guardians to guide their wards to read when they were not in school for the trend.
He, therefore, urged parents to be their children teachers at home, by encouraging them to read after school.
Ganiu appealed to parents to buy more books for their wards to enhance their reading culture.
The lecturer described the country's literacy rate of less that 60% as fair and urged the government to widen access to education to address the situation.
This year marks the 50th anniversary of International Literacy Day and UNESCO is celebrating it under the banner 'Reading the Past, Writing the Future'.
September 8 was proclaimed International Literacy Day by UNESCO on November 17, 1965, to highlight the importance of literacy to individuals.