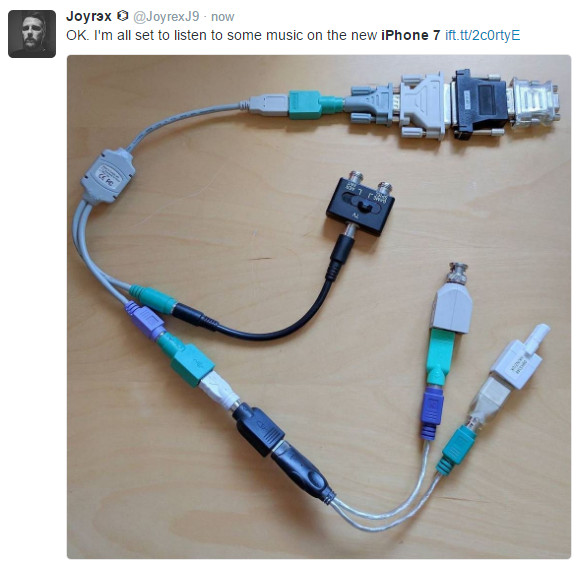 Following the release of the iPhone 7 and 7 + yesterday, social media went agog, particularly because of the new specifications… and price.
In Apple's latest release, the phone will not come with an audio jack!
So, you probably have to use Wifi/Bluetooth headphones, Lightning Earpods which connects through the charging port, or get a device that connects the earphone cable (as well as the charger) on one end, and then connect to the power adapter on the other end.
The price ranges from 599 Pounds (about N239,600) to 919 Pounds (about N459,500).
Here are some tweets, to show you how people felt after the announcement.
Apple: We have removed the Audio jack on the upcoming iPhone 7

Me: pic.twitter.com/0oOcmawG0P

— Common White Girl (@CommonWhiteGrls) September 8, 2016
"The iPhone 7 with its bizarre headphone jack is weaponized for profit and mass customer torture" https://t.co/38XM4ix3JZ @jasperhamill

— Eric Schiffer (@ericschiffer) September 8, 2016
When they pass you the aux but you have an iPhone 7. pic.twitter.com/oyhBCgvD4e

— Keren (@AsianJohnLennon) September 8, 2016
iPhone 7 is water resistant so your tears can flow over it when you lose the RM700 wireless earphones.

— N. (@Identikit16) September 8, 2016
apple: the iphone 7 is fireproof, waterproof & flies

us: but better chargers & group facetime?

apple: pic.twitter.com/JK18kf7SEZ

— Common White Girl (@girlposts) September 8, 2016
iPhone 7: No headphone jack.
iPhone 8: No home button.
iPhone 9: Wireless charging, no charging port.
Soon the iPhone will just disappear…

— LG Laude (@lgismyname) September 8, 2016
No jack plug on the #iPhone 7? Well, I'm afraid that means no iPhone 7 for every skater who need to plug their music to the ice rink! ?

— Gabriella Papadakis (@GabriellaPks) September 8, 2016
when you bout to pass the aux but the homie has an iphone 7 pic.twitter.com/rgOj3Sb1BO

— svanik (@smileysvanik) September 8, 2016
Iphone 7 is now out and you are wondering if you really need 2 kidneys pic.twitter.com/7zDTxhf74P

— a girl has no name? (@aunty_ifeoma) September 8, 2016
iPhone7
iPhon
iPho
iPh
iP
i
iT
iTha
iThank
iThankG
iThankGod
iThankGodFo
iThankGodForL
iThankGodForLife ??

— Chidi Okereke (@Chydee) September 8, 2016
Apple just gave us excuses not to buy the iPhone 7:

– Air pods without the phone-saving wires.
– No headphone/aux cord jack.
– No money.

— Chidi Okereke (@Chydee) September 8, 2016
iPhone 7 for £800? Airplane mode better take me to Sydney

— DJRUSSKE (@DJRUSSKE) September 8, 2016
Terrify and enrage all the iPhone 7 owners you know with this one weird trick! pic.twitter.com/4jolVyiI2Y

— House of the Zed (@HouseOfTheZed) September 8, 2016
Just in case you plan on selling an organ to buy an iPhone 7 🙂 🙂 🙂 pic.twitter.com/sxsyb94crW

— JiDe (@quidink) September 8, 2016
OK. I'm all set to listen to some music on the new iPhone 7 https://t.co/hOs0NHkosv pic.twitter.com/OdKPeGsZ2I

— Јoyrэx ⌬ (@JoyrexJ9) September 8, 2016
Iphone 7 released and everyone loses their minds and kidneys!

— Muqeet (@Its_Muqeet) September 8, 2016
This is Iphone 7 ? and my wallet ? pic.twitter.com/YxFagD2psS

— ♡ थरन्य देदेवि ♡ (@theerryyy) September 8, 2016
The iPhone 7 is water-resistant, has stereo sound and a better camera but it doesn't have that one feature that I want: affordability.

— Amir Haqim (@amrhqm) September 8, 2016
#iPhone7 better come with a find my headphones app

— jenna (@beautynthestyle) September 8, 2016
When you people are talking about IPhone 7 and I can't contribute because I've never owned an iPhone before pic.twitter.com/ugnwqm43uc

— Simi (@cemeeblack) September 8, 2016
Thinking of how many successful unreturned change to mum before I can buy the iPhone 7 pic.twitter.com/R5WAsDXyCi

— ♨️smith (@omo_ajebor) September 8, 2016