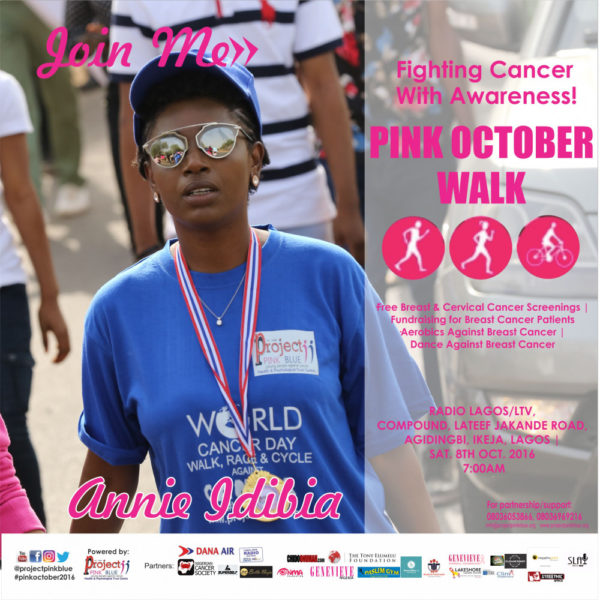 This Saturday, October 8th, 2016, 7:00am, Project Pink Blue will host the biggest and pinkest charity walk on breast cancer at Radio Lagos/LTv Compound, Lateef Jakande Road, Agindingbi, Ikeja, Lagos.
Annie Idibia, Esther Audu, Madu Moc, Peace Emezue, other celebrities, and 10 breast cancer survivors will lead the 10km Walk, 20km Race & 30km Cycle against Breast Cancer. The walk will start from Radio Lagos/LTv compound through Allen round-about, and then back to Radio Lagos/LTv compound, where free cancer screenings and the following activities will kick-off:
Aerobics
Karate Against Cancer (KAC)
Dance Against Cancer (DAC)
One Million Signatures against Breast Cancer
Meet the Cancer Survivors
Presentations on Breast, Cervical, Prostate & Nutritional Information.
Free Clinical Breast Examination
Free Cervical Cancer Screenings
Free Prostate Cancer Screenings
Free Ultrasound
Free Breast Kits to be won
Free Breast Self Awareness Materials
Free Breast Self Examination Guide
Fundraising for Oyayi , a breast cancer patient
Sack Races
Table Tennis Competition.
Fruit & Vegetable Competition: The Fastest person to eat the bowl of fruit would win a Dana Air return ticket and other consolation prizes.
Event details:
Date: Saturday, October 8th, 2016.
Time: 7AM
Venue: Radio Lagos/LTv Compound, Lateef Jakande Road, Agindingbi, Ikeja, Lagos.
As you are aware, October is commemorated as International Breast Cancer Awareness Month. Project Pink Blue is headlining this campaign, free screenings, fundraising to support women battling with breast cancer, providing palliative care to women with advanced breast cancer, admiring the survivors, and honoring the taken. In 2015 over 500 people gathered Saturday, 3rd October, at Alade Market, Allen Avenue, Ikeja, Lagos to have a 1km Walk, 2km Race and 7km Cycle against cancer with celebrities, such as: Chidinma "Miss Kedike", and Oge Okoye.
Runcie C.W. Chidebe, Executive Director of Project PINK BLUE – Health & Psychological Trust Centre informed the press: "breast cancer is global burden, but, late detection of breast cancer is the reason for many cancer deaths in Nigeria. It is estimated that thirty (30) Nigerian women die every day from breast cancer, death from prostate cancer is easily preventable if detected early; and yet it kills 14 Nigerian men every day. This is stimulated by late detection, lack of regular screenings and treatment facilities. Hence, I want encourage Lagos to come out and join us; together, we are stronger in the fight against cancer".
Pink October Walk, Race & Cycle against Cancer is supported by Jumia Nigeria, Dana Air, Radio Lagos, Eko Fm and BellaNaija. Powered by Project PINK BLUE.
Project PINK BLUE is a cancer nonprofit with impact to 1235 women directly; which earned us the prestigious and noble Nelson Mandela-Graca Machel Innovation Award, Johannesburg, South Africa (bit.ly/NelsonMandelaGMAward); Global Shapers Community Abuja I AM BOLD Award, Shape Africa 2014; Semi-finalist in the Big C Competition by LiveSTRONG, Austin, TX, USA (bit.ly/BigCPrize) and Winner, SPARC MBC Challenge award 2015, Lisbon, Portugal (bit.ly/SPARCAward) . Watch the video of the previous Walk in Abuja with Minister of Women Affairs  (bit.ly/WorldCancerDay2016Walk).
Lagos will be painted Pink, on the 8th of October, to join the fight against Breast and Cervical cancer amongst Nigerians. Don't Miss it.
For more information, sponsorship, & partnership, please contact: 07030585774. Social Media: @projectpinkblue Visit: www.projectpinkblue.org
The Official Hash Tag: #chokecancer #pinkoctoberng #projectpinkblue
_________________________________________________________________
This content has been published for free as part of BellaNaija.com's commitment to youth, education, healthcare and community development as part of our corporate social responsibility programme.