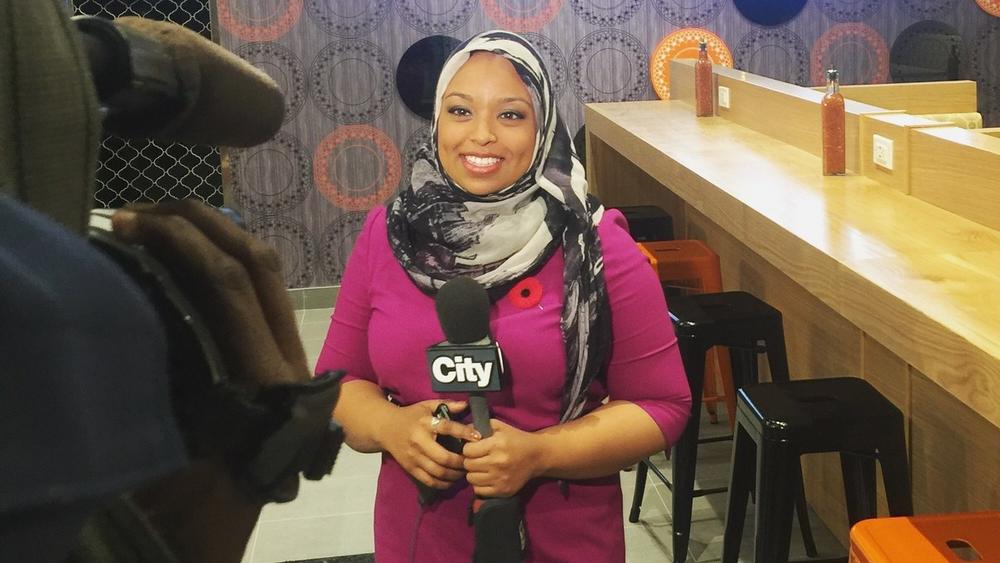 Just after news that CoverGirl signed Muslim Beauty Blogger Nura Afia as part of their brand ambassadors earlier this month (see it here), showing that Muslim beauty is about a whole lot more than just looks. Toronto's Ginella Massa made headlines this weekend after becoming the first hijab-wearing Muslim to anchor a major television newscast in Canada.
Although Ginella Massa has been an on-air reporter since 2015, this week marked a significant step forward for her and for women of the Muslim faith everywhere, when she sat in as news anchor for the first time. The stint at the news desk with Toronto's CityNews station marks a first for her — and for Canada.
That's a wrap! Tonight wasn't just important for me. I don't think a woman in hijab has ever anchored a newscast in Canada. Thx @CityNews ❤️ pic.twitter.com/Uue2VVD41z

— Ginella Massa (@Ginella_M) November 18, 2016
Massa hails from Panama and grew up in Toronto. She has been pursuing her career in news as a journalist and producer since 2010.
"It's pretty exciting to be recognized as the first,"Massa told Yahoo Style. "But it's also unfortunate that it has taken this long in a country as diverse as Canada."

"I'm really grateful to work for a station that sees the value in having employees from all walks of life, who actually reflect the diversity of the community we are reporting in," she continued.
Ginella Massa Reporting for CityNews
Massa recently wrote about her long-standing dream of becoming an on-air journalist on her blog in an article titled "Don't let them tell you it can't be done":
"From a very young age I had dreamt about becoming the first hijabi reporter in Canadian broadcast media, but for a long time it was just that: a dream. I wasn't sure it could ever be realized — not because of my own abilities, but because I wasn't sure someone who looked like me would be accepted on Canadian TV."
With her growing presence as a reporter and anchor on television, Massa joins a club with just a few members, most notably Noor Tagouri, an on-air reporter for Newsy, and Fatima Manji, a reporter for Channel 4 in the U.K.
Noor Tagouri in News Feature 'The Trouble They've Seen: The Forest Haven Story'
Fatima Manji reports on the Ansbach terror attack for Channel 4
Source: Yahoo