Glenfiddich & Quilox Present the 'All White Beach Soiree' this Weekend | November 5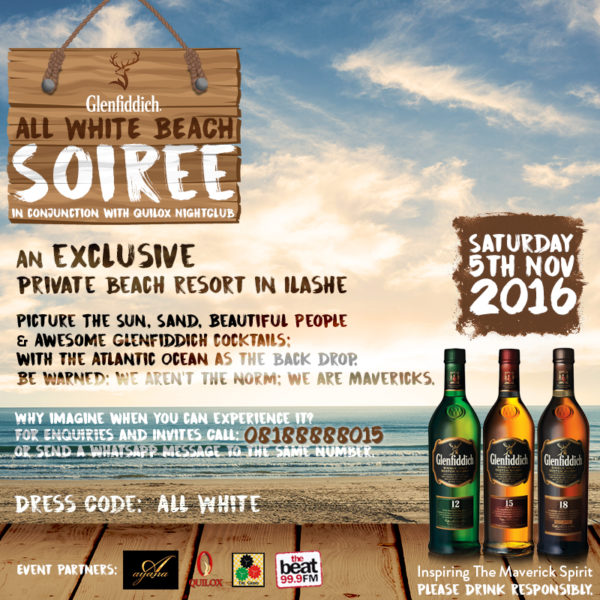 If you want a memorable November, then here's the party for you.
On November 5, celebrities, style connoisseurs and maverick-minded guests will converge and make their way to one of the most exclusive private resorts in Ilashe with the sole aim of relaxing and having a memorable time of their lives.
Music will be led by DJ Caise and a host of other DJs while guests will enjoy the best of Glenfiddich whiskey range from 12years, 15years, and 18 years up to 21 years. Grind grills will also be on hand to serve mouthwatering grill options from King Prawns to ribs.
Picture the sun, sand, beautiful People and awesome Glenfiddich cocktails with the Atlantic Ocean as the backdrop.
Why imagine it when you can experience it?
Date: Saturday, November 5, 2016
Time: 12 PM
Venue: Beach House, Ilashe
Contact: 0818888015
Glenfiddich inspires the Maverick spirit in us
18+ Only!
This event is supported by Ayana Services, The Grind and BeatFM Lagos.
____________________________________________________________________
Sponsored Content