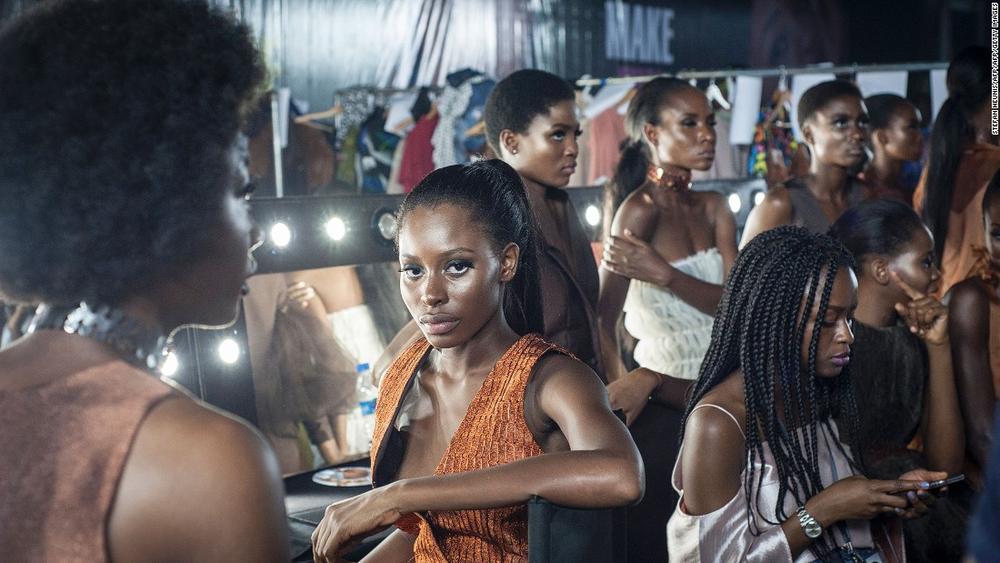 The Heineken Lagos Fashion & Design Week event which happened from the 26th – 29th of October 2016, was featured on the Vogue Italia website; putting a number of designers in the spotlight like Onalaja, DNA by Iconic Invanity as "the younger set", 4 year old brand Style Temple, other popular Nigerian brands like Maki Oh, Lisa Folawiyo & Bridget Awosika and international brands like Naked Ape, David Tlale, Maxhosa (South Africa), Yefikir (Ethiopia), Sophie Zinga (Senegal), Studio 189 (Ghana) and Loza Maleombho (Cote D'Ivoire).
Read all about it here
Another part of the Heineken Lagos Fashion & Design Week event that made a long last impression on everyone who attended, was the About That Curvy Life Collective by Latasha Ngwube. The ATCL Collective was feature on CNN Style in a recent article "Curves steal the spotlight during LFDW", click here to read all about it.
Here's what ATCL had to say about the feature;
#ABOUTTHATCURVYLIFE Collective Makes Fashion History At Heineken Lagos Fashion and Design Week 
Africa's biggest fashion week, Heineken LFDW 2016 came to a close with a lot of strong designs from all designers across the continent. From South Africa to Senegal, Ivory Coast to even the United States, the global appeal was captivating, fresh and very much in demand. Of course Nigeria's finest were not left out as popular brands such as Orange Culture, Lanre Da Silva, Bridget Awosika, Nkwo, Lisa Folawiyo, Kelechi Odu, Apkos Okudu, Maki Oh, Mai Atafo and so many others were highly anticipated and well received. However, there is one show that made history, which no one is ever likely to forget for all the right reasons.
You guessed it… our #AboutThatCurvyLife Collective powered by Intel which was the sixth show on the first day of fashion week featuring 4 womenswear designers and the first ever recorded plus size menswear collection on the continent.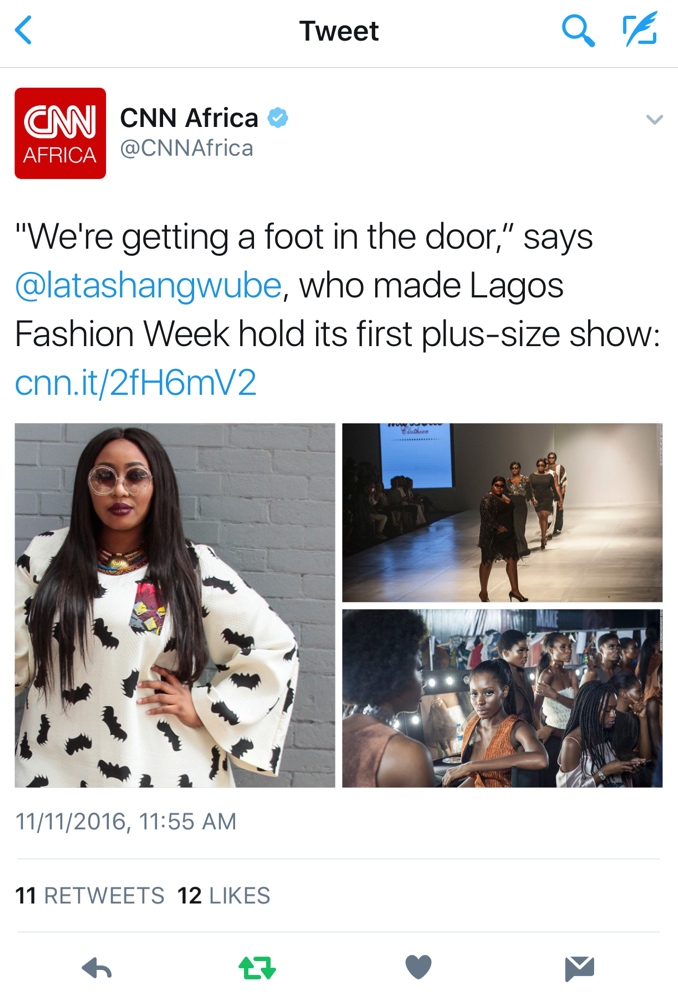 The womenswear designers from the ATCL Collective worked from a unified theme of Black/White/Shapes but chose to express their understanding of the brief quite differently, culminating into 4 similar yet distinct capsule collections with each designer's aesthetic firmly stamped all over. Elements like fringes, sequins, floral appliques, cold-shoulders, deep-cuts, sparkles and embroidery were ever present motifs which elevated an otherwise monochromatic show, upping their designs and causing each piece to  stand out.
Asides from the stunning pieces, the curvy models themselves were definitely part of the night's spotlight as they hit the runway in a never-before-seen fashion. Their attitude, command of the catwalk and sharp strides in time to the music brought the house down with feverish excitement from the first model to the very last one.
The collective was creatively supervised by Godson Ukaegbu, Editor of Style Mania Magazine while the models were trained extensively by veteran model, Andy Ogbechi of A Squared Network.
The Collective show was initiated and executed by media personality/Founder of Aboutthatcurvylife.com, Latasha Ngwube, and was opened by Mabello Clolthier, followed by Tosfa, (broken in-between by menswear brand) Assian, Aisha Abu Bakar Luxury Design and Makioba closed the show.