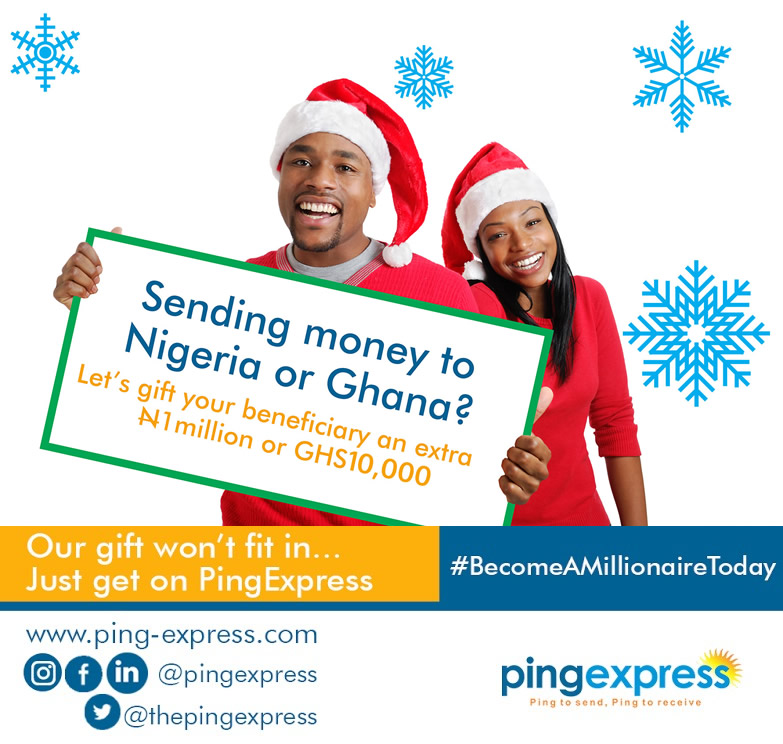 What better way for a company to say thank you to the thousands of people who have put their trust and faith in its ability to save them money when transferring, and at the same time putting smile on the faces of their beneficiaries, than to simply extend the joys and benefits of being a part of the Ping Express movement.
We have thought deeply about the best way to celebrate with our existing and potential members and as Christmas is upon us, we were gifting millions of Naira to forty-five (45) of the many people we have made smile during the year and will make smile through the end of the year.
There are several ways to be happy and smile and being part of the Ping Express movement is just ONE important way.
Every day until December 21st, Ping Express will randomly select a transaction number and award N10 thousand or GHS80 early Christmas gift to a Nigerian or Ghana recipient. Everyone has a chance!
A grand winner will then be randomly selected on December 22nd to receive our ultimate gift of 1 Million Naira or GHS10, 000, just in time for to #BecomeAMillionaireToday
BONUS ENTRY
Refer a friend to Ping Express, and get a bonus an entry into the draw when they register successfully. When your friends complete a transaction, they also get double entries into the draws. All you have to do, is send the email addresses of your friends with which they have registered to [email protected]
The great news is there's no limit to the number of entries you can make. Every transaction you make on the Ping Express platform will qualify or every referral that successfully registers and activate registration. So the more transactions you make, the more chances your beneficiaries have of winning!
That's not all; the ultimate winner gets a pre-Christmas photo/video session with the Ping Express leadership team that will be aired on TV and social media platforms.
Winners will be posted daily on the Ping Express Facebook page and also sent direct emails or text messages.
What are you waiting for? If you are based in the UK, USA, or Canada – we are sure you've tried the rest, now it's time to try the best. Get started and win big!
_______________________________________________________________
Sponsored Content