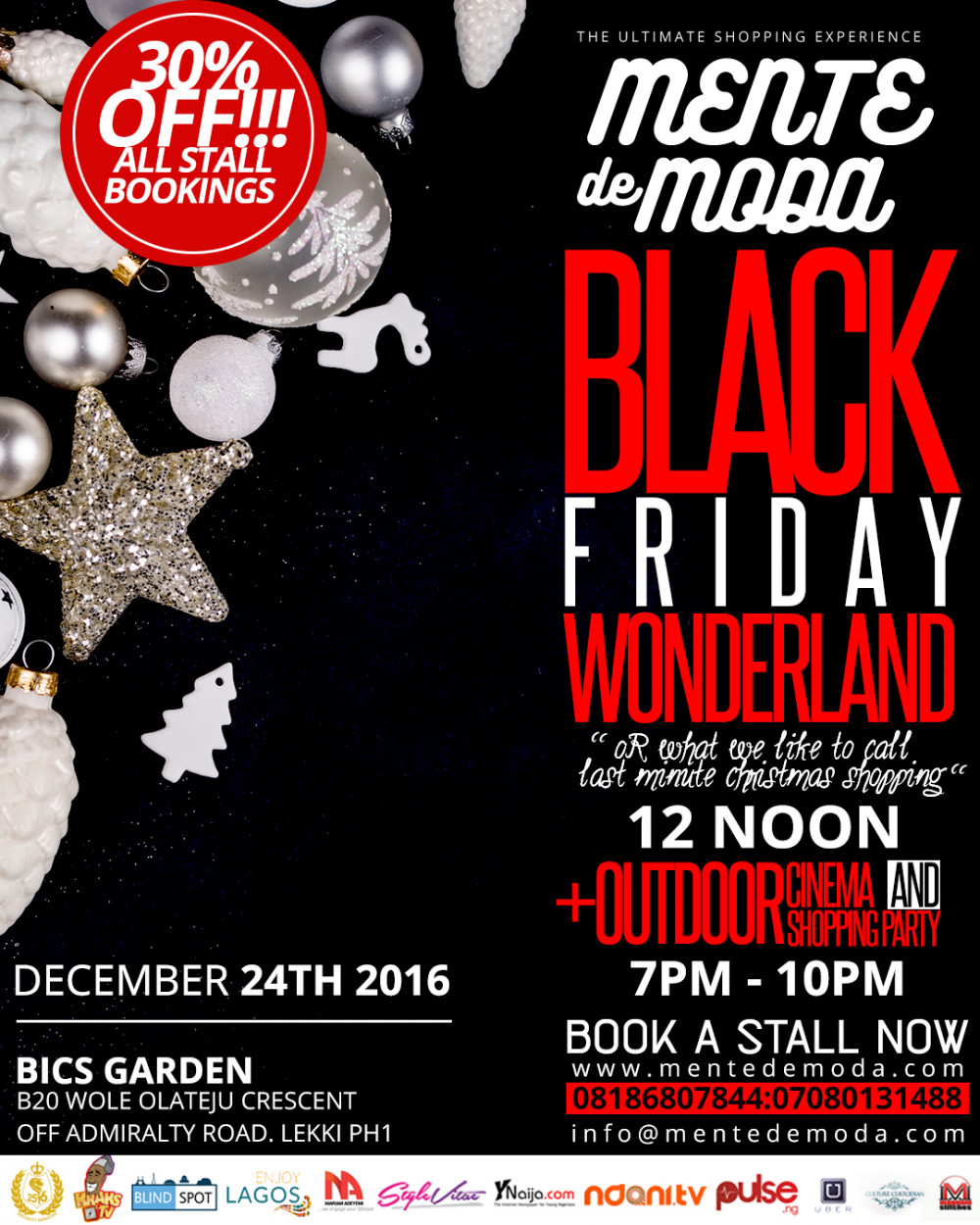 Christmas is just around the corner and business owners know this is an opportunity to partake in last minute Christmas sales, with an estimated 65% pos shoppers doing leaving their Christmas shopping till last minute it is a no brainer that last minute sales would tickle a buyer's fancy.
2016 was indeed a challenging year with the economic situation taking a turmoil. But we are proud to know our platform has been able to help small businesses thrive even in these trying times.
To all our old, new and prospective vendors we say a big thank you for your endless support and continuous patronage. Let's close this year in style. We're back by popular demand on Saturday, December 24th, Christmas Eve sales with a whopping 30% discount on all stalls. Hurry now to www.mentedemoda.com to register.
Date: Saturday, December 24th, 2016.
Time: 7PM-10PM
Venue: BICS Garden, B20 Wole Olateju Crescent, Off Admiralty Road, Lekki Phase 1, Lagos.
There hasn't been a better time to buy Nigerian and support our local industry/enterprise than now, with the international market having a gripping chokehold on our economic growth. The small and medium scale sector clearly stands out showing resilience by being almost immune to the growing cost of production and furnishing a large workforce faced by larger companies
Mente De Moda is solely focused on constantly improving our platform in order to give the small/medium scale business owner that much needed EDGE.
Do you want to sell out all your old stock?
Do you want to go for an exhibition and leave feeling fulfilled and satisfied at the end of the day?
Do you want to go for a shopping event that you can have fun to the max and do all your shopping at the same time?
Do you want to go for a one day event that connects you to lifetime customers?
Do you want to see what the sharpest entrepreneurial minds in Lagos have on display?
Black Friday Wonderland is for you!! Come and end the year with huge clearance sales
BOOK A STALL NOW
Hurry to www.mentedemoda.com or call 08186807844, 07080131488
Proudly Supported By: Stylevitae.Com, Mariam Adeyemi Company, Culture Custodian, Ynaija.Com, Pulse.Ng, Enjoy Lagos, 2516 Security, Krakshq. Enjoy Lagos, Blind Spot, Ndanitv,Uber
________________________________________________________________
Sponsored Content