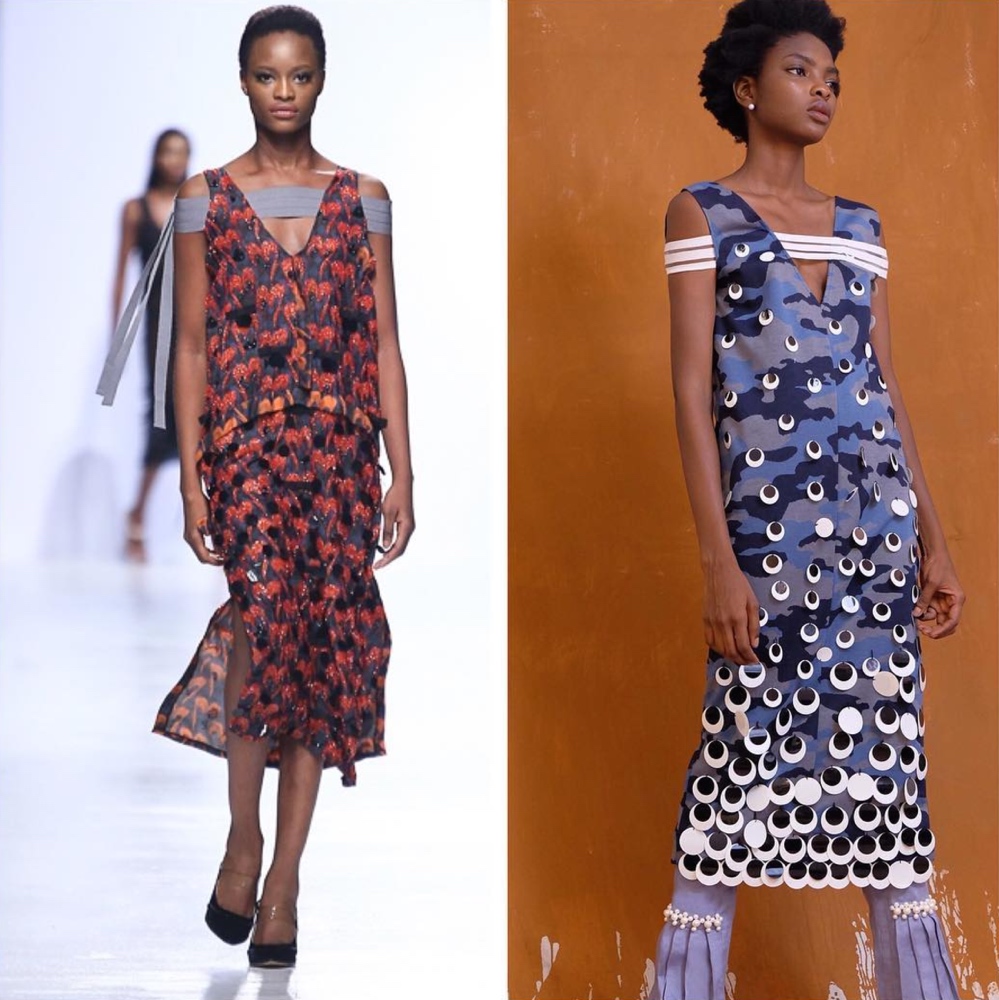 Yesterday, Style Vitae posted this photo of a piece from Lisa Folawiyo's SS17 collection against another piece from Maki Oh's Fall16 collection on Instagram with the caption below:
StyleVitae: @lisafolawiyo_studio SS17 X @maki.oh Fall 16'….Creative Inspiration or Creative coincidence… Or more….#fashion #stylevitae #buynigerian #designers #design #style
Although there were a few commenters who said things like;
kingdukeee: More Creative Inspiration…? . It's a whole season apart.

nolstnme: Wanna be starting something ??
…The main comments on the post were from sibling of both designers, Ada Osakwe who is Maki Oh designer Amaka Osakwe's sister and Sike Saro who is Lisa Folawiyo's sister and the business brains behind the brand.
Read their comments below
AdaOsakwe: Glad folks finally calling this out @maki.oh

SikeSaro: @adaosakwe I am so surprised you would comment on this, especially in such a manner. This was just brought to my attention especially as we know each other, went to school together and have been friendly since then. As a team we have the most respect for your sister @maki.oh and think of her as an extremely talented designer and would never even dream of suggesting such a thing.

We have never felt the need to defend this collection as it had been done over a year ago but only chosen for release this season. We laughed it off as 'great minds think alike!' As an extremely educated lady why would you come on IG and try to imply what is being instigated here? It's not done. It's beneath you. I expected more.

AdaOsakwe: Hi @sikesaro. Please dont get agitated or upset with me. I didn't attack @lisafolawiyo_studio. I only noted that I'm glad Nigerians, especially fashion influencers like @stylevitae, are finally being bold enough to call out what I have observed as an industry-wide issue over the years. Season after season, I see way too many similarities in the collections of our small crop of designers and to me as an industry observer, this demonstrates a lack of creativity and innovation, which shouldn't be the case in a place with such talent.

Even Vogue magazine highlighted this issue following the last fashion week in Lagos. I saw @stylevitae also put up another post of a @lisafolawiyo_studio SS15 design with arrow prints that another designer got "inspired" by for their SS17 collection too. Maybe I should have commented on that as well. I'm sure your team noticed this too and @lisafolawiyo was not happy about this, like she wasn't about Tiffany Amber or Burberry in the past.

So it's clear to me that there is a level of designers block or comatose that induces folks to freely get "inspired" by their peers. In any case, I am glad that this conversation has finally begun and I sincerely hope it continues because be it "creative inspiration" or "creative coincidence" as @stylevitae says, or "great minds think alike" as you put it, it is a phenomenon that's occuring and that I feel should be STOPPED if Nigeria's fashion industry is to truly evolve to global proportions and for its designers and the industry as a whole to get the global respect and recognition they deserve. @maki.oh @lfdw_ng

SikeSaro: Lol. No, your earlier comment did not agitate, it surprised is all. And I too am in agreement with you @adaosakwe perhaps you should have commented on that earlier post as well. Then it all would have been less 'surprising'.

At this juncture, what is most important is that it be acknowledged that in no way has @lisafolawiyo_studio copied or been 'inspired' by any other designer's work including @maki.oh. This would be our worst nightmare. I will reiterate the fact that although released as SS17 recently, this collection was already designed a couple of months before Maki Oh's AW16 was released. And finally, @lisafolawiyo_studio will not use IG as a platform to call out or comment or begin a conversation on other designers' work. To us, doing so is in such poor taste.

SikeSaro: @adaosakwe and on that note I think it's best we both end this conversation here.

AdaOsakwe: @sikesaro it's interesting that you say it's in "poor taste", because @lisafolawiyo commented and liked @stylevitae's earlier 'inspiration comparison' on @Nuraniyastudios that was in @lisafolawiyo_studio's favour and she also used social media (twitter) to illustrate her thoughts on when she felt Tiffany Amber and Burberry copied her a few years ago. Were her posts also in "poor taste"?

I, like Lisa, believe social media, blogs etc are powerful tools to be used for topics such as this. But I agree, we can end this here, as again, I firmly believe this conversation is bigger than just this one post about Lisa Folawiyo and Maki Oh, or Lisa Folawiyo and Nuraniya Studios. Bottomline, I'm glad the conversation has now begun. Thank you @stylevitae !!!

0lukayode: Okay!
See the Photo of the Lisa Folawiyo & Nuraniya "Arrow" Pieces Below
What are your thoughts on this industry hot topic, copying?
Is it a trends thing, an issue of great minds thinking alike or a case of recycled fashion? Is there anything in fashion that hasn't already been done?
Source: Style Vitae