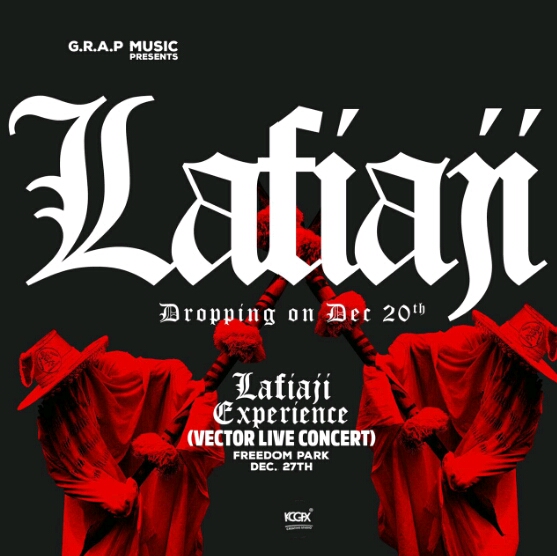 Vector tha Viper needs no formal introduction; he has become one of the top names in the Nigerian Hip Hop scene since his debut in 2008. The award-winning rapper who has recently been making air waves with the hit single, 'What's that,' has announced the release of an album that serves to change the face of music with the fusion of diverse genres.
With a release date set for December 20th 2016, and a concert slated for December 27th 2016 in Freedom Park, describing this album journey is an emotional one for Vector.
The cornerstones of his experiences – carnivals, riots, beef, love, worship, friendship, and most importantly, family – in Lafiaji (Lagos Island), where he grew up in, are translated into the album.
His preceding album, 'Second Coming' was released a full 4 years ago in December of 2012, the latest album titled 'Lafiaji' which means Birth is apt.
"To understand the future, we must understand the past," Vector said.
Vector who lived in the barracks on King George the 5th road in Lafiaji knows all about the grind and sweat that it entails to becoming a force to reckon with. He also involved someone who understood all too well what it meant to live like he did in Lafiaji; his sister.
"It was very personal. I remember feeling really bad on the song with Johnny Drille as it made me remember the most heart breaking experiences of the past; While recording with my sister who showed me how to sing when I was a kid felt super refreshing: she needed no audio effect enhancement. She was pitch clean perfect," Vector said.
Falzthebahdguy, D'banj and Tanzania's Vanessa Mdee are some of the other features on the track. There are more surprises but we can't give too much away.
Anticipate the #LafiajiExperience.
To get more info on the album launch follow him on:
Facebook: ThisIsVectorThaViper
Twitter: vectorthaviper
Instagram: vectorthaviper